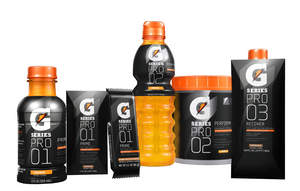 GNC and Gatorade team up to launch G Series Pro for elite athletes
PITTSBURGH, PA--(Marketwire - May 4, 2010) - GNC, the nation's premier specialist retailer of sports nutrition products for elite athletes and serious fitness enthusiasts, is the platform for the exclusive retail launch of The Gatorade Company's G Series Pro -- designed to meet the needs of professional and aspiring professional athletes. Only available until now in pro locker rooms, the G Series Pro line is exclusively available at GNC, both online at GNC.com as well as in more than 3,500 company-owned and franchised GNC stores across the country. Gatorade is a division of PepsiCo (NYSE: PEP). GNC is Gatorade's exclusive launch partner for G Series Pro in the specialty retailing channel.
The G Series Pro launch represents a significant business opportunity for both GNC and Gatorade to reach a more nutritionally aware, athletically oriented customer in the specialty distribution channel. GNC stores have major displays of the 8-product, 44-SKU line, and store associates are fully grounded in the G Series Pro product attributes and their use before, during and after practice, training or competition.
The official launch of G Series Pro at GNC kicked off on May 1 with exclusive "Signing Day" appearances at selected GNC stories by Eli Manning of the New York Giants, Matt Forte of the Chicago Bears and Reggie Wayne of the Indianapolis Colts. GNC customers who committed to "Go Pro with G Series Pro" on May 1 were also granted access to the beta version of the new online pro training system from Gatorade. GNC customers who visit a GNC store in May will learn details about entering the "Train Like a PRO" sweepstakes, with a top prize of one week of training at a world-class facility with a professional trainer. Go to GNC.com for more details.
G Series Pro was originally developed by The Gatorade Sports Science Institute to meet the needs of professional and aspiring professional athletes. As the performance pinnacle of the Gatorade sports performance range, G Series Pro until now has only been available in pro and collegiate locker rooms and specialized training facilities.
"Because Gatorade is all about the athlete, GNC is an ideal partner for the retail launch of G Series Pro," says Sarah Robb O'Hagan, chief marketing officer of Gatorade. "Up to now, we have kept these G Series Pro products in the locker room, but the compatibility between G Series Pro athletes and elite athlete-minded consumers like GNC's customers persuaded us this is a product line of genuine interest to those training to go pro."
"GNC is pleased to partner with Gatorade in the next stage of the evolution of Gatorade from sports drink to sports performance innovator," said Joe Fortunato, GNC's chief executive officer, "and we believe we add enormous value to the relationship. As the pioneer and leader in sports nutrition, GNC has helped launch every major sports nutrition product in the marketplace for more 75 years. GNC's retail presence and marketing muscle will drive G Series Pro through our U.S. stores. Signage and special displays in every one of our domestic stores are in place to create both awareness and excitement about this exclusive launch."
ABOUT GNC
GNC, headquartered in Pittsburgh, Pa., a leading global specialty retailer of nutritional products including vitamin, mineral, herbal and other specialty supplements and sports nutrition, diet and energy products. As of December 31, 2009, GNC has more than 6,900 locations, of which more than 5,400 retail locations are in the United States (including 909 franchise and 1,869 Rite Aid franchise store-within-a-store locations) and franchise operations in 47 countries. The Company -- which is dedicated to helping consumers Live Well -- also offers products and product information online at www.gnc.com.
ABOUT GATORADE
The Gatorade Company, a division of PepsiCo (NYSE: PEP), provides sports performance innovations designed to meet the needs of athletes at all competitive levels and across a broad range of sports. Gatorade Thirst Quencher® is backed by more than 40 years of research and is scientifically formulated and athletically proven to quench thirst, replace fluids and electrolytes, and provide carbohydrate energy to enhance athletic performance. The company's product portfolio is built around the G Series™ and G Series Pro -- a 1-2-3 approach to athlete nutrition and hydration before, during, and after training or competition. For more information, please visit www.gatorade.com.
Contact Information:
Media Contact:
Laura Brophy
203-364-8657