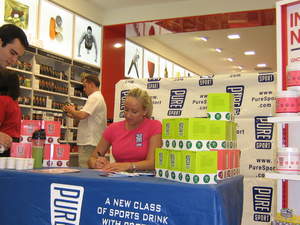 Olympic Gold Medal-winning gymnast Nastia Liukin signs autographs at GNC's SouthPark Mall while promoting sports nutrition products from PureSport(TM).
Carolina Panthers' star running back DeAngelo Williams answers questions and signs autographs at GNC in the SouthPark Mall while promoting ISS Research's OhYeah!(R).
CHARLOTTE, NC--(Marketwire - May 28, 2010) - Customers at GNC's newest store at the SouthPark Mall on Saturday had a great reason to line up -- actually two of them: DeAngelo Williams, star running back for the Carolina Panthers, and Nastia Liukin, Olympic Gold Medal-winning gymnast. The two elite athletes were there to celebrate the opening of the store and sign autographs for more than 400 of their fans.
But the SouthPark store itself was also a star attraction. At more than 2,500 square feet, it is the largest GNC store in the Charlotte area.
DeAngelo Williams also represented the ISS Research line of sports nutrition products sold at GNC, and Nastia Liukin, represented PureSport's line of nutritional performance sports drinks.
"DeAngelo and Nastia represent the height of athletic excellence as individuals, but they also embody the GNC Live Well concept embraced by so many GNC customers," said Tom Dowd, GNC's Executive Vice President, Store Operations & Development. "GNC's new SouthPark store also represents the ideal environment for serious athletes and fitness enthusiasts to get information on the newest sports nutrition products."
Dowd added that key elements of the new format found in GNC's SouthPark store can also be seen in some other GNC stores in the Charlotte area. "Charlotte is a Top 25 market for GNC, and we will continue to invest in upgrades to the customer experience at our more than 40 franchise and company stores in the Charlotte area."
GNC's new SouthPark store is divided into four individual sections that showcase distinct product categories.
The front space underscores GNC's increased emphasis on healthy lifestyle management and provides customers with tools to address health, diet and overall wellbeing in a thoughtful, holistic manner.
The second space is the store's vitamin headquarters. Here, GNC offers a premier assortment of both preventative and condition-specific products for women, men, children -- and even the family pet -- that address heart health, mood, sleep, diabetes, digestion and more.
The back two rooms are designed for GNC's avid fitness and sports enthusiasts, with greatly expanded product assortments that take the sports nutrition category beyond the body builder to target sports, fitness and hardcore diet consumers with proteins, thermogenics, fitness accessories, nutritional bars, endurance products and drinks.
About GNC
GNC, headquartered in Pittsburgh, Pa., a leading global specialty retailer of nutritional products including vitamin, mineral, herbal and other specialty supplements and sports nutrition, diet and energy products. As of March 31, 2010, GNC has more than 7,000 locations, of which more than 5,450 retail locations are in the United States (including 901 franchise and 1,923 Rite Aid franchise store-within-a-store locations) and franchise operations in 49 countries. The Company -- which is dedicated to helping consumers Live Well -- also offers products and product information online at www.gnc.com.
Contact Information:
Media Contact:
Laura Brophy
203-364-8657