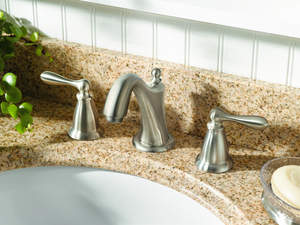 New Spot Resist finish from Moen does just what it says -- resists fingerprints and water spots.
NORTH OLMSTED, OH--(Marketwire - July 8, 2010) - Fingerprints and water spots be gone... at least from kitchen and bathroom faucets, that is. Moen®, the number one faucet brand in North America, has introduced the first-of-its-kind Spot Resist™ finish -- a unique finish that actually resists fingerprints and water spots.
Moen developed the new Spot Resist finish specifically with homeowners in mind, giving them one less thing to worry about cleaning daily. The innovative finish maintains the brilliance of kitchen, bathroom and tub/shower faucets and showerheads for a fresh appearance. And, when it comes time for periodic cleaning, Spot Resist easily wipes clean.
"We're always looking for ways to help solve homeowners' problems with innovative products for the kitchen and bath," said Kevin Campbell, director of retail marketing, Moen. "With our new Spot Resist finish, we hope to help homeowners spend more time enjoying their home... and less time cleaning it."
The innovative Spot Resist finish, available in Brushed Nickel and Stainless, features Moen's limited lifetime warranty.
For more information about the new Spot Resist Finish from Moen, visit
www.moen.com/spot-resist or call 1-800-BUY-MOEN (1-800-289-6636).
Moen offers a diverse selection of thoughtfully designed, on-trend kitchen faucets, bathroom faucets, showerheads, and stainless steel sinks for residential and commercial applications. As the #1 faucet brand in North America, customers have come to rely on Moen to deliver dependable products and service. Moen is part of Fortune Brands, Inc. (NYSE: FO) (www.fortunebrands.com), a leading consumer brands company.
Contact Information:
Contact:
Kathy Flinn
Director, Advertising & Brand
Moen Incorporated
(800) 321-8809, Ext. 2330
media@moen.com

Kristi Stolarski or Alissa Kiktavy
Falls Communications
(216) 696-0229
kstolarski@fallscommunications.com
akiktavy@fallscommunications.com