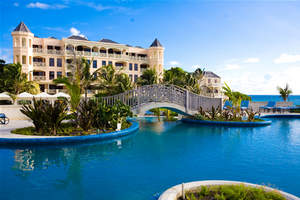 The Crane Resort names SellMyTimeshareNOW.com as authorized reseller.
DOVER, NH--(Marketwire - July 15, 2010) - Jason Tremblay, CEO, Sell My Timeshare NOW, LLC, announced this week that SellMyTimeshareNOW.com has become authorized reseller for The Crane Resort, one of the most luxurious vacation properties in the Caribbean. Kim Goddard, sales director at The Crane Resort, says, "We are excited to enhance our resale program by partnering with Vacation Property Solutions, the Resort Services Division of SellMyTimeshareNOW.com and Timeshare Broker Services, the company's brokerage arm, to best represent the weeks that owners at The Crane may desire to sell. SellMyTimeshareNOW.com is the only authorized resale company for The Crane Resort."
Jay Bade, RRP, VP of Business Development for SellMyTimeshareNOW.com, says, "Although The Crane Resort has a successful resale program in place, affiliating with Sell My Timeshare NOW increases visibility for The Crane Resort resales, driving traffic and additional buyers through both www.sellmytimesharenow.com and www.thecrane.com. Sell My Timeshare NOW is thrilled to be recognized as an authorized reseller for The Crane Resort's active resales program and to represent current owners at the resort when they want to sell vacation ownership and fractional weeks."
Jason Tremblay adds, "The Crane Resort is a special place, known as the Caribbean's first resort hotel, and one of the true luxury properties of the Caribbean, listed as 'One of the Ten Best Beaches in the World' by Lifestyles of the Rich and Famous. We are excited about this affiliation and the opportunity to help them expand their owner services."
About Sell My Timeshare NOW
Founded in 2003, Sell My Timeshare NOW has grown to become the leading online secondary marketplace for timeshares on a resale basis, and is recognized by consumers as a trustworthy resource for buying, selling, or renting timeshare. Each month, averaging more than 2 million page views, the Sell My Timeshare NOW websites deliver to timeshare owners and developers, 86,000 offers valued at $88 million for timeshare rentals and 61,000 offers valued at $338 million for timeshare resales. The company offers success-based services through its brokerage arm, Timeshare Broker Services and solutions for the resale needs of developers and HOAs through Vacation Property Solutions. Headquartered in Dover, NH with offices in Orlando, FL, Sell My Timeshare NOW has over 150 employees and has been recognized on the Inc. 500 and 5000 Lists for two consecutive years as one of the fastest-growing privately held companies in the US. www.sellmytimesharenow.com
Contact Information:
Contact:
Kelley Marggraf
Executive Assistant to CEO Jason Tremblay
press@sellmytimesharenow.com
603-516-0227