Mental Training Strategies with Dan Vitchoff and Vincent Hancock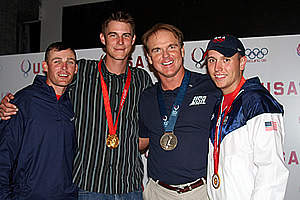 Dan Vitchoff of PA Hypnosis Center with Olympians
PITTSBURGH, PA--(Marketwire - October 7, 2010) - What do certain Gold Medal Olympians, Fortune 500 executives and overweight adults and teens have in common? Increasingly, it is that many of them have achieved their goals after working with Pittsburgh Hypnotist and Mental Trainer, Dan Vitchoff.
Dan Vitchoff, M.Ed, CHt, is the founder of the PA Hypnosis Center in Pittsburgh, which offers mental training for enhanced sports performance, weight loss hypnosis and other techniques for replacing negative habits with positive, productive patterns. As the creator of the proprietary "The 33 Method" of mental training, Vitchoff coaches many performance athletes including members of the Pittsburgh Steelers and Gold Medal Olympians, Vincent Hancock and Walton Glen Eller.
Vitchoff and his staff describe what they do as "rewiring your brain" with productive habits to replace distractions and patterns that get in the way of success. Vincent Hancock, who claimed Olympic Gold in Men's Skeet Shooting at the 2008 Summer Olympics in Beijing, describes his mental training with Dan Vitchoff by saying, "I expect to win -- win every match, every competition."
Hancock's trained focus served him well during recent competitions when he had reason to be distracted. As he and his wife Rebekah awaited the birth of their first child, a daughter who arrived on August 27, Hancock was also preparing for the Fall Selection Match and making the 2011 World Championship Team. In competition earlier in the month he had posted a near-perfect 274 of 275 targets, allowing him to dominate the Men's Skeet USA Shooting National Championships for Shotgun and to set aside the excitement and emotions of becoming a first-time father long enough to claim his spot on the 2012 Olympic team. Vitchoff describes the technique Hancock uses as "compartmentalizing" to enable an athlete (or anyone using the methodology) to compartmentalize life so that events in one facet of life do not spill over into the focus on other aspects.
Olympian Vincent Hancock discusses how his mental training with Dan Vitchoff of the PA Hypnosis Center in Pittsburgh, has helped him succeed in competitive sports in this video: http://www.youtube.com/watch?v=odOuGjqgpzY
Dan Vitchoff M.Ed, CHt. Board Certified and Licensed Hypnotherapist is available for media interviews. For more information about the programs at the PA Hypnosis Center, including sports mental training and weight loss hypnosis, contact Catie Dolgos at (724) 934-8446 or hypnosismarketing@comcast.net
Contact Information:
Contact:
Catie Dolgos
(724) 934-8446
hypnosismarketing@comcast.net