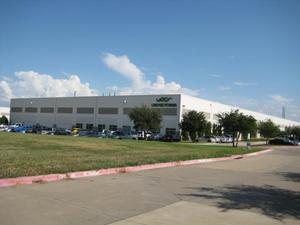 Lineage Power's headquarters in Plano, Texas.
PLANO, TX--(Marketwire - October 12, 2010) - Lineage Power Corporation, a Gores Group company and the first name in power, today announced the next generation CPS6000 cabinet power system designed to help service providers ensure "always-on" reliability and cost-effectively deploy thousands of new voice, video and data applications for millions of subscribers. Part of the Lineage Power Total Efficiency™ architecture, the CPS6000 operates at nearly 97 percent efficiency, recapturing energy loss and lowering cooling requirements by 50-70 percent. The company's Cost of Power™ calculator demonstrates how Total Efficiency investments may deliver 1-2 year return on investment payback periods.
Lineage Power was the first supplier to announce high efficiency rectifiers with system capacities ranging from 10 Amps to 20,000 Amps for deployment in customer premise, outside plant and central office/data center applications. The new Total Efficiency rectifiers are fully backwards compatible with currently deployed Lineage Power CPS6000 systems, enabling the installed base of customers to reduce energy costs through a simple plug-n-play upgrade to preserve existing investments.
"Telecom DC power plants need to be reliable, intelligent, and energy efficient," said Dan Ludwick, Lineage Power Energy Systems VP and general manager. "Whether upgrading existing locations or deploying new ones, we are helping network operators scale their 'triple-play' services at lower relative costs to address consumer and business subscriber demand for Mobile Internet, Cloud Computing and 4G/LTE wireless applications."
The CPS6000 is a 2U high vertical airflow DC energy system with 19" or 23" power shelf options consisting of rectifiers, controller, battery monitoring and integrated or external distribution options. A unique configuration option offers one or more 300 Amp capacity 23" power shelves using six rectifiers with controller and external distribution to power fiber optic communications. System capacity ranges from 10 Amps to 1200 Amps of energy efficient power conversion with a wide range of AC input and DC output distribution options in a broad number of compact, modular configurations. Whether deployed in outside plant (OSP) cabinet, hut or shelter applications, the new offering is designed to withstand extreme environmental operating conditions up to 75 degrees Centigrade (167 degrees Fahrenheit). The CPS6000 is a recommended replacement for aging AT&T/Lucent SLC digital subscriber loop carrier cabinet power units.
The intelligent CPS6000 is configured and remotely managed via the Pulsar Edge™ or Pulsar Plus™ system controllers and Galaxy Manager™ software. The Pulsar Edge™ or Pulsar Plus™ controller options consolidate all front panel status information and remote web browser visibility into a single display for operations and maintenance personnel. Galaxy Manager™ offers centralized visibility and control of system parameters and alarm thresholds using standards-based SNMP communications.
Pricing and Availability
The Lineage Power CPS6000 is approved for deployment with contract pricing at AT&T, FairPoint, Frontier, Qwest, Verizon, and other service providers. Ready-to-ship configurations of the CPS6000 power plants, with associated professional services and training, can be rapidly deployed within weeks. For more information please call 877-LINEAGE or +1 972 244 WATT.
About Lineage Power
Lineage Power Corporation, a Gores Group company, traces its 95+ year heritage of innovation to AT&T, Bell Labs, Lucent Technologies and Western Electric. The first name in power, Lineage delivers reliable and intelligent power conversion solutions with energy-efficient AC-DC power supplies, DC-DC board-mounted power modules, telecom energy systems, and custom power products backed by local field expertise in 25+ locations worldwide. Designed for decades of non-stop operation, the high-availability DC power conversion solutions enable voice, video and data communications while assuring investment protection, total system efficiency, and significantly reduced total cost of ownership. More information about Lineage hardware, software, services and training is available at www.lineagepower.com.
About The Gores Group, LLC
The Gores Group, LLC is a private equity firm with $2.9 billion of capital under management that is focused on acquiring controlling interests in mature and growing businesses which can benefit from the firm's operating experience and flexible capital base. The firm combines the operational expertise and detailed due diligence capabilities of a strategic buyer with the seasoned M&A team of a traditional financial buyer. The Gores Group, LLC, which was founded in 1987 by Alec E. Gores, has become a leading investor having demonstrated over time a reliable track record of creating substantial value in its portfolio companies alongside management. Headquartered in Los Angeles, The Gores Group, LLC maintains offices in Boulder, CO, and London. For more information, please visit www.gores.com.
Contact Information:
Media Contact:
Michelle Barry
BridgeView Marketing
603.570.7533
michelle@bridgeviewmarketing.com