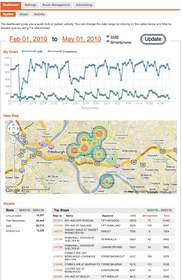 RouteShout lets transit agency executives glean ridership usage. Transit agencies gain an easy- to- manage dashboard and reporting tools.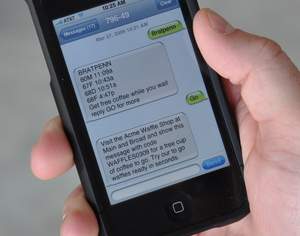 Newly-acquired by RouteMatch Software, RouteShout brings real-time and scheduled bus and rail arrival times via SMS texting and mobile applications. The RouteShout Traveler Information Services (TIS) platform helps transit agencies increase rider-ship, and lower call center and printing costs. In addition to SMS texting and mobile apps., RouteShout handles Internet, IVR, display, and kiosks.
ATLANTA, GA--(Marketwire - March 2, 2011) - RouteMatch Software, Inc. (www.routematch.com) today announced its acquisition of RouteShout™ (www.routeshout.com), an award-winning Traveler Information Systems (TIS) product developed by interactive mobility pioneers Deeplocal. Financial terms were undisclosed.
The acquisition of RouteShout from the Carnegie Mellon University spin-out expands RouteMatch's TIS initiatives, and sharpens RouteMatch's focus on developing innovative technologies for transit agencies. RouteShout's capabilities strongly complement RouteMatch's paratransit and fixed-route products, adopted by more than 300 US and international transit agencies. Integrating consumer-friendly applications with extensive back-end data analysis and reporting tools, RouteMatch's RouteShout TIS platform offers agencies a turn-key solution for interfacing with riders. Multiple forms of rider communications such as cellular SMS texts, smartphone applications, the Internet, IVR (Interactive Voice Response), and dynamic display signage at bus and railway stations will be offered through the flexible RouteShout platform.
"Transit agencies now using or considering any paratransit or fixed-route technology have proven schedule information and a real-time estimated time of arrival (ETA) solution with RouteShout," said Tim Quinn, Executive Vice President, RouteMatch Software, Inc. "Already, the reception has been phenomenal. Real-time bus and rail arrival information has been the missing link to achieving fully coordinated Intelligent Transportation Systems (ITS) for many transit agencies. RouteShout can help complete their ITS vision. Transit agencies can recruit more riders and engage fresh demographics from data they already have."
How to overcome public perceptions of inconvenience and schedule irregularity have been chronic challenges for transit agencies that operate fixed-route and paratransit services. Having scheduled or real-time arrival times at point of pick-up, or while en route to a bus stop, readily available through mobile phones helps riders both pre-plan and make on-the-spot travel decisions. In addition to empowering riders, transit agencies can use RouteShout to notify customers of disruptions, route or schedule changes via alerts. It can also help lower volume of phone calls into call centers, and the costs of printing paper schedules.
"We've seen our ridership increase 11% last year, and attribute much of that to RouteShout. We have also reduced our costs printing schedules by 75%," said John Kanyan, executive director of Indiana County Transit Authority in Pennsylvania. "With most of our ridership being university students, SMS texting is a no brainer since mobile technology is second nature to them. We have used SMS to welcome our students back to college, and inform them of route changes and have seen a huge spike in usage. As an industry, we compete with cars. RouteShout helps with communicating reliability. It's comforting for riders to know the bus will be there at their stop."
The RouteShout TIS platform can be deployed within hours or can be customized for more complex requirements within weeks. Its "drag and drop" web- based interface brings an extra degree of user-friendliness for both technical and non-technical users, enabling transit agencies to gain visibility into their ridership at any given time. It also offers an open API option for transit agencies that would like to tap development resources from third- party developers, and offers an additional channel for supplementing advertising revenue.
RouteShout combines real street network data, real-time GPS information and predictive analysis algorithms to pull, convert and push real-time information to riders. 24/7 customer support will be offered by RouteMatch's team of ITS technologies and wireless experts.
RouteShout is available now, and is currently used by more than 140 transit agencies. For more information, visit www.routeshout.com or call 1-888-840-8791.
About RouteMatch Software
RouteMatch is the leading provider of integrated, end-to-end transit ITS software and solutions. Founded in 1999, the company is headquartered in Atlanta, GA, and its software is currently in use at more than 325 sites in 48 states across the US and internationally. The company has experienced one of the fastest growth rates within the industry in the past four years. Targeting private and public sector passenger transportation providers, the company's products address routing, scheduling, dispatching, billing, reporting, fixed route CAD/AVL, paratransit and fixed-route integration, business intelligence, traveler information systems, transportation coordination and more. Additional information about RouteMatch's ITS technologies are available at www.routematch.com or by calling RouteMatch toll-free at 1-888-840-8791.
Contact Information:
Media contact:
Daisy Wall
RouteMatch Software
P: 404-844-5323
E: