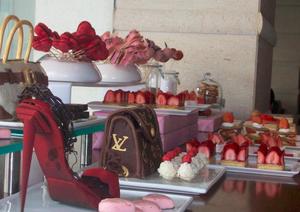 In celebration of Valentine's Day Jaipur Marriott hotel's restaurants are offering specials that are sure to help make this lover's holiday a memorable occasion
JAIPUR, INDIA--(Marketwire - Feb 9, 2012) - Touting 'the only code to be followed is love,' one of the premier Jaipur luxury hotels is casting a spell for a perfect romantic getaway just in time Valentine's Day.
Let Cupid set sights on the heart of that special loved one and take advantage of romantic Jaipur hotel deals that include gourmet experiences at some of the Pink City's finest dining establishments conveniently located inside the luxurious Jaipur Marriott. Recently opened, the Jaipur Marriott shines with inviting and elegant surroundings, an intriguing water feature and some of the finest International feasts to be found in Jaipur. In celebration of Valentine's Day the hotel's restaurants are offering specials that are sure to help make this lover's holiday a memorable occasion.
Okra Dinner Buffet
Couples can enjoy the culinary delights and contemporary ambience of Okra, an exquisite choice among Jaipur restaurants, where a dinner buffet spread will be laid out from 7 to 11:30 p.m. offering delicacies from around the world along with a full offering of favorite beverages and hand crafted cocktails. Available only on February 14, 2012 and reasonably priced at Rs. 1800 per person, this Okra Valentine's Day Special includes a complimentary glass of wine or beer to be enjoyed while couples delight in their favorite entrées or indulge in new and exciting flavors.
Lounge 18 Cupid Night
Lounge 18 marks Valentine's Day with a special Lounge 18 Cupid Night, presenting a live DJ to churn out all time hits and favorite love melodies for a grand evening of dancing. Couples can enjoy the romantic atmosphere set forth by the lounge's holiday decorations and music for a fun-filled and romantic lover's holiday. Entry fee of for this fun night out is just Rs. 1500 per couple and guests will be pleased to know Lounge 18 offers favorite tapas along with cocktails and fine wines.
Jaipur Baking Delights
Also located inside the Marriott, the Jaipur Baking Company will be offering exclusive Valentine's Day baked goods ranging from just Rs. 500. Valentine's Day cakes, hand rolled pralines and gift hampers will be available throughout the week to help create a special romantic interlude with that special someone.
Reservations and additional information may be obtained by contacting the Jaipur Marriott at + 91 141 4567777 or www.jaipurmarriott.com.
About the Jaipur Marriott Hotel
The Jaipur Marriott Hotel is an exciting five-star luxury hotel conveniently located near Jaipur International Airport and welcoming guests with a gracious ambience filled with cultural legacies of the Pink City. Elegant surroundings and attentive service set the standard for Jaipur destination wedding venues and the hotel's state-of-the-art convention facilities render exceptional accommodations for inspirational corporate retreats and professional trade gatherings. Dedicated event managers, contemporary accommodations and professional catering are just a few of the many amenities that make the Jaipur Marriott an extraordinary hotel destination.
Contact Information:
CONTACT:
Pratiti Rajpal
Jaipur Marriott
91-141-4567777