Harrington Hoists, Inc. sets the trend for industrial maintenance crews with the worlds smallest hoist products, the LX Mini Lever Hoist and the CX Mini Hand Chain Hoists from Harrington Hoists, Inc., Manheim, PA (Be sure to watch entire video to see both hoists.)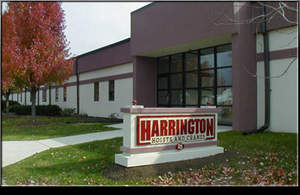 Mini Hoist by Harrington Hoists, Inc. Located in Manheim, PA and Corona, CA, Harrington Hoists, Inc. is a leading manufacturer of revolutionary manual, electric and air chain hoists as well as wire rope hoists and crane products. Known in our industry for world class products, a driven sales focus and outstanding customer services that are unmatched in today's market, Harrington is committed to do whatever it takes to satisfy our customers' needs.
MANHEIM, PA--(Marketwired - Oct 15, 2013) - Mini Hoists are providing big advantages for industrial plant maintenance teams requiring mobility in lifting applications. Unlike electric chain hoists that may be designated for assembly line production or specific work stations for repeated lifting, the LX Mini Lever Hoist and CX Mini Hand Chain Hoist from Harrington Hoists, Inc. are small enough to be carried in a belt pouch or toolbox which makes them ideal for maintenance crews as they move about industrial sites. 
In a recent interview with Industry Visions Industrial News, Bret Lussow, Vice President of Business Development for Harrington Hoists, Inc. spoke of challenges facing maintenance crews. "Maintenance in the industrial workplace presents a wide range of pulling and lifting challenges. Maintenance work often happens in close quarters or even high above the plant floor and requires small hoists for specialty rigging; that's when a worker can simply open the pouch on his belt or reach into his tool box for a reliable and strong little hoist to get the job done. Harrington has two great mini hoist models: The LX Mini Lever Hoist has all the great features of the big hoists such as an all-aluminum body with steel frame construction. It also comes with the world's strongest, most reliable grade-100 nickel-plated load chain. Harrington Hoists, Inc. also offers notably the world's smallest hand chain hoist; the CX Mini Hand Chain Hoist. This little 1/4 ton model is tremendously durable and operates smoothly due to its aluminum body with steel metal frame. The CX Mini Hand Chain Hoist is light weight so it can be easily carried any place a maintenance crew needs to be. The top quality features are astounding with the grade 100 nickel-plated load chain and load limiter that prevents the hoist from being used to lift damaging loads beyond rated capacity.
We at Harrington Hoists, Inc. salute all the maintenance companies and crews worldwide who keep industry moving. We are proud to offer our safe and reliable lifting solutions for industrial maintenance and are always glad to give you a lift. Maintenance crews are 'Joining the Revolution'." 
Harrington Hoists Inc. is a KITO Group company and operates US manufacturing facilities in Manheim PA, Elizabethtown PA, and Corona CA. Harrington also distributes hoist and crane products in South America under the KITO brand.
Industry Visions Industrial News and WVSN Reports are industrial news shows highlighting the accomplishments of American Industry. Contact WVSN for News Documentary Film Production for Television Networks, National News Organizations, Corporate Presentations and Financial Web Portals.