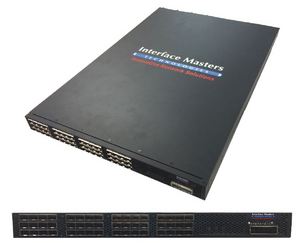 Niagara 4248-1C, Network Packet Broker consisting of 48 10GbE and 1 100GbE port. Supports traffic aggregation, mirroring, balancing, tunnel handling and filtering.
MILAN, ITALY--(Marketwired - Jan 28, 2015) - Cisco Live -- Interface Masters Technologies, provider of leading network visibility and monitoring solutions, today announced 100Gb Network Packet Broker. Niagara 4248-1C, based on Interface Masters' PacketMaster technology, configured with 24 ports of 40G and 1 port of 100G in a 1U form factor, while supporting up to 1.16 Tbps of bi-directional traffic, non-blocking technology and low latency. Following the Niagara 4272 introduction, which is the highest port density in a 1u, and the Niagara 4324-1C which is a combination of 40G and 100G NPB, the Niagara 4248-1C complements the family of Network Packet Brokers, TAPs and Bypass Switches that provide visibility to monitoring tools via filtering, mirroring, sophisticated session-based traffic distribution and aggregation. The system can support distribution and filtering for L2-L4 IP traffic, tunnel protocol handling and it provides the ability to customize keys for distribution. The 100G system supports tunneling of data to remote site for monitoring and inspection via VxLAN tunneling.
"With the increase of network traffic due to the number of users, devices, and video usage, operators and service providers are looking to deploy high bandwidth lines, which brings with it the need to monitor and support higher speed networks," stated Ben Askarinam, founder and CEO of Interface Masters. "Interface Masters is targeting multiple 100G platforms while the Niagara 4248-1C addresses the monitoring of 100G and 10G lines by providing a sophisticated platform that enables access to tools like network performance monitoring, network security appliances and other high speed networking analysis tools."
The Niagara 4248-1C provides:
Configurable session aware load balancing
VxLAN tunneling support, encapsulation and de-encapsulation
Packet filtering, traffic redirection and User defined bytes filtering
Mirroring, one to many, many to one and any to any
Secure logging and secure management
Statistics
Up to 1.16Tbps throughput
48 ports of 10GE and 1 port of 100GE
1U chassis with dual removable power supplies supporting AC and DC
Pricing and Availability
The product is available for evaluation. For more information, please contact the Interface Master's sales team at sales@interfacemasters.com.
About Interface Masters Technologies
Interface Masters Technologies is a leading vendor in the network monitoring and visibility market including Bypass, TAP, switches and smart NICs products, based in the heart of the Silicon Valley. Interface Masters' expertise lies in Gigabit, 10GbE and 40GbE networking solutions that integrate with monitoring, inline networking, IPS, UTM, Load Balancing, WAN acceleration, and other mission-critical IT and security appliances. Flagship product lines include PacketMaster® Network Packet Broker, specialized 10GE internal server adapter cards, switches, 10Gb and 40Gb external intelligent Network TAP and Bypass and failover systems. Company Headquarters are located in San Jose, CA with satellite offices in Hong Kong and Europe.
Contact Information:
Contact:
Media Contact for Interface Masters Technologies

Matthew Butrimovitz
Marketing Manager

408-441-9341 x147