LOS ANGELES, July 07, 2022 (GLOBE NEWSWIRE) -- Following the success of the 2021 Global Supporters Program, COSRX has finally announced the start of its second season. The last year saw thousands of applicants lining up to take part in a series of classes aimed at educating individuals on skincare, ingredients, and ways of use. The popularity of the program coupled with continuous requests prompted COSRX to return with a second season. But the company has taken it a step further, ramping up the classes with more skincare information, missions, and experts. This year, participants will be looking to take part in bigger, grander events peppered with a bucket load of gifts that include a chance to visit the COSRX HQ in Seoul, South Korea. More excitingly, they are promised "a mentorship which money can't buy."
COSRX is a brand focused on providing skincare solutions based on research and consumer feedback. It views its consumers as honorary R&Ds, listening to their wants and needs to create products that fulfill these requests. It's this approach that has helped solidify COSRX's status as a global skincare brand and one of the main reasons behind the 2022 Global Supporters Program. One thing the brand takes great pride in is its role as the undisputed leader in knowing and listening to its customer base. Since the brand launched, customers have been asking for ways that they could get more involved and share their love for COSRX with their friends and networks. That's why COSRX is thrilled to launch the second season of the Global Supporters program. The program will allow committed fans to make the brand their own.
The 2022 Global Supporters program kicks off on Friday, July 8, ending on Friday, July 15. More information, including the application form, can be found on the official Instagram platform @cosrx or the official website. The program is open to all skincare lovers. 
About COSRX
With its powerful yet affordable skincare solutions, COSRX has quickly become one of America's favorite skincare brands. Using a minimal number of highly effective natural extracts in concentrated doses, COSRX products deliver visible results by treating skin with only the essentials it needs and nothing it doesn't. Find its best-selling skincare solutions at retailers nationwide, including Ulta, Revolve, Dermstore, and Amazon.
COSRX Official Accounts
· COSRX Official Website: https://www.cosrx.com/
· Instagram: https://www.instagram.com/cosrx/
· TikTok: https://www.tiktok.com/@cosrx_official
Best Sellers and Novelty Products
Contact Points for MKT/PR Communication
· Hyein Lee, lhaein@cosrx.co.kr, +82-2-6357-9606
· Stella Cho, stella@cosrx.co.kr, +82-2-6357-9613
Related Images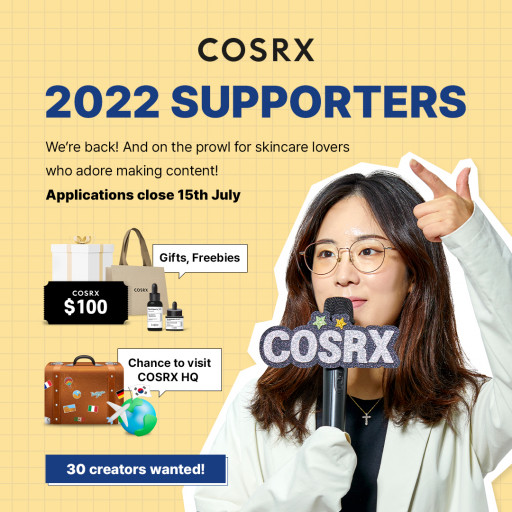 Image 1: COSRX 2022 SUPPORTERS




This content was issued through the press release distribution service at Newswire.com.
Attachment