Ottawa, Jan. 06, 2023 (GLOBE NEWSWIRE) -- The global quantum computing market size was accounted at USD 10.13 billion in 2022. Because of the enormous expenditures being made by governments and commercial companies, the market for quantum computing is booming. There has been a noticeable increase in the number of government efforts supporting quantum information processing during the past several years, particularly after 2014. Additionally, a number of countries are heavily subsidizing research and development in the area of quantum computing, which is fostering industry expansion.

Get the sample copy of this report@ https://www.precedenceresearch.com/sample/2377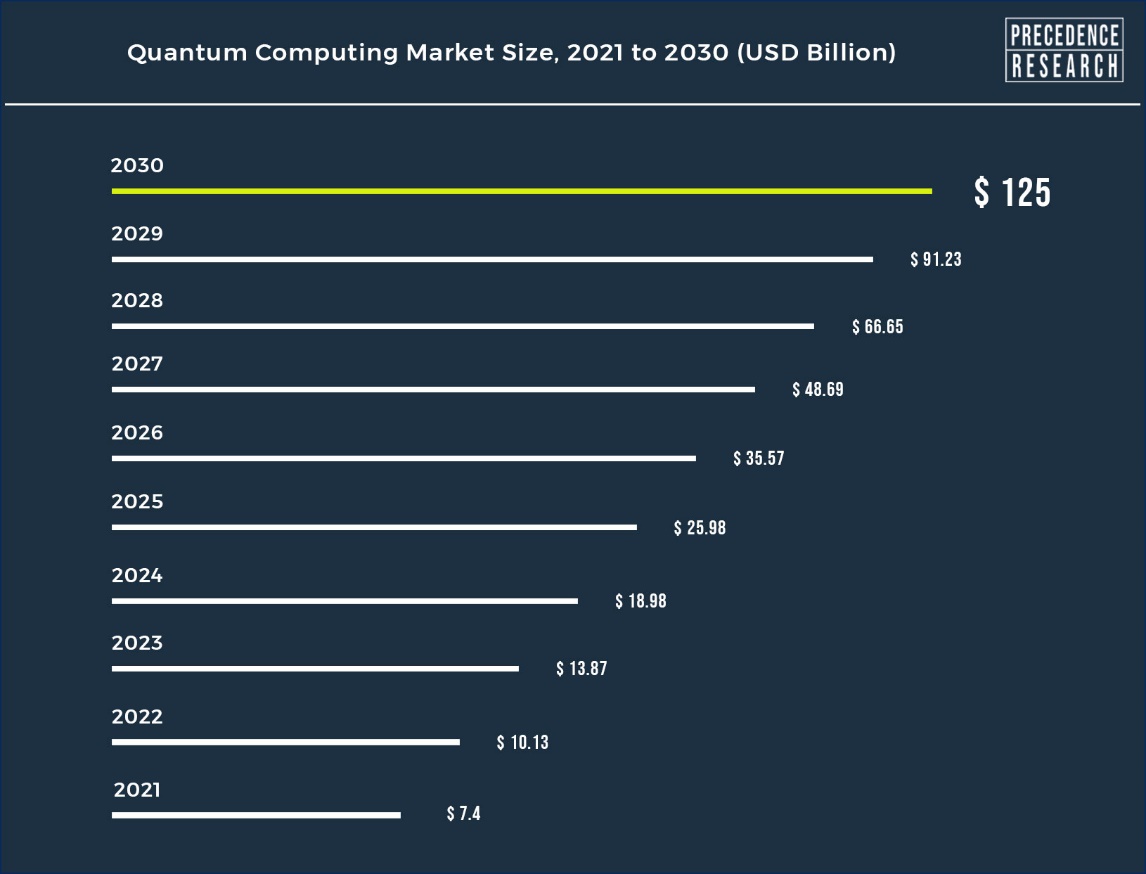 The market is keeping track of various significant changes happening mostly in North America but also elsewhere. In order to acquire a competitive edge in the quantum computing sector, private companies are also investing heavily in the technology. For instance, North American businesses like Microsoft Corporation, Google LLC, and International Business Machines (IBM) Corporation are working hard to create and market this technology.
Similar to this, China's top online retailer, Alibaba Group Holding Limited, is constructing its own quantum computing center. Additionally, the Chinese government is constructing a $10 billion national facility for quantum research in Hefei, with an opening date of 2020. A significant increase in simulation work for quantum computing is also being seen in the market for quantum computing solutions. Market participants are actively trying to create numerical simulation of quantum systems since it is crucial for the advancement of scientific knowledge. But greater processing power is necessary for the development of these systems. In fields like quantum chemistry and superconducting materials, models that represent many important and crucial systems cannot be accurately solved numerically or analytically by conventional computers.
Quantum computers are being employed globally to provide precise solutions. This is significantly accelerating the commercial development for quantum computing. Quantum simulation will also be one of the first uses for quantum computers since it can already provide useful results with only a small fraction of the qubits needed for classical processing.
Report highlights
The system sub-segment type is anticipated to have a prominent market share in the worldwide market because to the growing need for quantum computing in several industries, including machine learning, AI, and radar manufacturing.
Due to the fast use of quantum computing technologies across a number of industries in the Europe region, including chemicals, healthcare, utilities, and pharmaceuticals, the Europe quantum market is anticipated to earn the most revenue in sales.
The fastest market growth is anticipated for the category of global consulting solutions, which will primarily be driven by its growing use in drug research, the formulation of innovative compounds, aerospace & defense, material science, chemicals, energy & power, and healthcare.
The BFSI has a sizable market share based on end use and is expected to grow considerably over the next years.
Ask here for more customization study@ https://www.precedenceresearch.com/customization/2377
Scope of the Report
| | |
| --- | --- |
| Report Attributes | Details |
| Revenue Forecast by 2030 | USD 125 Billion |
| CAGR | 36.89% from 2022 to 2030 |
| Largest Market | North America |
| Fastest Growing Region | Asia Pacific |
| Base Year | 2022 |
| Forecast Year | 2023 to 2030 |
| Key Players | Demant A/S, Starkey Laboratories, Inc., Cochlear Ltd., RION Co., Ltd, Microson, GN Store Nord A/S, Sonova Group |
Regional Snapshots
The market share for quantum computing is expected to be dominated by North America due to its early adoption of cutting-edge technology. Market size in North America, which was USD 171.4 million in 2020, is anticipated to grow significantly. Additionally, the existence of a competitive market and end-user acceptance of cutting-edge technology may promote market growth. Sales are anticipated to increase throughout Europe as a result of the rise of multiple startups, favorable legislative conditions, and the growing use of cloud technology. In addition, it is anticipated that leading companies' company expansion would accelerate market growth.
The market is anticipated to grow in Asia Pacific as a result of the growing need for quantum computing solutions for simulation, optimization, and machine learning. Additionally, it is anticipated that widespread industrial use of innovative technology would accelerate industry development.
Market Dynamics
Drivers
To support the expansion of the quantum computing industry, more people should use quantum computing as a service (QCaaS). Based on what it has to offer, the services category is anticipated to control a large portion of the market. This is due to the increasing use of quantum computing as a service (QCaaS) in a variety of industries, including finance, chemicals, defense, and the pharmaceutical and healthcare industries. Calculations can be completed by quantum computers in a matter of seconds. As a result, they are heavily utilized in various businesses, particularly BFSI, to speed up the operations.
In the meanwhile, the market has benefited from the growing usage of this technology in optimization, simulation, and machine learning applications across a range of end-use sectors. The development of network quantum information technologies (NQIT) is anticipated to accelerate the inclusion of optimization methods for resolving issues that arise during the practical applications of quantum computing during the course of the forecast period.
Restraints
Technical and implementation issues limit market expansion. Research is still being done on quantum computer engineering. There are several technological difficulties in putting quantum computing technology into real-time applications. Since any environmental contact will cause the state function to collapse, quantum computers are particularly sensitive to environmental interactions. The creation of physical universal computers that can be utilized for real-time applications has only been theoretically shown, and it is yet unclear exactly how quantum computing solutions will affect the way that information is now processed. These are the driving forces behind the gap that has grown between research institutions, investment firms, and the corporate environment, which is predicted to have a negative impact on the development of the global quantum computing industry.
Opportunities
The quantum computing business is expanding quickly and provides prospects in practically every discipline, but its ability to assist farmers in increasing agricultural productivity and output is the most important aspect. A quantum computing platform might also aid in the development of the chemicals needed to make fertilizers that use less energy. These elements are to blame for the explosive uptake of quantum computing technology in the agricultural industry. Additionally, governments all around the world are sponsoring and funding researchers in quantum computing. For instance, the Indian government announced in February 2020 that it has proposed a proposal to invest around $1.12 billion in research on quantum computing. Additionally, a software startup called Quantum provides quantum computing softwares to provide cutting-edge agricultural solutions that help farmers better manage their farming operations. Such corporate endeavors and governmental assistance might in the future provide considerable market potential for the worldwide quantum computing industry in agriculture.
Challenges
Since qubits are delicate and easily disrupted by fluctuations in ambient temperature, frequency and noise, it has been hard to maintain their quantam mechanical state for a very longer time. Commercializing quantum computers is a challenging, complex undertaking. A number of systems based on online ledgers employ the elliptic curve digital structuring approach, is presently not quantum secure. The strength of these services lies in their ability to store a complex state in one bit. This aspect also contributes to the challenge of building, testing, and designing quantum systems. The fragility of quantum states necessitates precision in manufacture and frequent operation of bits at very low temperatures.
Related Reports
Recent developments
In December 2021, Classic and NTT DATA teamed together to deploy credit risk analysis algorithms. Users of Classic software will also be able to program algorithms that will function with different quantum hardware platforms in the future, giving a prospective lender a response that is more accurate or speedy.
A Singapore-based business named SpeQtral got $8.3 million in investment in December 2021 to build commercial space-based QKD using technology created at the National University of Singapore's Center of Quantum Technologies. Throughout order to power a quantum-secure communication system in Southeast Asia, the business has a cooperation with Toshiba.
Market Segmentation
By Application
Machine Learning
Optimization
Biomedical Simulations
Financial Services
Electronic Material Discovery
Other (Traffic Optimization, Weather Forecasting, and others.)
By End Use
Healthcare and Pharmaceuticals
Chemicals
Defence
BFSI
Energy and Power
Others
By Offering Type
Consulting Solutions
Systems
By Geography
North America
Europe
Asia-Pacific
Latin America
Middle East & Africa (MEA)


Immediate Delivery Available | Buy this Premium Research Report@ https://www.precedenceresearch.com/checkout/2377
You can place an order or ask any questions, please feel free to contact at sales@precedenceresearch.com  | +1 9197 992 333
About Us
Precedence Research is a worldwide market research and consulting organization. We give unmatched nature of offering to our customers present all around the globe across industry verticals. Precedence Research has expertise in giving deep-dive market insight along with market intelligence to our customers spread crosswise over various undertakings. We are obliged to serve our different client base present over the enterprises of medicinal services, healthcare, innovation, next-gen technologies, semi-conductors, chemicals, automotive, and aerospace & defense, among different ventures present globally.
For Latest Update Follow Us:
https://www.linkedin.com/company/precedence-research/
https://www.facebook.com/precedenceresearch/
https://twitter.com/Precedence_R