Farmington, Jan. 09, 2023 (GLOBE NEWSWIRE) -- The Global Peptide Therapeutics Market Was Valued At USD 39.34 Billion In 2021. The Global Market Is Expected To Grow At A CAGR Of 8.8% From 2022 To 2030. Peptide therapy is the treatment of disease with peptides or polypeptides. Peptide therapeutics are made to do the same things that hormones, growth factors, ion channel ligands, and anti-effects can do naturally. Approved peptides can be used to treat a wide range of medical conditions, such as diabetes, digestive and metabolic problems, and hormonal disorders.
Request Sample Copy of Report "Peptide Therapeutics Market - Global Industry Analysis, Size, Share, Growth Opportunities, Future Trends, Covid-19 Impact, SWOT Analysis, Competition and Forecasts 2022 to 2030", published by Contrive Datum Insights.
The market for peptide therapeutics is expected to grow for a number of reasons, including a growing number of older people, a rise in the number of people with chronic diseases, and a rise in the number of patients who know about advances in peptide therapeutics. Also, major market trends that are expected to drive growth in the coming years include more new products and better technology.
Recent Developments:
December 2022, ONL Therapeutics, Inc., a Michigan-based biopharmaceutical company developing new treatments, secured $46.9 million in a Series B funding round held in December 2020. The funding will be used to develop the peptide manufacturing for IND filing Phase 2 studies.
In June 2022, EQT Life Sciences announced a $25 million second round of funding for Ariceum Therapeutics, a privately held biotechnology company developing radiopharmaceutical products. The funding will enable Ariceum to develop satoreotide, its lead asset and proprietary peptide derivatives.
Segmentation Analysis:
In 2021, over 65.0% of the income came from the in-house manufacturing segment. Due to strict regulations and the high cost of outsourcing, most of the major players develop peptide therapeutics on their own. Large pharmaceutical companies prefer to make their own drugs because they have the right infrastructure and technology to make a lot of them. Because it's hard to make therapeutics that meet high quality standards, it's also expected that outsourcing for manufacturing will grow over the next few years. Companies prefer to get the Active Pharmaceutical Ingredient (API) from companies that have high-end technology and a lot of experience making different kinds of peptides.
Regional Outlook:
North America took over the market and made up more than 46% of all sales. The regional market is growing because more people are learning about peptide therapeutics products, the demand for cancer and other disease diagnostics is going up, and the biotechnology industry is growing. During the forecast period, peptide therapeutics are expected to stay on top because the government will be spending more money on research and development. The biopharmaceutical and pharmaceutical industries in the area have been around for a long time and are big growth drivers. The American Cancer Society thinks that about 2 million new cases of cancer will be found in the U.S. in 2022. Cancer is the second leading cause of death in the United States, after heart disease. Based on this information, it seems likely that peptides will become more important in US healthcare and move forward in clinical trials. Also, as cancer becomes more common, there will likely be more demand for peptide therapeutic approaches. During the forecast period, Asia-Pacific is expected to grow a lot because there are a lot of untapped opportunities, the cost of raw materials is low, the number of companies that offer outsourcing services is growing, the biotechnology industry is booming, and R&D spending is going up. Low prices for raw materials and the expiration of patents on best-selling drugs are expected to help the generics market grow in the near future.
Buy this Premium Research Report@
https://www.contrivedatuminsights.com/buy/61592
Scope of Report: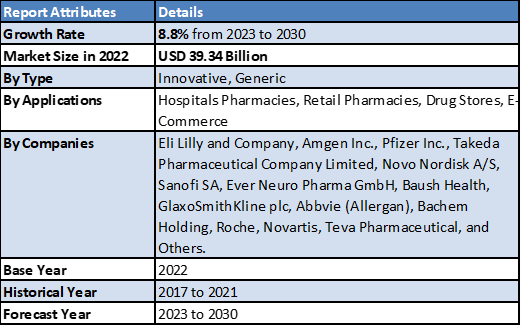 Market Drivers:
Over the next few years, the global peptide therapeutics market is expected to grow because metabolic diseases and cardiovascular diseases (CVDs) are becoming more common. For example, the 2018 Heart Disease and Stroke Statistics from the American Heart Association show that about 92.1 million adults in the U.S. are suffering from some form of CVD or the effects of a stroke.
Market Restraints
The growth of the global peptide therapeutics market is likely to be slowed by the fact that naturally occurring peptides have poor chemical and physical stability and a short half-life in circulating plasma. Also, the market isn't growing as fast as it could because of strict safety rules. As peptide therapeutics treat multiple pathological conditions, they need a better regulatory framework. By 2020, the regulatory framework is expected to be better.
Market Opportunity:
Research and development (R&D) of new peptides is likely to give players in the market good chances to grow and make money. For example, in December 2019, CohBar, Inc. released new preclinical data that showed that a new CohBar peptide could be used to treat Idiopathic Pulmonary Fibrosis in a preclinical model (IPF). Also, research and development in microbiome research is expected to help the peptide therapeutics market grow. In January 2020, researchers from The Chaim Sheba Medical Center in Israel said that high fructose consumption caused metabolic changes and dysbiosis in rats, and that metabolic changes probably don't depend on a specific microbiome profile.
Key Segments Covered:
Top Market Players:
Eli Lilly and Company, Amgen Inc., Pfizer Inc., Takeda Pharmaceutical Company Limited, Novo Nordisk A/S, Sanofi SA, Ever Neuro Pharma GmbH, Baush Health, GlaxoSmithKline plc, Abbvie (Allergan), Bachem Holding, Roche, Novartis, Teva Pharmaceutical, and Others.
Peptide Therapeutics Market by Type:
By Phase
Liquid Phase
Solid Phase
Hybrid Phase
By Type of Molecule
Vasopressin
Somatostatin
Calcitonin
Immunopeptide
Natriuretic
Others
Peptide Therapeutics Market by Applications:
Hospitals Pharmacies
Retail Pharmacies
Drug Stores
E-Commerce
Regions and Countries Covered
North America: (US, Canada, Mexico, Rest of North America)
Europe: (Germany, France, Italy, Spain, UK, Nordic Countries, Benelux Union, Rest of Europe)
Asia-Pacific: (Japan, China, India, Australia, South Korea, Southeast Asia, Rest of Asia-Pacific)
The Middle East & Africa: (Saudi Arabia, UAE, Egypt, South Africa, Rest of the Middle East & Africa)
Latin America: (Brazil, Argentina, Rest of Latin America)
Check out more related studies published by Contrive Datum Insights:
Customization of the Report: The report can be customized as per client needs or requirements.For any queries, you can contact us on anna@contrivedatuminsights.com or +1 215-297-4078. Our sales executives will be happy to understand your needs and provide you with the most suitable reports.
About Us:
Contrive Datum Insights (CDI) is a global delivery partner of market intelligence and consulting services to officials at various sectors such as investment, information technology, telecommunication, consumer technology, and manufacturing markets. CDI assists investment communities, business executives, and IT professionals to undertake statistics-based accurate decisions on technology purchases and advance strong growth tactics to sustain market competitiveness. Comprising of a team size of more than 100 analysts and cumulative market experience of more than 200 years, Contrive Datum Insights guarantees the delivery of industry knowledge combined with global and country-level expertise.
Social: Facebook / LinkedIn / Twitter
Contact Us:
Anna B. | Head Of Sales
Contrive Datum Insights
Phone: +91 9834816757 | +1 2152974078
Email: anna@contrivedatuminsights.com
Website:
https://www.contrivedatuminsights.com
Contrive Datum Insights Press Releases
Latest Contrive Datum Insights Latest Reports