OTTAWA, Ontario, Jan. 17, 2023 (GLOBE NEWSWIRE) -- Giatec®, world leader in concrete testing technologies, announces SmartRock® Pro, the latest addition to their award-winning product lineup, at World of Concrete 2023. This first-of-its-kind technology is a fully self-calibrating concrete sensor, making it the world's most powerful innovation in concrete strength monitoring.
"On a construction site, you never know what changes will come your way; from weather conditions to scheduling, even down to last-minute changes in your mix order and delivery," says Aali Alizadeh, CTO and Co-Founder of Giatec. "It was our mission to create this sensor in parallel to our SmartRock maturity sensor, giving our customers the ability to continue saving days on their projects by monitoring the strength of their concrete in real time. SmartRock Pro is designed to take all fluctuations in stride by self-calibrating to cut costs, save time, and produce less waste from break tests."
With the SmartRock Pro's self-calibrating feature, users only need to tag the sensor and install it to begin measuring concrete strength in real time, saving projects multiple days per pour. This new sensor measures concrete strength using multiple advanced sensing methods without requiring any manual input. Secured to the rebar, the sensor is fully embedded, making it completely maintenance and hassle-free. Furthermore, with concrete being delivered to site with very little visibility into the variability of the mix from truck to truck, these self-calibrating sensors will now measure accurate concrete strength independently of the concrete being received. 
The addition of new self-calibrating concrete strength monitoring sensors to Giatec's existing advanced AI solutions provides general contractors and concrete producers with a superior solution ecosystem that cuts cost, saves time, and produces less waste from break tests, while reducing significant GHG emissions resulting from concrete production.
Giatec launches SmartRock Pro today at World of Concrete 2023. Attendees can get a glimpse of this newly engineered product at the Giatec booth #N1253 in the North Hall. 
ABOUT 
Giatec is a global company revolutionizing the construction industry by bringing smart testing technologies and real-time collection and analysis of concrete data from production and delivery to placement. Giatec's suite of hardware & software products has leveraged advanced technologies such as; Artificial Intelligence (AI), and Internet of Things (IoT), including; wireless concrete sensors, mobile apps, and advanced non-destructive technologies (NDT) to drive innovation throughout concrete's lifecycle and reduce concrete's carbon footprint. For more information visit https://www.giatecscientific.com
Contact Information:
Dobrila Moogk
Vice President, Marketing, Giatec Scientific
marketing@giatec.ca
+1 (877) 497-6278 ext. 9210

Related Images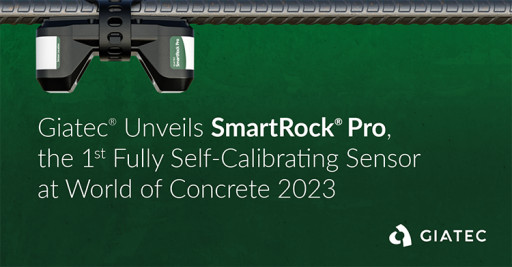 Image 1: Giatec® Unveils SmartRock® Pro, the 1st Fully Self-Calibrating Sensor at World of Concrete 2023


Newest Giatec Product, SmartRock Pro, Delivers Breakthrough Innovations in Concrete Strength Monitoring to Every Jobsite




This content was issued through the press release distribution service at Newswire.com.
Attachment