DENVER, Feb. 02, 2023 (GLOBE NEWSWIRE) -- Avanti Residential has partnered with Trinity Investors in the $45 million acquisition and recapitalization of Sunset Peak Apartment Homes, a 184-unit multi-family community located north of downtown Denver in Thornton, CO. The project is unique in its townhome design and low density for the local market area and will receive a fresh capital infusion of approximately $5.3 million for apartment interiors, new amenities and exterior improvements.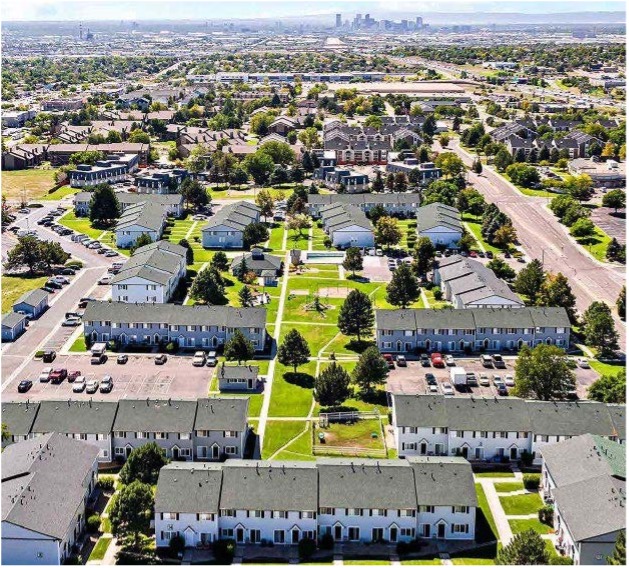 "We are pleased on many levels to partner with Trinity Investors and begin work on the exciting renovation of Sunset Peak," said Christian Garner, president of Avanti Residential. "This acquisition and recapitalization will continue the work we began on 20 percent of the apartment interiors in 2019-2020 and reposition the project to offer a higher quality resident experience."
Sunset Peak Apartment Homes is located at 475 Russell Blvd., just off I-25 and Thornton Parkway and a 15-minute drive to Denver's central business district. The project features a mix of two- and three-bedroom townhomes amid a spacious greenbelt area on a 12-acre site. Amenities include a swimming pool and splash pad, grilling station, and a dog park. A new fitness center and upgrades to the pool and playground areas are included in the planned renovation.
Approximately $3 million of the renovation budget will be invested in apartment interiors, where Avanti's construction team will modernize 147 units ($16,433 per unit) with new lighting fixtures and cabinet fronts, new appliances, luxury vinyl tile flooring and other enhancements. The property will also undergo resurfacing of the parking areas and new roofs on three buildings.
Denver-based Avanti is a fully integrated apartment company that owns and manages approximately 9,000 apartments, roughly 25% of which are in Metro Denver and Colorado Springs, CO. Avanti also has significant holdings in Arizona, Florida, Greater Kansas City, and Utah. The firm is selectively acquiring core-plus and value-add apartment projects on behalf of Avanti's institutional and private capital partners.
This transaction is the first investment between Texas-based Trinity Investors and Avanti in the Denver marketplace. The venture was drawn to the attractive basis at $245,000 per unit when compared to the entry price for new construction, plus the stable and increasing demand for rental housing in a Thornton submarket with a highly constrained development pipeline.
"The challenging apartment investment environment over the past year nonetheless presents sound opportunities where we can apply our real estate experience and market knowledge with new and existing investor relationships to deliver attractive risk-adjusted returns," added Garner.   
About Avanti Residential
Avanti Residential is an experienced investor and owner-operator of lifestyle-forward multifamily communities in the U.S. Founded in 2005 and headquartered in Denver, Colorado. Avanti operates 37 properties across five states, comprising 9,000 units. The company utilizes a vertically integrated platform led by a seasoned executive team, each with more than 25 years' experience in the acquisition and value creation of apartment properties. Avanti applies skilled real estate investment acumen in a culture of personal accountability and alignment to deliver exceptional value and attractive risk-adjusted returns for its institutional venture partners and private capital investors. AvantiResidential.com
About Trinity Investors
Trinity Investors is an alternative asset management firm based in Southlake, Texas providing a world class experience for individuals seeking above-average risk adjusted returns through direct investment in real estate and operating companies. Founded in 1999, Trinity has invested $2.0B+ of equity into $6.0B+ of commercial real estate and traditional private equity portfolio companies. Currently, the firm's portfolio consists of 125 commercial real estate assets and 16 operating companies or platforms. TrinityInvestors.com
Stacey Hershauer | 480-600-0195
stacey@focusaz.com
Randy Hall | 949-838-5238
randy@ideahall.com
A photo accompanying this announcement is available at https://www.globenewswire.com/NewsRoom/AttachmentNg/1e6c467a-d5fa-4c52-8b02-e37e5803eb85