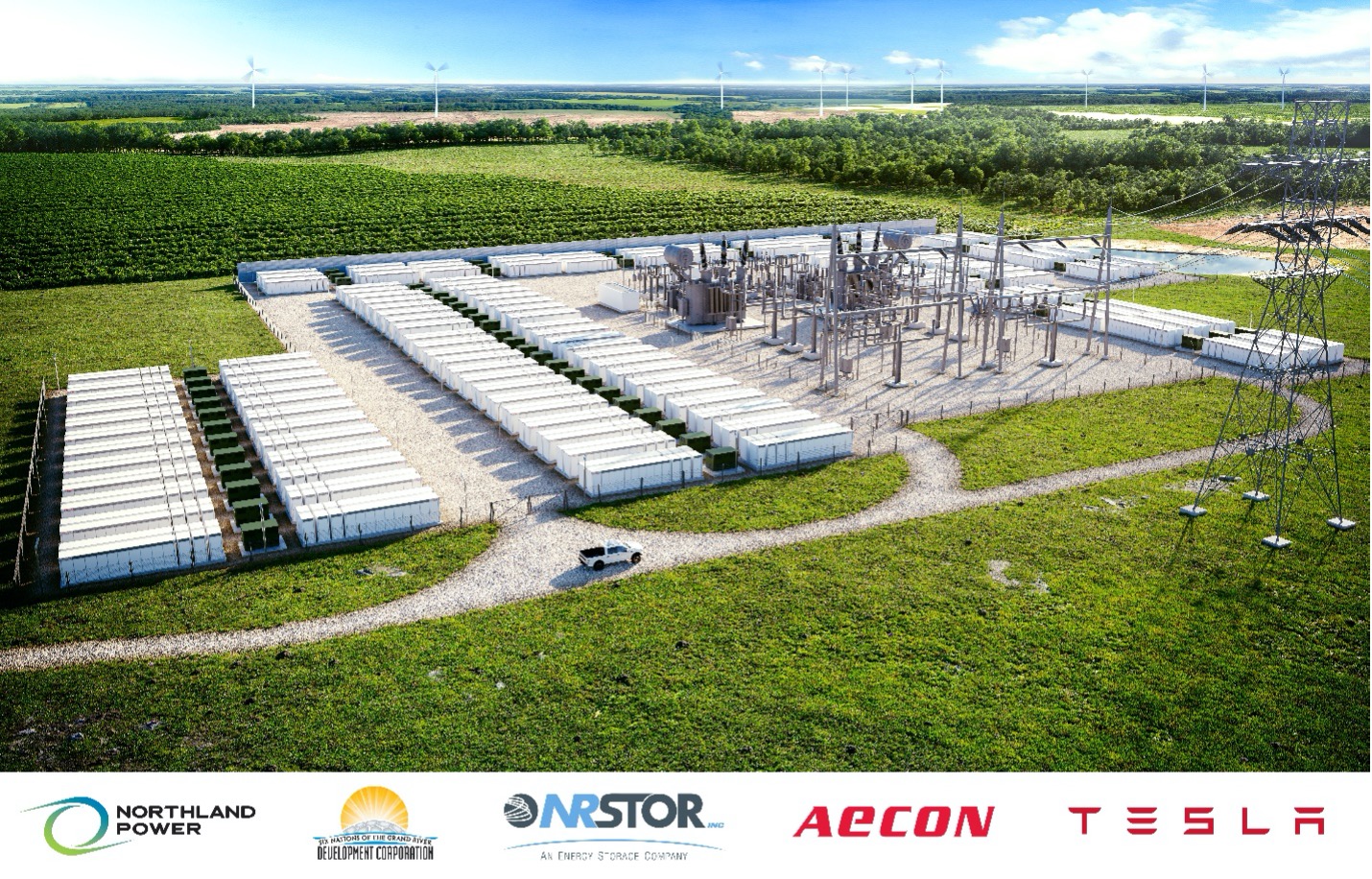 TORONTO, Feb. 10, 2023 (GLOBE NEWSWIRE) -- NRStor Inc. ("NRStor") is pleased to announce that the Independent Electricity System Operator ("IESO") has entered into an Energy Storage Facility Agreement (ESFA) for the Oneida Energy Storage Project ("the Project"). This is a significant step in advancing its development and follows the issuance of an Order-in-Council and Ministerial Directive to enable the Project to proceed, granted by the Government of Ontario.
The Oneida Energy Storage Project is the largest of its kind in Canada and amongst the largest in the world. It will provide a gigawatt-hour of much needed capacity to the Ontario grid, while prioritizing local Indigenous partnerships and environmental benefits. NRStor and Six Nations of the Grand River Development Corporation ("SNGRDC") have been jointly developing the Project since 2018 and are also pleased to announce Northland Power's participation as an equity and operating partner.
With the finalization of the ESFA, the Project proponents have now finalized and executed a battery supply agreement with leading global battery manufacturer Tesla Inc., and an engineering, procurement, and construction ("EPC") agreement with Aecon Group Inc., to advance into the construction phase. The Project will supply the Ontario electricity system through a 250 megawatt / 1,000 megawatt-hour Tesla Megapack system in southwestern Ontario and is scheduled to be completed in 2025.
In addition, Natural Resources Canada has provided $50 million in funding from the Smart Renewables and Electrification Pathways program, recognizing that the Oneida Energy Storage Project will reduce greenhouse gas emissions by enabling increased renewable energy capacity and providing essential grid services. The Canada Infrastructure Bank has played a key role supporting project development and is collaborating with the Oneida Energy Storage Project on an investment agreement. The Project contributes to Canada's ongoing transition to a net-zero economy by 2050 as well as Canada's commitment to achieving a 100-percent net-zero-emitting electricity system by 2035.
"This is a significant day for the Oneida Energy Storage Project, and we are proud of the example it sets as a sustainable energy project with strong Indigenous partnership from Six Nations and collaboration between industry and government," says Annette Verschuren, Chair and CEO of NRStor. "We thank our many stakeholders, including the Government of Ontario and the Government of Canada, whose support and investment in this Project have played a key role in bringing it to this stage."
"The collaboration between the partners and other involved parties has been powerful; we have built on existing partnerships and welcomed new relationships along the way," says Matt Jamieson, President and CEO of SNGRDC. "As a developing partner and equity owner, SNGRDC has played a key role in project considerations including the project location and the creation of career opportunities that will benefit our community. This project will play a significant role in the betterment of our people and our environment."
"As the energy transition accelerates, energy storage will play a key role in providing stability and reliability to grids," says Mike Crawley, President and CEO of Northland Power. "Northland is excited to be part of this growth, and we look forward to continuing to work in partnership with NRStor and the Six Nations of the Grand River Development Corporation without whom this project would not have been possible."
"As a leader in the energy transition, Aecon is working at the forefront to build and operate sustainable infrastructure and the battery energy storage market offers robust opportunities for continued growth in a significant global market," said Jean-Louis Servranckx, President and CEO, Aecon Group Inc. "We are pleased to combine the multidisciplinary expertise of Aecon's Construction and Concessions teams to deliver this sustainable project that will improve electricity management during peak demand, reduce GHG emissions, and support economic development and long-term partnerships with Indigenous communities – creating energy savings to meet the needs of future generations."
The facility will help meet Ontario's future electricity needs by providing clean, reliable power capacity. It will draw and store existing surplus baseload and renewable energy during off peak periods and release that power back to the grid when energy demand is at its peak. In addition, the energy storage facility will help stabilize Ontario's electricity sector by providing important grid balancing services.
Oneida Energy Storage is expected to provide significant benefits to provincial ratepayers by reducing the need and cost associated with using gas-fired power plants during times of peak demand. The Project will help Ontario reduce greenhouse gas emissions by 4.1 million tonnes, or the equivalent of taking 40,000 cars off the road every year.
About Oneida Energy Storage Project (OES Project)
The Oneida Energy Storage Project (OES Project) is a 250MW/1,000 MWh stand-alone lithium-ion battery storage project in southern Ontario and representing one of the largest clean energy storage projects in the world. NRStor Inc. (NRStor), Six Nations of the Grand River Development Corporation (SNGRDC), Northland Power Inc. (NPI), and Aecon Group Inc. (Aecon) have partnered together to lead the development, construction, and operations of the OES Project.
About NRStor Inc.
NRStor's vision is to be the leading profit-with-purpose energy storage developer. NRStor develops, owns and operates industry leading energy storage projects in partnership with Indigenous communities, progressive stakeholders, and technology providers. For more information: www.nrstor.com
Media Contact
Oliveah Numan
onuman@sussex-strategy.com
519-770-2991
A photo accompanying this announcement is available at https://www.globenewswire.com/NewsRoom/AttachmentNg/f3e7e5cc-d67f-43e5-81ce-bc087bd2b626