Ottawa, Feb. 14, 2023 (GLOBE NEWSWIRE) -- The medical tourism market growth is driven by increasing geriatric population and rise in adoption of sophisticated technologies like superior hospitality, and individualized care. The term "medical tourism" describes planned international travel for medical purposes. Traveling abroad is typically required for health maintenance, improvement, or restoration using cutting-edge medical facilities and procedures.

The services are frequently used for elective procedures as well as the management of numerous dental, aesthetic, cardiovascular, orthopedic, neurological, and other serious illnesses, like cancer. Additionally, they make it possible for people to access economical healthcare services and high-quality care.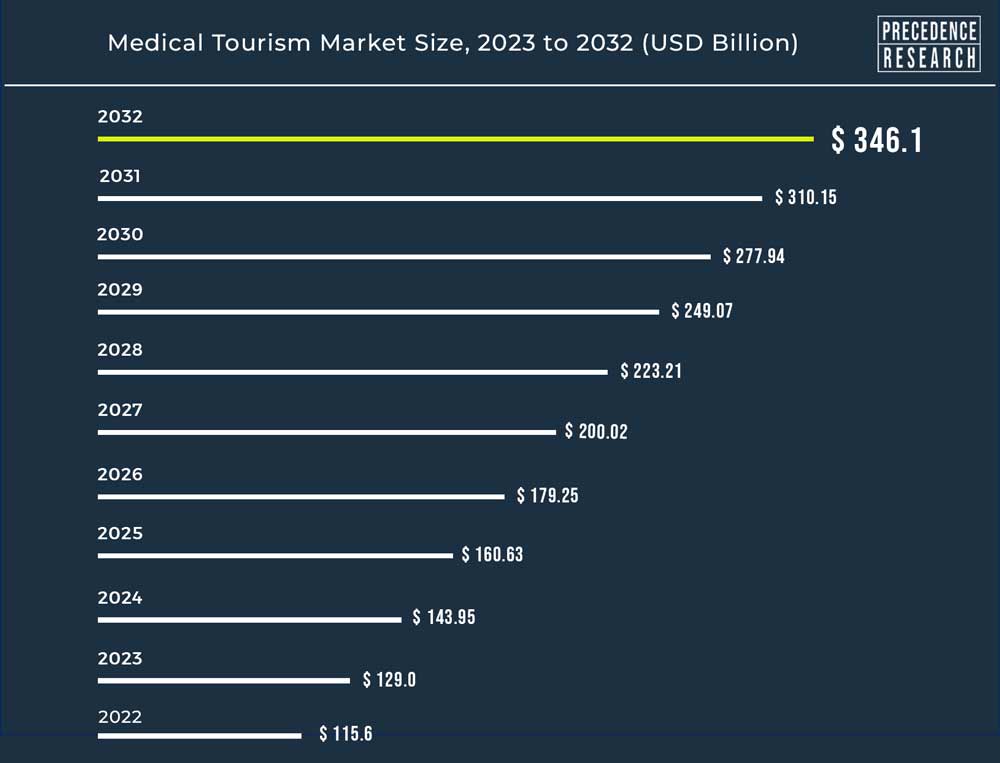 One of the main drivers of the market's expansion is the flourishing medical industry around the world. Patients are choosing medical migration more frequently as a result of the high costs of treating chronic illnesses in many affluent countries. Additionally, patients from all over the world are drawn to the advanced medical facilities that are offered at reasonable prices in a number of developing nations. In order to stimulate the market, healthcare facilities are concentrating on offering people better healthcare, cutting-edge medications, contemporary equipment, and individualized treatment.
Get the sample pages of report@ https://www.precedenceresearch.com/sample/1360
Market Growth
The primary drivers of the expansion of the global medical tourism market are accessibility and affordability of high-quality healthcare services as well as support from local governments and tourism bureaus. Additionally, the availability of cutting-edge medical technology in medical tourism hotspots around the globe is anticipated to fuel market expansion. The medical tourism industry is struggling to expand, meanwhile, due to long payment times from payers, partial reimbursement, travel challenges, language obstacles, a lack of available documentation, and problems with VISA acceptance. On the other hand, a larger hospital network covered by insurance for cashless transactions is anticipated to present a chance for the growth of the international medical tourism sector.
Regional Analysis
Due to the availability of high-quality care at reasonable costs of treatments, the availability of cheap flights, the growth of marketing, and the availability of online consumer information about the availability of medical services, Asia-Pacific had the highest market share for medical tourism in 2022. The expansion of this market is further aided by large government investments in enhancing healthcare infrastructure. The analysis period is expected to have the largest CAGR growth in LAMEA, followed by Asia-Pacific. The availability of cutting-edge specialist treatments for cardiovascular, neurological, and cancer diseases will likely cause Europe to grow at a significant rate.
Treatment Type Analysis
Due to the rise in cancer prevalence globally, the cancer treatment sector accounted for the biggest market share for medical tourism in 2022. According to projections, more people will traverse borders in search of effective cancer treatment. Additionally, cancer treatment is an expensive and drawn-out process; as a result, the market's expansion is fueled by countries with lower treatment costs. Furthermore, patients often decide to travel to other nations that have modern healthcare facilities because such treatments are not readily available in some countries.
The two most popular types of medical care in Malaysia are dental and cosmetic. Heart conditions, orthopedic issues, infertility, health examinations, dental issues, and cancer are frequent reasons why foreign visitors travel to Indonesia. The nation wants to focus on specialized fields like dentistry, physical examinations, and cosmetic surgery, particularly breast augmentation and rhinoplasty. The majority of inbound procedures in Indonesia were dentistry and health-related checks.
Competitive Landscape
The global medical tourism market is fiercely competitive, and major competitors have used a variety of tactics to gain the largest possible market share. Aditya Birla Memorial Hospital, Apollo Hospitals Enterprise Limited, Asian Heart Institute, Barbados Fertility Center, Fortis Healthcare Limited, KPJ Healthcare Berhad, NTT Medical Center Tokyo, Prince Court Medical Centre, Samitivej PCL, Seoul National University Hospital, and Wooridul Spine Hospital are a few of the major players in the market.
Ask here for more customization study@ https://www.precedenceresearch.com/customization/1360
Scope of the Report
| | |
| --- | --- |
| Report Attributes | Details |
| Revenue Forecast by 2032 | USD 346.1 Billion |
| CAGR | 11.59% from 2023 to 2032 |
| Base Year | 2022 |
| Forecast Year | 2023 to 2032 |
| Key Players | Demant A/S, Starkey Laboratories, Inc., Cochlear Ltd., RION Co., Ltd, Microson, GN Store Nord A/S, Sonova Group |
Market Dynamics of the Medical Tourism Market
Market Drivers
Healthcare facilities and organizations are providing patients with entire medical tourism packages that include all travel-related costs, from airfare to lodging to health insurance. In addition, rising consumer knowledge of the availability of cutting-edge medical facilities is another driver supporting market expansion. The implementation of supportive government policies encouraging the expansion of the medical infrastructure and significant research and development (R&D) efforts are expected to further fuel the industry.
Medical tourism is not a new idea, but it has been growing in popularity online as a healthcare option for people all over the world. From a marketing standpoint, the internet offers a flexible platform for healthcare operators and service providers to raise awareness of the numerous choices for medical travel. The decision of a patient to travel for medical treatment can be significantly influenced by the Internet. Patients frequently research options online before making decisions, using a variety of information sources. As they look for reliable information on foreign healthcare infrastructure, consumers are becoming more active in online communities for the healthcare industry. In addition, medical tourism marketers are using social media more and more to connect with potential patients.
Market Restraints
The COVID-19 pandemic prevented the medical tourism sector's overall growth. Cosmetic surgery, dental work, and hair transplants, among other non-emergency elective treatments, have been delayed due to the increased incidence of COVID-19 cases in 2020 and beyond. During the pandemic, a number of wellness centers, hospitals, and medical tourism service providers also temporarily ceased operations. Despite numerous characteristics that are advantageous to the sector, there are a few obstacles that prevent medical tourism from expanding. The integrity of medical tourism, for instance, is threatened by the lack of control over the informational content of the interest.
Market Opportunities
The market for medical tourism is anticipated to grow significantly over the anticipated time period, particularly in the area of reproductive treatments. The growing prevalence of infertility worldwide and the accessibility of low-cost treatments in developing nations are projected to accelerate the growth of this market sector.
Around the world, 10-12% of couples have problems conceiving, according to the NCBI page titled "In vitro Fertilization," which was updated in May 2022. This figure is expected to progressively climb in the next years. According to the same article, one in eight American couples struggle with infertility. Couples' struggles with infertility as a result have boosted the need for reproductive treatments globally.
Governments in each of these countries are actively supporting medical travel. In addition, the accessibility of travel in today's globalized globe has increased access to medical tourism. The research closely evaluates global medical tourism growth opportunities. Additionally, it assesses the effects of the tactics used by the top competitors in the medical tourism market.
Related Reports
Get Our Latest Press Releases@ https://www.precedenceresearch.com/press-releases
Recent Development of the Medical Tourism Market

An online medical travel platform called Qunomedical, formerly known as Junomedical, was established in 2015 to help people identify and compare accredited clinics throughout the world as well as receive prices for a variety of medical operations. Additionally, it gives customers a general idea of the costs involved and the places they can go. As of August 2017, the business claimed to work with over 4,000 patients each month and to have associations with more than 25 globally accredited clinics. The company's headquarters are in Berlin, Germany, and it has so far raised close to US$ 2 million in total capital.


Medical Departures, a website for finding and scheduling appointments with doctors worldwide, was established in 2014. Users can look for, compare, and reserve medical services in desired locations. Before scheduling an appointment, the website assists customers in acquiring information and evaluating the caliber of medical facilities. It offers therapies for a wide range of illnesses, including those related to anti-aging, breast, hair, skin, fertility, orthopedics, and many more. The Singapore-based business has received a total of $3 million in funding to date.


In order to locate a foreign dentist and make an appointment, Canadian patients might use Dental Departures, a Singapore-based online service. Now allows dental patients to book an appointment with a dentist in Brazil, Colombia, Mexico, Costa Rica, Thailand, the Philippines, South Korea, Hungary, Poland, the Czech Republic, Spain, Greece, Croatia, Macedonia, Montenegro, and the United Arab Emirates. 2016 Global Patients' Choice Award winner. The business is a division of Medical Departures.


Market Segmentation
By Treatment Type
Dental Treatment
Cardiovascular Treatment

Coronary Artery Bypass Surgery (CABG)
Angioplasty
Others

Cancer Treatment
Cosmetic Treatment

Breast Surgery
Face Surgery
Liposuction
Others

Orthopedic Treatment

Knee Replacement
Hip Replacement
Others

Fertility Treatment
Neurological Treatment
Other
By Service Providers
By Type
By Healthcare Service
Medical Treatment
Wellness
Alternative Treatment


By Geography
North America
Europe
Asia Pacific
Latin America
MEA


Immediate Delivery Available | Buy this Premium Research Report@ https://www.precedenceresearch.com/checkout/1360
You can place an order or ask any questions, please feel free to contact at sales@precedenceresearch.com  | +1 9197 992 333
About Us
Precedence Research is a worldwide market research and consulting organization. We give unmatched nature of offering to our customers present all around the globe across industry verticals. Precedence Research has expertise in giving deep-dive market insight along with market intelligence to our customers spread crosswise over various undertakings. We are obliged to serve our different client base present over the enterprises of medicinal services, healthcare, innovation, next-gen technologies, semi-conductors, chemicals, automotive, and aerospace & defense, among different ventures present globally.
For Latest Update Follow Us:
https://www.linkedin.com/company/precedence-research/
https://www.facebook.com/precedenceresearch/
https://twitter.com/Precedence_R