Tokyo, March 21, 2023 (GLOBE NEWSWIRE) -- The formula for the chemical compound urea, also referred to as carbamide, is CO(NH2)2. This amide is created by joining two -NH2 groups with a carbonyl functional group. Mammals' urine primarily contains urea, which is a nitrogen-containing compound that is important to their metabolism of other nitrogen-containing compounds. Chemical raw materials like urea are used to create a range of goods, such as adhesives, polymers, and urea-formaldehyde resins. Moreover, it is used to make feed, glue, fertilizers, commercial goods, and resin.

Get the sample pages of report@ https://www.precedenceresearch.com/sample/2690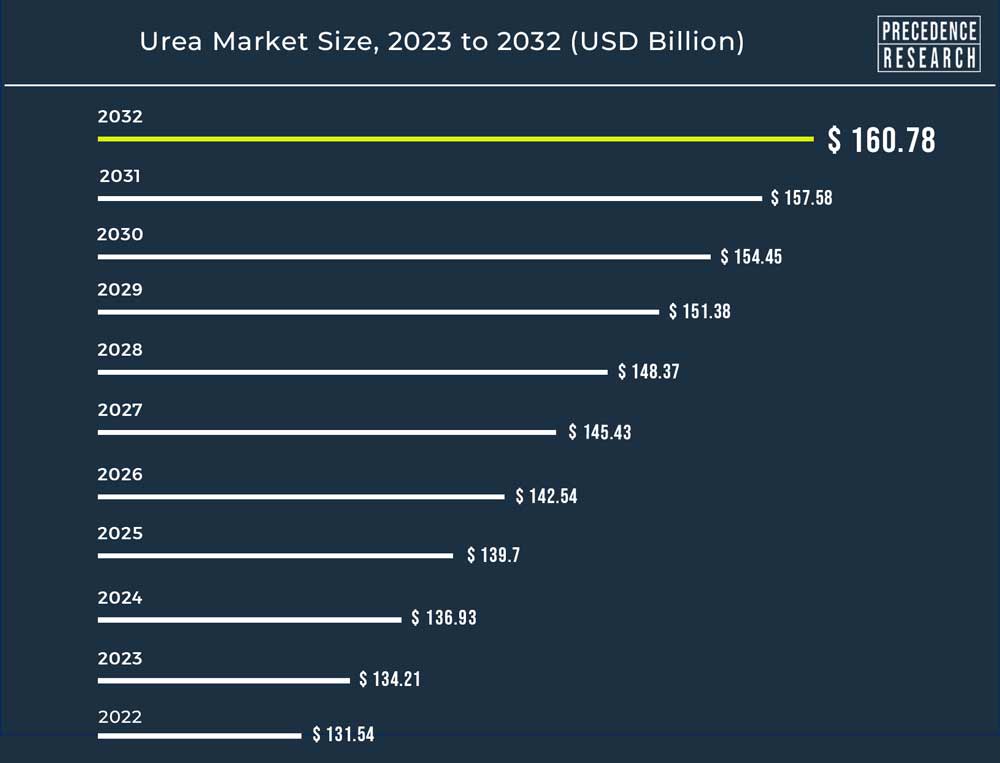 Market Overview
The need for urea as a fertilizer in the agriculture sector is anticipated to expand. Because of its substantial nitrogen concentration, urea is a desirable source of nitrogen that is mostly used in fertilizers that include nitrogen. Growth of the market is anticipated to be hampered by the health risks connected with urea. The urea market is anticipated to grow during the projected period as a result of the discovery of applications for urea in the production of bio-bricks.
Urea's effectiveness is rising across a variety of industries, including agriculture and medicines, because to many benefits like higher nutrient content, nitrogen storage capabilities, easy handling, and low cost per pound of nitrogen. A highly soluble substance, urea, can be easily dissolved in water and applied to the soil's surface to produce more nitrogen to help plants grow. The solution can also be added to irrigation water and sprayed on plant foliage. Enfrost, a liquid formulation containing 43% urea, can be used to prevent frost damage to ornaments, fruit, vegetables, and field crops. The urea market is expanding in terms of revenue since it may also be used as a stabilizer, intensifier, regulator, and as a component of insecticides.
Regional insight
India produces one-third of the world's urea, which is used widely in fertilizers and other products throughout the APAC region. Prime Minister Narendra Modi officially opened the fertilizer factory in Gorakhpur on December 9, 2021. The facility is projected to improve urea manufacturing in India and represent the nation as a self-sufficient unit for meeting domestic requirements. Due to a global shortage, China intends to increase urea manufacturing as a required raw material for lowering vehicle emissions domestically and also plans to export to Australia and other nations. Due to its many uses in chemical products like AdBlue and diesel fumes fluid, which lower nitrous oxide emissions produced by diesel engines to comply with international norms, urea use is on the rise.
Germany has the largest fertilizer market in Europe that uses urea inhibitors. By using urea as a fertilizer, agriculture in the UK contributes to almost 90% of all ammonia emissions, which can be decreased with the adoption of cutting-edge technologies. The EU launched a clean air initiative for Europe's agriculture industry on January 28, 2020, which included the introduction of a solid urea-coated urease inhibitor that lowers CO2 emissions since it releases urea gradually.
Report Highlight
By Grade, in 2022, the category offering fertilizer had the biggest revenue share. Due to its high nitrogen content, urea makes up a significant portion of the entire production that is used to make fertilizers. It is employed as fertilizer in addition to its high nitrogen content due to its inexpensive nitrogen fertilizer form and minimal transportation and storage costs. A large amount of soil fertility programmes and the growth of fruits, vegetables, and flowers benefit from nitrogen-enriched soil.


By End-use, in 2022, the agriculture industry contributed the most to total revenue. The most widely used solid fertilizer on the planet, urea is widely accessible, can be used with all sorts of crops, and has no negative effects on soil. For instance, the World Bank agreed to give Sri Lanka a fund of USD 105 million on June 7, 2022, to be used to purchase urea for paddy planting during the Maha Season, which is expected to boost production capacity to fulfil the needs of the country.


Ask here for customization study@ https://www.precedenceresearch.com/customization/2690
Scope of the report
Report Coverage
Details
Market Size in 2032
USD 160.78 Billion
CAGR
2.03% from 2023 to 2032
By Grade

Fertilizer Grade
Feed Grade
Technical Grade

By Application

Agriculture
Animal Feed
Chemical Synthesis
Others

By Region

North America
Europe
Asia-Pacific
Latin America
The Middle East and Africa

Key Players
Acron Group, HUBEI YIHUA CHEMICAL INDUSTRY CO., LTD., CF Industries Holdings, Koch Fertilizer, LLC, Coromandel International Limited, SABIC, Qatar Fertilizer Company, China National Petroleum Corporation (CNPC), Yara International ASA, Nutrien AG, OCI N.V., EuroChem, and Others
Market Dynamic
Drivers
Rising demand for fertilizers in the agriculture industry
Although urea has numerous uses in a variety of industries, including the pharmaceutical, medical, petrochemical, and automotive sectors, the demand for urea in the market is mostly driven by the agricultural sector. Due to its high nitrogen content, urea has many uses, including the manufacturing of fertilizer, the production of urea-formaldehyde resin for use in laboratories, and the production of barbiturates, which requires a significant amount of urea. Demand for agrochemicals, which enhance nutritional balances and growth of plants by eradicating harmful insects, is rising as a result of rapid population increase and rising consumer awareness of the importance of ingesting nutrient-rich food products. It decomposes soil to produce ammonia, which bacteria then oxidize to produce another nutrient for plants called nitrate.
Revenue growth for the urea market is being driven by increasing demand for agro - chemicals, dairy production, horticulture, corporate planting, and crop shifting. With regard to nitrogen, urea is the source of these nutrients in agrochemicals, fertilizers, and insecticides. For instance, the World Bank agreed to give Sri Lanka a fund of USD 105 million on June 7, 2022, to be used to purchase urea for paddy planting during the Maha Season, which is expected to boost production capacity to fulfil the needs of the country.
Restrain
Various Environmental Law
Due to the release of gaseous ammonia, which can be harmful to the environment and human health, solid urea manufacturers have struggled to cope to comply with numerous environmental standards. Urea cannot be utilized until it has been transformed for 4-5 days at room temperature. The majority of the nitrogen during the ammonization process is easily volatilized. The real usage rate is typically only around 30%. Nitrogen loss is expedited and enhanced when urea is added to alkaline soil or soils with a high concentration of organic matter. In addition, weeds readily consume urea. Because to the high nitrogen concentration of urea, excessive application should be avoided to prevent waste and fertilizer damage.
Opportunity
Increase of urea in various industry
The expansion of environmental regulations in response to the negative effects of various toxic gas emissions produced by power plants and automobiles is predicted to help the urea industry in the energy and automotive sectors. The use of urea to reduce Nitrous Oxide (NOx) generated by diesel exhaust systems and power plants is detrimental to both the environment and human health. Due to stringent laws prohibiting the use of SNCR and SCR processes in a number of passenger vehicles, urea is used in procedures to reduce NOx contaminants in engine exhaust from lean-burn natural gas, dual-fuel, and diesel engines. As a result, the market for industrial grade urea is expected to rise at a healthy CAGR.
Due to increased awareness of skin care products and rising disposable income levels worldwide, the cosmetics business has also experienced significant growth in recent years. Urea is a common ingredient in cosmetic goods made by companies who produce skincare and hair care products. Thus, it is anticipated that the global urea market will benefit from a growth in the cosmetics sector during the course of the anticipated decade.
Recent & Development
In order to meet the demands of all stakeholders and the issues facing the Agri-nutrients business, SABIC launched a fully functional corporation in November 2021. To ensure sustainable growth and provide more unique Agri nutrients solutions, the new company implements a distinctive operational style that centers on a number of pillars.
In November 2021, Acron expanded the Veliky Novgorod facility's urea production capacity. It seeks to enhance yearly output by 390,000 tonnes by raising the combined capacity of units 1-4 by 55%, from 2000 TPD to 3100 TPD. By 2024, the business hopes to have finished the project.
Immediate Delivery Available | Buy This Premium Research Report@ https://www.precedenceresearch.com/checkout/2690
You can place an order or ask any questions, please feel free to contact at sales@precedenceresearch.com  | +1 9197 992 333
About Us
Precedence Research is a worldwide market research and consulting organization. We give unmatched nature of offering to our customers present all around the globe across industry verticals. Precedence Research has expertise in giving deep-dive market insight along with market intelligence to our customers spread crosswise over various undertakings. We are obliged to serve our different client base present over the enterprises of medicinal services, healthcare, innovation, next-gen technologies, semi-conductors, chemicals, automotive, and aerospace & defense, among different ventures present globally.
For Latest Update Follow Us:
https://www.linkedin.com/company/precedence-research/
https://www.facebook.com/precedenceresearch/
https://twitter.com/Precedence_R