BOSTON, April 06, 2023 (GLOBE NEWSWIRE) -- Bicycle Health, the leading telehealth provider of integrated medical and behavioral treatment for opioid use disorder (OUD) in the U.S., published the self-reported results of a voluntary survey of more than 460 active Bicycle Health patients. The findings point to the hidden victims of the opioid crisis and the profound impact of the Drug Enforcement Administration's new proposed telemedicine restrictions on vulnerable populations in America.

Opioid overdoses killed over 80,000 Americans last year. More than 9.2 million Americans misused opioids in 2021, and 90 percent could not access evidence-based, FDA-approved medication – and the gold standard of care – that helps protect OUD patients from relapse, overdose, and death.
On February 24, 2023, the Drug Enforcement Administration (DEA) published new proposed rules that effectively end access to telehealth-only medical treatment for OUD (MOUD). Thousands of Americans with OUD will lose access to this treatment option without an in-person visit with a medical provider who refers them back to their telehealth provider to continue their care.
To better understand the consequences of this ruling, Bicycle Health examined patient demographics, patients' goals in recovery, the origin of their OUD, and their perceived ability to comply with new DEA requirements for a one-time in-person exam.
The following reflects concerning effects of the ruling on vulnerable patient populations:
Low-income households are at risk – Two-thirds of patients in the survey estimated their annual household income to be below $50,000; one-third estimated their income to be below $25,000 yearly.
Outsized impact on single working mothers – Three-fourths of all patients surveyed were mothers; two-fifths (40%) were single mothers, one-in-three (32%) of moms had incomes below $50,000 a year; nearly one-in-seven (16%) of moms surveyed had incomes below $25,000 a year. Nearly half of the women surveyed (45%) were working full-time; one-in-three (35%) were moms working full-time.
Seeking in-person treatment presents challenges for most – Nearly half of patients surveyed (46%) said they do not see a primary care doctor on a regular basis and a similar number (46%) responded "no" when asked if they would feel comfortable discussing OUD treatment with their "regular doctor."

Bicycle Health is committed to working with its community of physicians, advanced practice clinicians, The American Telemedicine Association, and other advocacy groups to encourage the DEA to make common sense revisions to this ruling and ensure that the strengths of teleOUD treatment are seen and accounted for. To watch real stories from our patients, visit Bicycle Health's YouTube channel.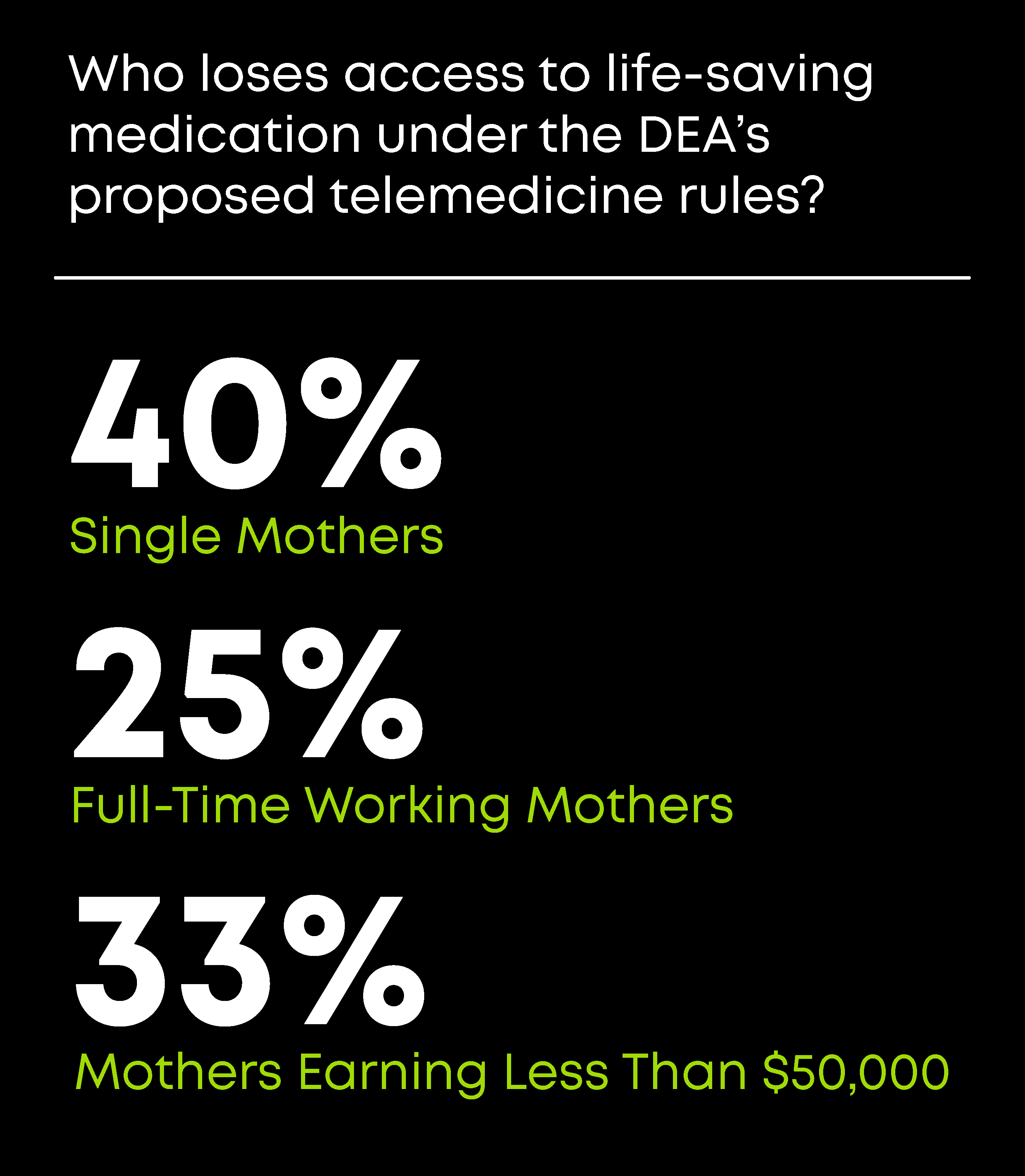 About Bicycle Health
Bicycle Health is the leading telehealth provider of integrated medical and behavioral treatment of opioid use disorder (OUD) in the United States, offering an evidence-based care model that includes FDA-approved medication for opioid use disorder (MOUD), access to a highly-trained team of medical experts, therapy, a customized treatment plan, and peer support groups. Bicycle Health's mission is to address the country's number one public health crisis by helping to reduce stigmas associated with opioid addiction and providing access to affordable, convenient, and confidential teleOUD treatment for individuals in need. The company's "whole person" approach to treatment encourages patients to focus on their passions and goals, which plays a vital role in recovery.
Contact
LaunchSquad for Bicycle Health
bicyclehealth@launchsquad.com
A photo accompanying this announcement is available at: https://www.globenewswire.com/NewsRoom/AttachmentNg/f5b165a3-e46d-4722-a4ff-c552c7edc2de
A video accompanying this announcement is available at: https://www.globenewswire.com/NewsRoom/AttachmentNg/2d935da1-5d69-40ec-a5ef-8134c0e5d1d0