MARLBOROUGH, Mass., April 11, 2023 (GLOBE NEWSWIRE) -- Wyebot, an industry leader in AI-driven WiFi automation, announced the integration of Intel® Connectivity Analytics to offer a new solution that will leverage advanced PC client connectivity and networking insights, combined with Wyebot's AI technology to deliver improved user experience independent of location.

"Our participation in the Intel® Connectivity Analytics program enables us to help our customers and partners further optimize their networking operations and end-user experience," said Roger Sands, CEO and co-founder of Wyebot. "This collaboration is aligned with Wyebot's overarching strategy to strengthen our overall leadership of WiFi automation by adding support for the mobile workforce. By integrating Intel's insights into our WiFi automation technology, we're able to grow and deploy our market-leading technology across major business segments."
In collaboration with Intel, Wyebot's new solution helps customers and partners leverage their existing Intel PC footprint for unique networking and system insights, from network health and security to quality of service and end-user experience—delivering enhanced applications and services to their users.
Intel-based PCs are deployed in networks around the globe and across all major segments–including corporate, industrial, government, education, and consumer. Subject to end-user and managed service provider customer and user consent, Intel's connectivity products provide unique hardware and software-based insights that can help ecosystem partners better understand local network conditions from the PC.
Regardless of the hardware location, whether in the office or home, these insights can provide considerable benefits in a variety of areas.
Capabilities support:
Network performance optimization (Health)
Dynamic bandwidth adjustment for critical usages (Quality of Service)
Security threat detection and issue resolution (Security)
Asset tracking and facility resource management (Sensing/Location)
Client networking performance monitoring and technical support (UX/support)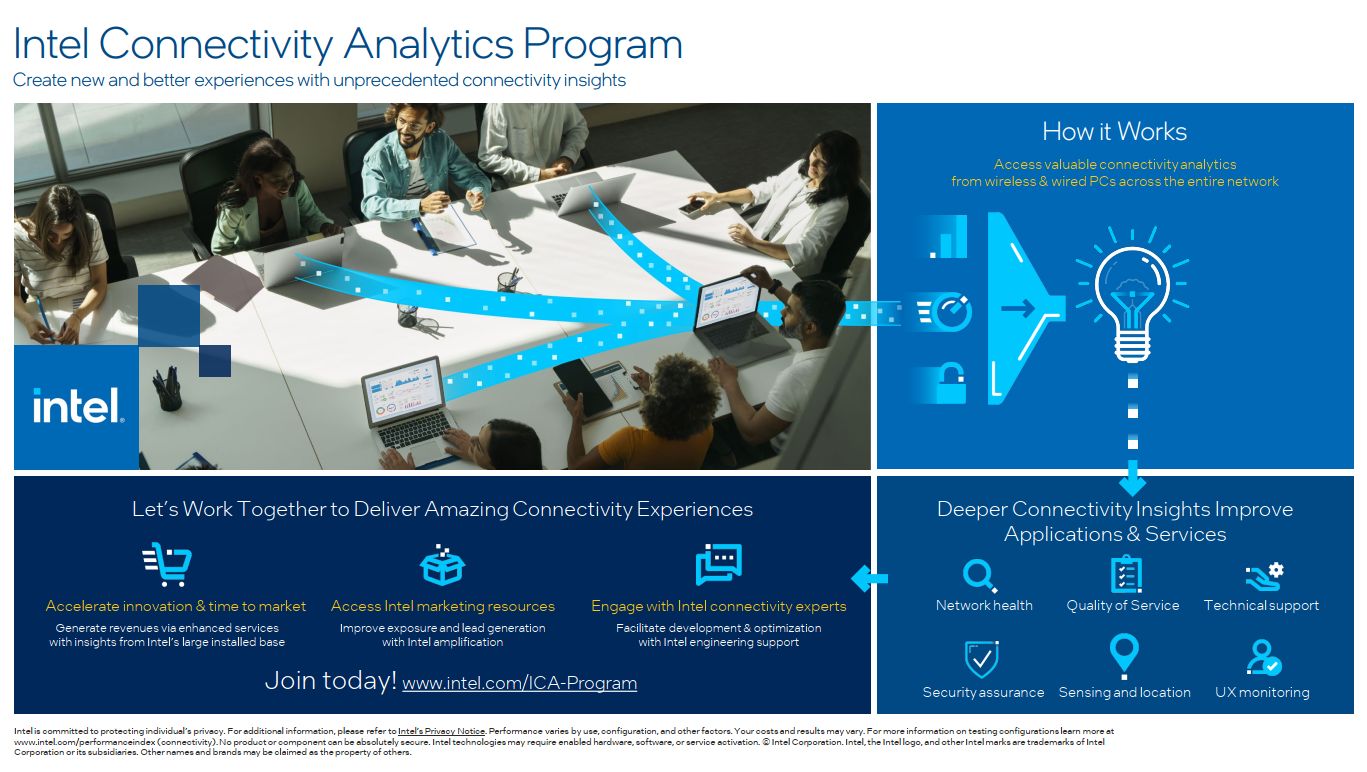 (Source: Intel)
"The Intel Connectivity Analytics program can help solution providers drive efficiencies and productivity in managing Intel-based PCs, addressing network-related issues, and improving user support experiences," said Eric McLaughlin, Intel vice president in Client Computing Group, general manager of Wireless Solutions Group. "Wyebot's participation in the program allows the company to expand insights across local network environments to deliver richer solution offerings for their customers, while providing more automation where and when it is needed."
For more information about the Intel Connectivity Analytics program, please visit: www.intel.com/ICA-Program or https://wyebot.com
About Wyebot
Wyebot is the leader in AI-driven WiFi Automation. Its vendor-agnostic Wireless Intelligence Platform™ monitors, analyzes and using its patented AI-based engine and market-leading multi-radio sensor, automatically provides problem identification with solutions resulting in up to a 90 percent reduction in meantime to problem resolution, up to a 70 percent reduction in WiFi problem tickets, and a reduction in onsite problem-solving visits by up to 80 percent. For more information, please visit https://wyebot.com.
About Intel
Intel (Nasdaq: INTC) is an industry leader, creating world-changing technology that enables global progress and enriches lives. Inspired by Moore's Law, we continuously work to advance the design and manufacturing of semiconductors to help address our customers' greatest challenges. By embedding intelligence in the cloud, network, edge and every kind of computing device, we unleash the potential of data to transform business and society for the better. To learn more about Intel's innovations, go to newsroom.intel.com and intel.com.
© Intel Corporation. Intel, the Intel logo, and other Intel marks are trademarks of Intel Corporation or its subsidiaries. Other names and brands may be claimed as the property of others.
Contact:
Andrew McLean
Account Director
FischTank PR
andrew@fischtankpr.com
A photo accompanying this announcement is available at https://www.globenewswire.com/NewsRoom/AttachmentNg/4fb438ae-02b9-490d-81d6-e6a7ff629a32