Ottawa, May 16, 2023 (GLOBE NEWSWIRE) -- The polyethylene terephthalate market is expanding at a CAGR of 3.89% from 2023 to 2032. Major market growth drivers for polyethylene terephthalate (PET) include increased textile and fabric consumption, rising PET recycling and collecting rates in Europe, and rising global demand for environmentally friendly and recyclable goods.

Get the sample pages of report@ https://www.precedenceresearch.com/sample/2838
PET, also known as polyethylene terephthalate, is a durable thermoplastic resin used in the manufacture of numerous items including pouches, canes, bottles, films & sheets, and others. These plastics are believed to be recyclable in nature because they do not leach any chemicals and are safe for people to use as well. They are colourless and very light in nature. These plastics are widely utilized in a variety of sectors, including consumer goods, electronics, food & beverage, healthcare, and others.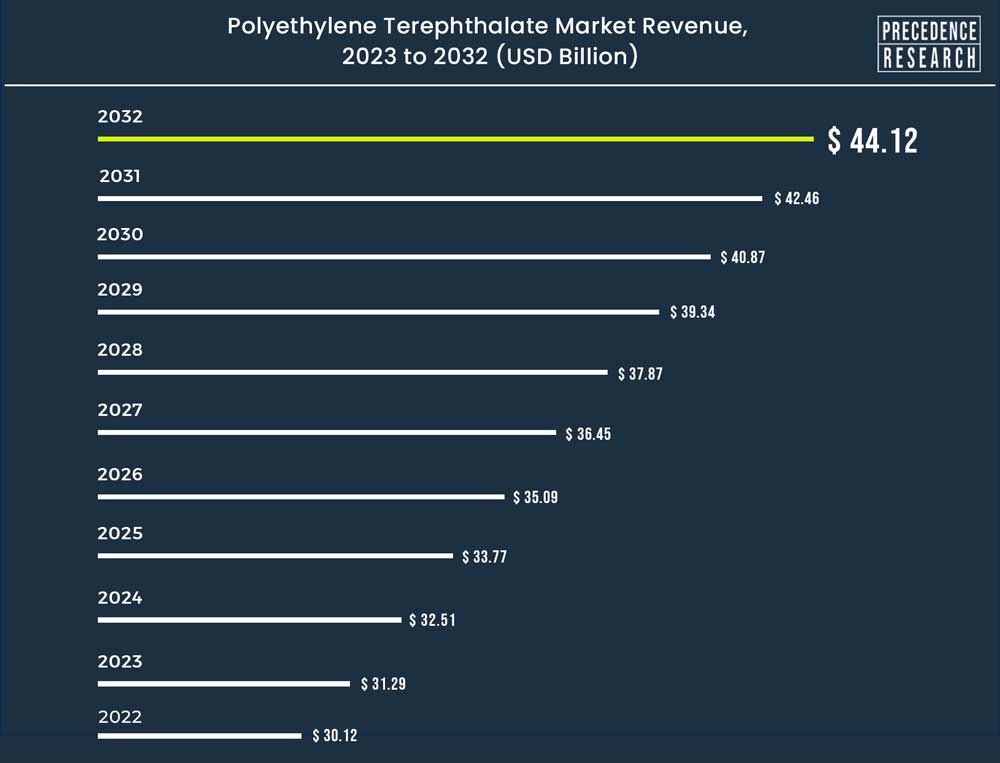 Industrial manufacturing has increased as a result of rising infrastructure development investments and the explosive growth of the organized retail sector in emerging countries. These elements are probably going to have a beneficial impact on the market for polyethylene terephthalate as a whole. The need for PET packaging is anticipated to increase in China, India, Brazil, Russia, and other rising nations due to the expanding healthcare and cosmetics industries.
The expanding demand for packaging in the food and beverage industry is another factor that is predicted to propel market demand. The need for PET packaging is also being driven by the variety of industries of consumable products where it has a wide range of applications. Over the coming years, market expansion is anticipated to be driven by rising investments in the packaging sector for the creation of technologically superior packaging solutions at competitive pricing. Due to its low cost, long lifespan, resistance to corrosion, and light weight, PET is also gaining popularity in the pipes and fittings sector. PET is also being utilized in construction and infrastructure applications, including fencing, siding, windows, and decking, to replace conventional glass and wood materials.
Regional Insights
In 2022, the polyethylene terephthalate market was dominated by the Asia Pacific region. In the Asia Pacific, demand for polyethylene terephthalate is anticipated to rise as packaged food consumption rises and automotive film demand rises in countries like China, India, Indonesia, and Malaysia. This is due to a number of environmental laws passed by international organizations like the Environmental Protection Agency (EPA), International Union for Conservation of Nature (IUCN), and Intergovernmental Panel on Climate Change (IPCC), which are likely to impact the demand for polyethylene terephthalate in the area.
Report Highlights
Based on packaging application, bottled water, carbonated soft drinks, juices, alcoholic beverages, thermoforming trays, food packaging, non-food packaging, and others make up the segments of the polyethylene terephthalate market. Due to its qualities of strength and low weight, PET is frequently employed in packaging applications. The substance has a wide range of applications in the packaging of carbonated drinks and bottled water. As PET-based packaging is more easily recyclable than other materials, the juices packaging category is anticipated to develop at the highest rate among all application segments.
Based on application, PET's market has been divided into three categories: packaging, films & sheets, and others. With a maximum market share, the packaging application overtook other segments in 2022. Over the forecast period, it is anticipated that the expanding packaging sector, which is fueled by high levels of consumption in emerging economies, will increase demand for plastics like polyethylene and PET. The demand for PET in this market is being influenced by the regulatory bodies' varied rules for the safe use of packaging materials in food contact applications.
Ask here for customization study@ https://www.precedenceresearch.com/customization/2838
Scope of the report
Coverage
Details
Market Value in 2032
USD 44.12 Billion
CAGR
3.89%
 
Asia Pacific Revenue Share
40% in 2022
Packaging Segment Share
76% in 2022
Key Players
RTP Company, BASF SE, Dupont, DSM, M&G Chemical Group, Lanxess Corporation, Lyondell Basell Industries N.V., Indorama Ventures, Toray Industries, Eastman Chemical Company, and Others
Market Dynamics
Driver
Rising Consumption in Packaging Industry to Boost Market Growth
To package beverages, personal care, consumer, and food items, the product is molded and extruded into plastic bottles and containers. Moreover, polyethylene terephthalate is economical, has great strength, and is lightweight, all of which contributes to the delivery of more goods in sophisticated packaging while using less fuel during transportation. Compared to alternatives like glass paper and aluminum, these features make PET the best packaging material. The period will see continued growth in product demand due to the ongoing development of light weighting technologies and the expanding use of packaging in the e-commerce and healthcare sectors.
Restraint
Availability of Substitute Products to Hamper Market Growth
Consumption will be constrained by the availability of replacement goods like polypropylene, polyethylene, and polystyrene. These alternatives are more affordable and have qualities that are similar to those of polyethylene terephthalate. Furthermore, a number of strict government laws regarding the use of plastics were also put into place. This is so because the production of plastic pollutes heavily and has a negative impact on the environment. According to the ClinMed International Library, prolonged usage of plastic products and exposure to high temperatures can lead to dangerous chemical components seeping into beverages, food, and water. Uncontrolled land disposal of plastics and open-air burning can emit dangerous chemicals into the atmosphere and endanger people's health. These factors limit the use of the product in numerous applications and hurt the market.
Opportunity
Technological Advancements
PET products may now be produced more quickly and cheaply thanks to advancements in PET production technology. The market competitiveness of PET products could improve as a result of greater production and decreased costs.
Challenge
Fluctuation of Raw Material Prices
Variation in the price of raw materials in the PET market, which may have an effect on the profitability of PET producers and raise the price of PET goods. The price of raw ingredients like ethylene glycol and terephthalic acid, which are made from fossil fuels, heavily influences the price of PET.
Due to factors like global supply and demand, geopolitical unrest, and environmental laws, the price of crude oil, a key feedstock for the manufacturing of ethylene glycol, fluctuates. The cost of producing PET may increase as a result of the price of ethylene glycol fluctuating. Similar reasons also contribute to changes in the cost of terephthalic acid, which is made from petroleum. Changes in consumer demand for products like polyester fibers and films, which can affect the supply of raw materials for PET production, can also have an impact on terephthalic acid prices. Fluctuations in raw material costs can significantly affect PET producers, especially those who depend on price stability to keep their businesses profitable. For instance, PET producers might be forced to cover the cost if the price of ethylene glycol rises or pass it on to customers in the form of increased costs. This may affect how competitive PET products are in the market compared to other materials.
PET producers may use hedging tactics, such as buying raw materials in advance or signing long-term supply agreements, to lessen the effects of changes in raw material prices. These tactics may be able to contribute to some degree of pricing predictability and stability, but they may also carry a number of hazards of their own, including counterparty risk and contract renegotiation.
PET producers may also make research and development investments in an effort to locate raw materials or manufacturing processes that are less reliant on fossil fuels. For instance, some producers are investigating the use of bio-based feedstocks, which can provide a more stable and sustainable source of raw materials, such as plant sugars or waste streams.
Related Reports
Polyolefin Market - The global polyolefin market was valued at USD 240 billion in 2020 and expanding at USD 604.26 billion by 2030 with a CAGR of 9.7% from 2021 to 2030.
Propylene Market - The global propylene market was valued at USD 104.05 billion in 2022 and expanding over USD 150.54 billion by 2032 with at a CAGR of 3.76% from 2023 and 2032.
Polymer Foams Market - The global polymer foams market was valued at USD 120.43 billion in 2021 and expanding over USD 176.54 billion by 2030 with a CAGR of 4.3% from 2022 to 2030.


Recent Developments
In June 2022 BASF, OEM packing equipment Sulayr received assistance from Bobst and movie specialist Evertis in the creation of a strategic alliance that brought together knowledge from all facets of the packaging value chain. Their combined efforts were essential to the accomplishment of this amazing recycling method and its potential for further implementation.


In February 2022, OCTAL Holding SAOC, a business engaged in the materials industry, will be acquired by Mexican chemical manufacturer Alpek SAB de CV, according to a press release. With this acquisition, Alpek is better able to meet the expanding PET resin needs of its clients, close the gap in meeting its ESG goals, and advance its integration into the high-value PET sheet business segment.


In June 2021, Dow, a material science business, announced a number of breakthroughs in its efforts to eliminate plastic waste, lower greenhouse gas emissions, and provide consumers recycled plastic goods that perform equally well to virgin plastics made from feedstocks produced from fossil fuels.


Market Segmentation
By Packaging Application
Bottled Water
Carbonated Soft Beverages
Juices
Alcoholic Beverages
Thermoforming Trays
Food Packaging
Non-Food Packaging
Others
By Application
Packaging
Films & Sheets
Others


By Geography
North America
Europe
Asia-Pacific
Latin America
Middle East and Africa


Immediate Delivery Available | Buy This Premium Research Report@ https://www.precedenceresearch.com/checkout/2838
You can place an order or ask any questions, please feel free to contact at sales@precedenceresearch.com | +1 9197 992 333
About Us
Precedence Research is a worldwide market research and consulting organization. We give an unmatched nature of offering to our customers present all around the globe across industry verticals. Precedence Research has expertise in giving deep-dive market insight along with market intelligence to our customers spread crosswise over various undertakings. We are obliged to serve our different client base present over the enterprises of medicinal services, healthcare, innovation, next-gen technologies, semi-conductors, chemicals, automotive, and aerospace & defence, among different ventures present globally.
For Latest Update Follow Us:
https://www.linkedin.com/company/precedence-research/
https://www.facebook.com/precedenceresearch/
https://twitter.com/Precedence_R