Ottawa, May 17, 2023 (GLOBE NEWSWIRE) -- The global software-defined storage market is anticipated to grow at a CAGR of 36% over the forecast period from 2023 to 2032. A computer programmer called software defined storage (SDS) handles data storage resources and functionality without relying on the underlying physical storage hardware. Instead of being dependent on proprietary hardware like traditional Storage Area Network (SAN) or Network Attached Storage (NAS) systems, SDS is typically built to run on any industry-standard or x86 system. The exponential proliferation of unstructured data, which increases the requirement for a scale-out storage architecture, is one factor that contributes to the rise in SDS products. The SDS market is anticipated to expand as a result of the increased usage of cloud infrastructure and its multiple advantages, including cost-effectiveness, improved flexibility, automation, and the skyrocketing value of unstructured data.

Get the sample pages of report@ https://www.precedenceresearch.com/sample/2901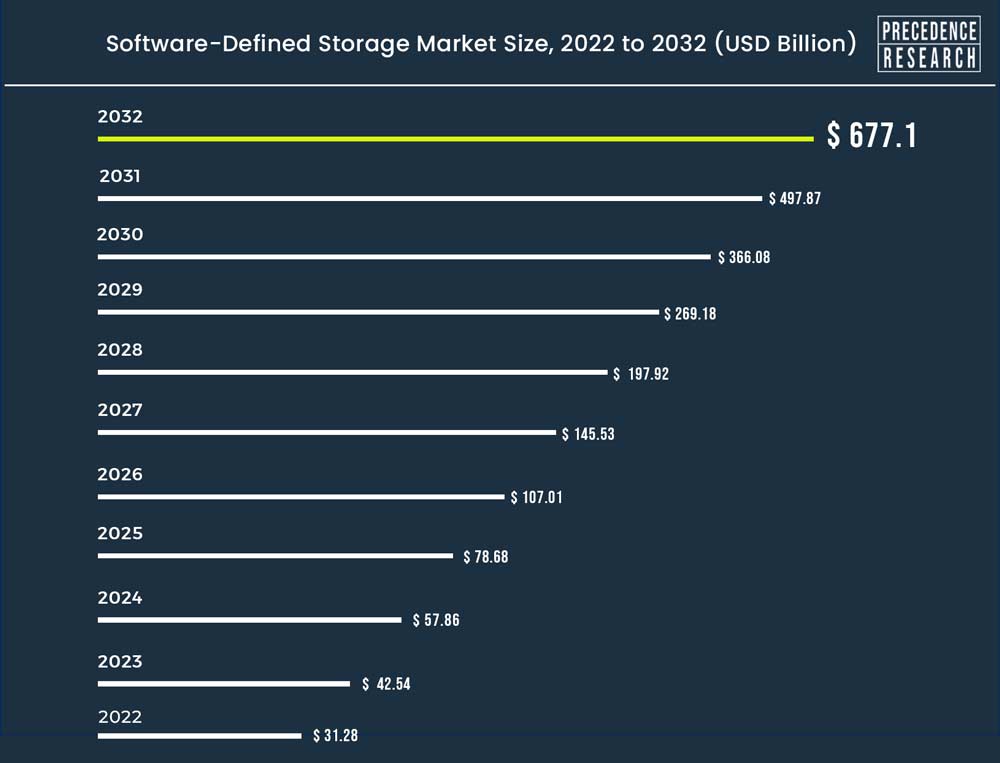 Market Overview
To reduce capital and operating expenses, a software-defined storage controller software offers storage resources that are efficient, flexible, and scalable. The term "software-defined storage" (SDS) refers to a form of data storage in which storage-related operations are controlled by programming that is separate from the actual hardware for storing data. Storage-related services are given more weight by SDS than physical storage equipment. Many big companies, including those where Software-defined networking (SDN) is a trend, heavily rely on SDS. SDN uses programming to offer business owners adaptable management skills. A storage resource that is effectively used and has an automated policy can simplify its management policy without the need for any hardware systems. A shared storage pool that operates on hardware products may be managed by a single software interface. SDS stands for a new method of storing that will both solve some network problems and introduce new ones. SDS simplifies data storage management and speeds up data management and archiving.
Regional Insights
Unstructured data volume across numerous organizations in the region is rapidly increasing and is being stored in on-premises devices and cloud environments. Additionally, the amount of data generated at the edge is rapidly growing as the internet of things (IoT) spreads throughout the area.
The usage of online payments is expanding fast, producing massive amounts of data that businesses must handle every day, driving up demand for software-defined storage solutions. The Reserve Bank of India (RBI) launched its Digital Payments Index (DPI) in January 2021 to measure the level of payment digitization in India; as of September 2021, the index was 304.06 as opposed to 270.59 in March. The major vendors also stated that clients and businesses in the Asia-Pacific region, particularly China, are one of the most promising areas for IT services and are enthusiastic about converting to cutting-edge storage solutions. One such vendor is FalconStor, which offers SDS in China through Huawei. The tendency to shift is mostly due to difficulties with data protection, disaster recovery, and the fusion of virtual and non-virtualized resources.
Because of the growing number of internet users in the nation, the use of cloud storage is expected to grow rapidly in the region. A study by EY India found that while 67% of large corporations advanced their cloud adoption, 39% of medium-sized businesses and 38% of small businesses started their cloud journeys.
Ask here for customization study@ https://www.precedenceresearch.com/customization/2901
Scope of this report
Coverage
Details
Market Value in 2032
USD 677.1 Billion
CAGR
36%
 
Component

Services
Platform/Solution

Usage

Surveillance
Data Backup and Disaster Recovery
Storage Provisioning and High Availability
Others (DevOps)

Enterprise Size

Small and Medium Enterprise
Large Enterprise

End User

BFSI
Telecom and IT
Government
Others

Regions

North America
Europe
Asia-Pacific
Latin America
Middle East and Africa

Key Players
Open Text Corp, IBM Corp, Oracle Corp, Net App, Inc, Fujistu, Inc, Microsoft Corp., FalcoStor Software, Inc, Nvidia, StarWind Software, Inc, Juniper Networks, VMWare, Inc, and Others
Report Highlights
By Type, market can be classified as services, solutions, and hardware depending on the type of component. The regulation for the services sector calls for it to resolve at an aggravated pace during the anticipated term. The components that make up the service segment are managed services, support & maintenance, integration & deployment, training & consulting, and support & maintenance. Because managed services are expected to manage workloads more efficiently than other services like training, consulting, support & maintenance, and integration & deployment while also being faster, safer, and more agile, they are expected to grow at a significant rate.
By Organization Size, SMEs and major firms are parts of the global market, depending on the size of the organization. SMEs are the sector predicted to grow during the forecast period. APAC is home to a number of economically and technologically developing countries that are crucial for promoting industrialization. As a result, businesses strive to use less expensive but dependable methods of data storage. The market is being pushed by factors including the rising demand for technologies like big data and cloud computing, decreased physical infrastructure reliability, modernizing traditional data centers, and effective security and storage solutions.
By End-user, according to the type of verticals, there are levels for BFSI, IT & telecom, government & defense, healthcare, education, retail, manufacturing, and others (media & entertainment, and energy & utilities). The BFSI vertical is necessary to protect the SDDC market's populous market capacity. Along with keeping an eye on data stacks that need processing, storing, and reproducing, this sector also needs to deal with aspects like recovery, storage, and security. Adoption of cloud solutions, extensive customization, increased agility, and high scalability are further characteristics influencing the market's growth.


Market Dynamics
Drivers
Software-Defined Storage Solutions Offer Greater Flexibility and Support High-Performance Computing
A storage provider can claim that their capacity can be increased to 200 terabytes. Comparing storage capabilities is insufficient. Additionally, factors like storage bandwidth and storage latency should be taken into account. The number of storage virtualization nodes that may be added to the system without a storage node exceeding its capacity is known as the storage system's scalability. In order to add the additional storage capacity required when scalability is at its maximum, a new storage controller or storage virtualization node must be introduced. By eliminating unnecessary space, software-defined storage increases efficiency by offering the on-demand ability to virtualize and de-duplicate data. High-performance computing settings, where the ability to access data fast is critical, are ideally suited for software storage systems. It doesn't matter where data is located because these software storage solutions can be employed on-premises or off-premises for unstructured data. Any business that wants to avoid worrying about managing hardware and software would benefit from this.
Restraint
high costs associated with software-defined storage
By integrating various data center components utilizing technologies like virtualization, containerization, and hyper-converged infrastructure, businesses are able to lower CAPEX and operational costs. One of the biggest problems for businesses is storage consolidation because they must buy various software-defined storage solutions in accordance with their needs. Some providers charge upfront licensing costs based on the amount of storage needed. Enterprises may suffer large losses if software-defined storage solutions don't fully utilize the current storage infrastructure. In order to address these developing issues, providers and buyers in the worldwide software-defined storage market are actively working on innovations and partnerships. As the use of cutting-edge technologies like AI and IoT expands, massive amounts of structured and unstructured data will present data challenges.
Opportunities
Increasing used of hyper-converge technology
Businesses can lessen their reliance on different storage, computer, and networking platforms thanks to hyper-converged technology, which enables the running of numerous systems in a virtualized environment to maximize resource utilization. Additionally, it optimizes space and lowers power usage, which boosts data centers' speed and effectiveness. Thus, it is anticipated that one of the major trends driving the growth of the software defined storage market during the projected period will be the introduction of hyper-converged technologies. The market for software-defined storage is expanding like never before. There is a market there. It is a platform that is integrated. Small and medium-sized businesses (SMEs) are widely involved in this. The market for software-defined storage is doing fantastically. Leading businesses in this industry are engaging in mergers and acquisitions in order to concentrate on pertinent unexplored markets and product innovation. For instance, businesses collaborate with numerous partners to produce and invent new products. To improve usability and create new, innovative goods, leading corporations are doing research and development operations. Therefore, these Software-Defined Storage-related factors have raised the market CAGR for this technology globally in recent years.
Related Reports
Carbon Capture and Storage Market - The global carbon capture and storage market was valued at USD 4.91 billion in 2022 and it is expanding around USD 35.70 billion by 2032 with a CAGR of 21.94% from 2023 to 2032.
US Cold Storage Market - The US cold storage market was valued at USD 33.46 billion in 2022 and it is expanding around USD 74.12 billion by 2032 with a CAGR of 8.28% from 2023 to 2032.
Thermal Energy Storage Market - The global thermal energy storage market was valued at USD 23.7 billion in 2021 and is expanding around USD 53.4 billion by 2030 with a CAGR of 9.45% from 2022 to 2030.


Recent Developments:
Exxact Corporation, a major supplier of high-performance computing (HPC), artificial intelligence (AI), and data center solutions, and SoftIron, a pioneer in task-specific data infrastructure solutions, announced a partnership in October 2021 to develop software-defined storage (SDS) solutions for contemporary enterprises that are straightforward.
November 2021 saw the acquisition of MayaData, the company behind MayaStor and OpenEBS, by software-defined storage firm DataCore, based in the US. The merged staff of Datacore and MayaData would be housed in Indi, and it opened its office space there. DataCore may also want to push for multimillion dollar investments to support its expansion in India.
IBM announced plans to release IBM Spectrum Fusion, a container-native SDS, in the second half of 2021. This SDS combines IBM's parallel file system with data security software for use in data centers, on the edge, and in hybrid cloud environments.


Immediate Delivery Available | Buy This Premium Research Report@ https://www.precedenceresearch.com/checkout/2901
You can place an order or ask any questions, please feel free to contact at sales@precedenceresearch.com | +1 9197 992 333
About Us
Precedence Research is a worldwide market research and consulting organization. We give an unmatched nature of offering to our customers present all around the globe across industry verticals. Precedence Research has expertise in giving deep-dive market insight along with market intelligence to our customers spread crosswise over various undertakings. We are obliged to serve our different client base present over the enterprises of medicinal services, healthcare, innovation, next-gen technologies, semi-conductors, chemicals, automotive, and aerospace & defence, among different ventures present globally.
For Latest Update Follow Us:
https://www.linkedin.com/company/precedence-research/
https://www.facebook.com/precedenceresearch/
https://twitter.com/Precedence_R