Ottawa, May 17, 2023 (GLOBE NEWSWIRE) -- The microbial fermentation technology market is expanding at a CAGR of 5.93% over the forecast period 2023 and 2032. Microbial fermentation is defined as the process in which substrates are broken down by the action of enzymes produced by microorganisms in the absence of oxygen. Developing novel medicines based on smaller biologic drug molecules, rising demand for biologics, and improvements in microbial fermentation platforms and technologies have expanded the industry in recent years. Due to the microbial biopharmaceuticals industry explosive rise over the last few years, the demand for the microbial fermentation area has increased.

Get the sample copy of report@ https://www.precedenceresearch.com/sample/2870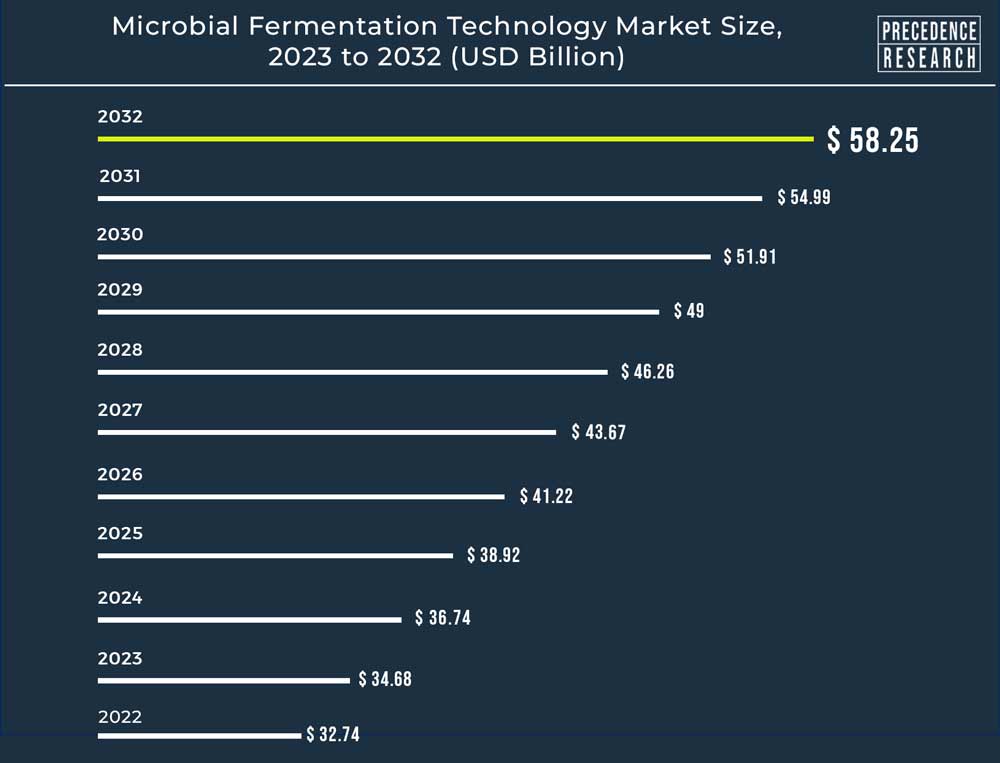 Regional Insights
Europe is one of the most lucrative markets for microbial fermentation technology, focusing on producing pharmaceuticals, enzymes, and food and beverage products. The growth of the microbial fermentation technology market is driven by factors such as increasing demand for sustainable and eco-friendly products. In addition, the development of new fermentation technologies along with the presence of potential key players in the market are a few other factors to fuel the growth of the market in Europe.
The microbial fermentation technology market in Latin America is expected to show considerable growth in the market while focusing on the production of biofuels and food. The market's growth in this region is driven by the increasing demand for renewable products and the availability of natural resources such as sugarcane and corn. The Middle East and Africa region is a developing market for microbial fermentation technology, focusing on producing food and beverage products and pharmaceuticals. The increasing demand for natural resources such as palm oil and sugar beet drive the market growth in this region.
Report Highlights
By Application: The antibiotics segment is expanding due to the growing awareness of various diseases and their treatments. Its ability selectively kills or inhibits unwanted bacterial strains while keeping the desired microorganisms intact. This can help to prevent contamination of the fermentation process, which is critical for achieving high yields of the desired compound. Antibiotics are also relatively inexpensive and easy to use, which has helped to make them a popular choice for fermentation applications.
By End-User: CMOs and CDMOs organizations offer a range of services to their clients, including process development, scale-up, and manufacturing of microbial fermentation-based products. This means that companies can outsource the entire production process, reducing their costs and time to market. They have expertise in the latest microbial fermentation technologies and can offer clients access to cutting-edge technology without significant investment in research and development. This is particularly important in the microbial fermentation technology market, where advances are constantly being made.
Ask here for customization study@ https://www.precedenceresearch.com/customization/2870
Scope of the report
Coverage
Details
Market Value In 2032
USD 58.25 Billion
CAGR
5.93%
 
North America
46% in 2022
CMOs and CDMOs segment
43% in 2022
Key Players
Abolis Biotechnologies, AGC Biologics, Bio-CAT Microbials, ABPDU, Biocatalysts, Bluestem Biosciences, EKF Diagnostics, Fujifilm Diosynth, Microbial Discovery Group, Bio-Technical Resources, Wisconsin BioProducts, Scientific Protein Laboratories, Zero Acre Farms, Zea2 Bioworks, Osprey Biotechnics, Hoffmann-La Roche AG, Koninklijke DSM NV, Biocon Ltd., BioVectra Inc., TerraVia Holdings Inc., United Breweries Ltd., and Others
Market Dynamics
Drivers
Increase in demand for biofuels


The increasing demand for biofuels is having a significant impact on the microbial fermentation technology market. Microbial fermentation is a critical process in producing biofuels as it converts feedstocks such as corn, sugarcane, and cellulosic materials into fuels such as ethanol, biodiesel, and other advanced biofuels. As biofuel demand continues to rise due to the increasing focus on reducing greenhouse gas emissions and achieving energy security, the microbial fermentation technology market is expected to grow significantly. Microbial fermentation technology in biofuel production is cost-effective, energy-efficient, and environmentally friendly, making it a desirable option for biofuel producers. It produces many other products, such as antibiotics, enzymes, amino acids, and organic acids. As such, the increasing demand for these products is also driving the growth of the microbial fermentation technology market.
Restraint
Possibilities of contamination


Using contaminated raw materials such as water, air, and nutrients can introduce unwanted microorganisms into fermentation, leading to contamination. The rapid decline in the growth of valuable microorganisms required in fermentation is affected due to the contamination that inhibits the growth of yeast, hampering the efficiency of the fermentation process and hence affecting its productivity. Poor hygiene practices during fermentation, such as inadequate cleaning and sanitation of equipment and facilities, can also result in contamination. Malfunctioning equipment or insufficient maintenance can also lead to contamination by allowing microorganisms to enter the fermentation process. Human error, such as improper handling or accidental spills, can also introduce unwanted microorganisms into fermentation. Also, the populations need to learn about fermented microbial products, which impedes market growth.
Opportunities
Rise in demand for bio-based products


Bio-based products such as biofuels, bioplastics, and biochemicals help limit reliance on fossil resources to produce specific outcomes and reduce the environmental footprint of these products. Government initiatives to promote the use of bio-based products have also contributed to the increase in demand. Many countries have introduced policies and regulations to reduce greenhouse gas emissions and encourage sustainable practices, incentivizing companies to adopt bio-based products.
Overall, the rise in demand for bio-based products in the microbial fermentation technology market can be attributed to the need for sustainable and environmentally friendly alternatives to traditional chemical-based products, advancements in microbial fermentation technology, and government policies promoting sustainable practices.
Challenges
Limitations in availability of raw materials


Sometimes the raw materials to conduct fermentation are unavailable, affecting production and limiting the supply the fluctuation in the pool and cost of raw materials. For example, the availability of certain sugars or other organic compounds can be affected by weather conditions, natural disasters, or changes in agricultural practices. This can lead to supply shortages and price volatility, impacting the profitability and viability of microbial fermentation processes. Another challenge is the competition for raw materials from other industries, such as food, feed, and fuel. As the demand for sustainable and renewable products grows, the competition for raw materials will likely intensify, leading to higher prices and limited availability.
In addition, the quality and consistency of raw materials can also be a challenge. Variations in the composition of raw materials can affect the performance of microorganisms, leading to inconsistent product quality and yields. This can challenge companies that rely on microbial fermentation technology to produce high-quality and consistent products.
Related Reports
Precision Fermentation Market - The global precision fermentation market was valued at USD 1.93 billion in 2022 and is expanding around USD 63.85 billion by 2032 with a CAGR of 41.89% from 2023 to 2032.
Fermentation Chemicals Market - The global fermentation chemicals market was valued at USD 79.84 billion in 2022 and is expected to hit around USD 134.55 billion by 2030 with a registered CAGR of 6.74% from 2022 to 2030.
Biotechnology Market - The global biotechnology market was estimated at USD 859.94 billion in 2022 and is expected to be worth around USD 1,683.52 billion by 2030 and poised to grow at a noteworthy CAGR of 8.7% from 2023 to 2030.


Browse our Brand New Journal@ https://www.towardshealthcare.com/
Recent Developments
In February 2023, Wild Microbes raised $3.3 million in pre-seed round to unlock the fermentation technology precisely by applying gene editing approach which generates superior production hosts.
In August 2022, the National Renewable Energy Laboratory (NREL) scientists designed a pathway for speeding up CO2 fermentation in some species of bacteria. Acetyl CoA, the resultant molecule, with its two carbon molecules, is used to make a range of chemicals which produces fuels and chemicals.
In March 2022, A fermentation plant for microbial ingredients for several industries, including a dozen exclusive Bacillus microbe strains for the human probiotic, manufacturing, companion animal, and agricultural science businesses, is being built by Bio-Cat for $35 million.


Market Segmentation
By Application
Enzymes
Probiotics Supplements
Monoclonal Antibodies
Biosimilars
Antibiotics
Vaccines
Recombinant Proteins
Small Molecules
By End-User
Bio-Pharmaceutical Companies
CMOs & CDMOs
Contract Research Organizations (CROs)
Academic & Research Institutes
By Geography
North America
Europe
Asia-Pacific
Latin America
Middle East and Africa


Immediate Delivery Available | Buy This Premium Research Report@ https://www.precedenceresearch.com/checkout/2870
You can place an order or ask any questions, please feel free to contact at sales@precedenceresearch.com | +1 9197 992 333
About Us
Precedence Research is a worldwide market research and consulting organization. We give an unmatched nature of offering to our customers present all around the globe across industry verticals. Precedence Research has expertise in giving deep-dive market insight along with market intelligence to our customers spread crosswise over various undertakings. We are obliged to serve our different client base present over the enterprises of medicinal services, healthcare, innovation, next-gen technologies, semi-conductors, chemicals, automotive, and aerospace & defence, among different ventures present globally.
For Latest Update Follow Us:
https://www.linkedin.com/company/precedence-research/
https://www.facebook.com/precedenceresearch/
https://twitter.com/Precedence_R