New York, May 18, 2023 (GLOBE NEWSWIRE) -- According to a report published by Next Move Strategy Consulting, the global Buy Now Pay Later Market size generated USD 112.17 billion in 2022, and is projected to generate USD 725.36 billion by 2030, witnessing a CAGR of 22.2% from 2023 to 2030. The study provides a detailed analysis of market drivers, constraints, and opportunities to highlight changing market dynamics. Furthermore, the research gives a thorough analysis of major segments and their sub-segments to identify the fastest-growing and highest revenue-generating segments.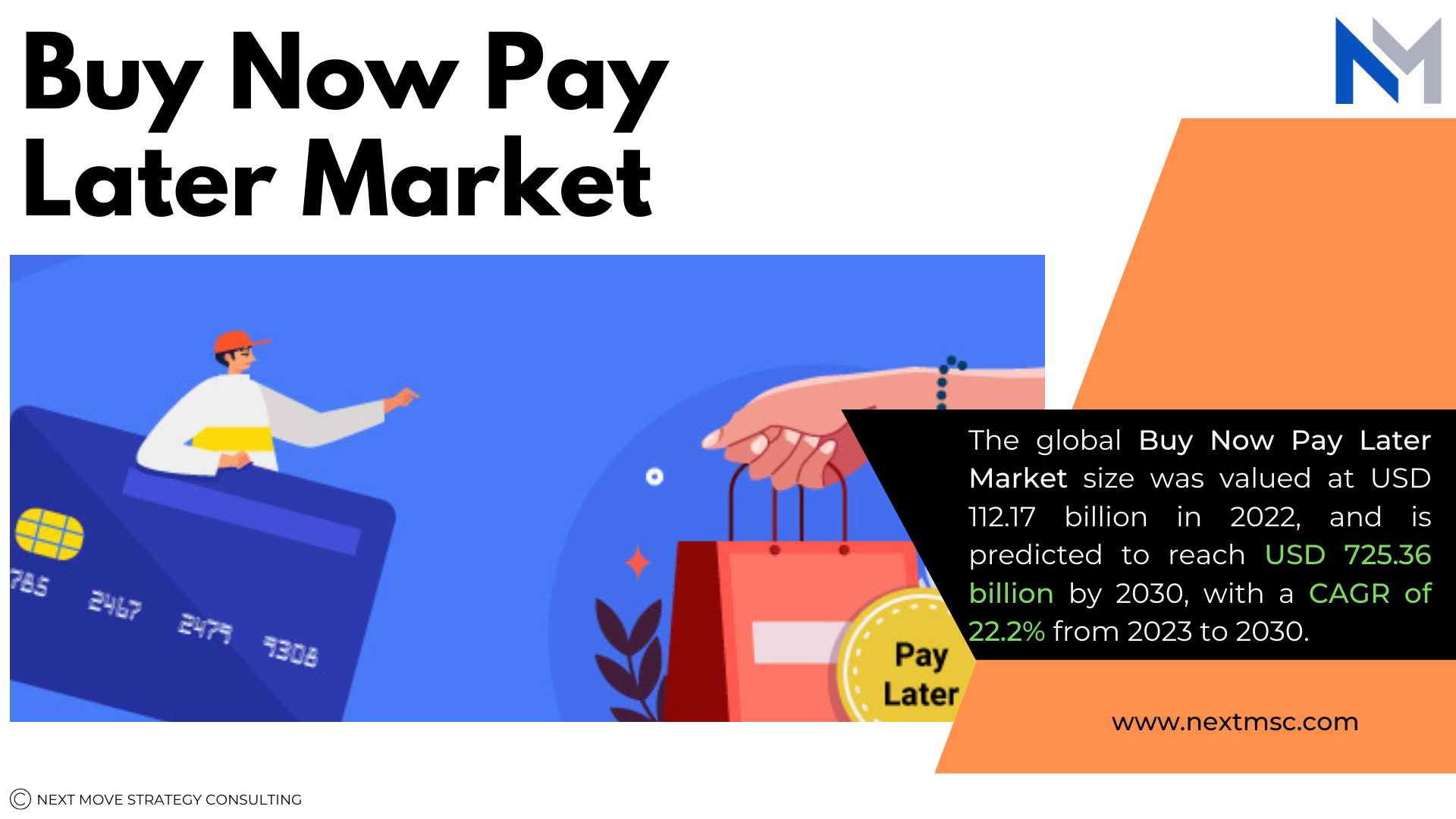 Equipping the extensive analysis of each and every aspect of the market in 242 pages, accompanied by 161 tables and 133 figures, the report aims to become a source of guidance for market players, investors, and startups to determine strategies for the next few years and achieve sustainable growth.
Request a free sample: https://www.nextmsc.com/buy-now-pay-later-market/request-sample
Report Coverage
Details
Forecast Period
2023–2030
Base Year
2022
Market Size in 2022
USD 112.17 Billion
Market Size in 2030
USD 725.36 Billion
CAGR
22.2%
No. of Pages
242
Tables
161
Figures
133
Segments covered
Channel, Application, End User, and Region
Drivers
Increasing customer preference for online payments as well as the accessibility and rapid availability of pay later options
Expansion of e-commerce platforms that accept online payments
Opportunities
Artificial intelligence and machine learning technologies utilized to improve decision-making and performance in real time
The report offers a comprehensive analysis of the buy now pay later market dynamics based on drivers, restraining factors, and opportunities. Growing consumer demand for BNPL services with the adoption of online shopping drives the growth of the global BNPL industry. However, fraud and security concerns with online transactions impact consumer confidence, which, in turn, restrain the market growth.
Lead Analyst for Information & Technology at Next Move Strategy Consulting, stated, "BNPL companies are integrating with other financial services, such as mobile banking apps, to offer a more comprehensive suite of services to customers. This can improve customer loyalty and retention while also increasing revenue opportunities."
Buy this report directly from here: https://www.nextmsc.com/report/buy-now-pay-later-market
Need a customized report, get in touch with us here: https://www.nextmsc.com/contact
North America accounted for the highest share in 2022, and is expected to dominate throughout the forecast period. This is attributed to factors such as a large number of fintech companies, including PayPal, Mastercard, Visa, and others, collaborating to provide BNPL services for bookings, e-commerce, holidays, and other purposes. On the other hand, Asia-Pacific is estimated to grow steadily during the forecast period, owing to the growing popularity of smartphones and digital payment methods.
The research offers an analysis of each region and its countries based on segments and their sub-segments to outline steps to be taken to consolidate their presence in the buy now pay later industry. This analysis is also helpful in determining the highest revenue-generating and fastest-growing segments and taking the next steps accordingly.
If you have any queries, you can inquire before purchasing: https://www.nextmsc.com/buy-now-pay-later-market/inquire-before-buying
The report offers an extensive analysis of the competitive landscape of the global buy now pay later market. Some of the major market players in the BNPL market are Affirm Holdings, Inc., Atome, Block, Inc. (Square), Klarna Bank AB (PULP), Latitude, Openpay, PayPal Holdings, Inc., Sezzle, Scalapay, Zip Co. Ltd. (Zip), and others.
Also, Browse Related Reports:
Mobile Payment Market by Mode of Transaction (Short Message Service (SMS), Near-field Communication (NFC), and Wireless Application Protocol (WAP)), by Type of Mobile Payment (Mobile Wallet/Bank Cards and Mobile Money), by Application (Entertainment, Energy & Utilities, Healthcare, Retail, Hospitality & Transportation, and Others) - Global Opportunity Analysis and Industry Forecast, 2020–2030
Gift Card Market by Card Type (Open Loop and Closed Loop), and by End-User (Retail Establishments and Corporate Institutions) – Global Opportunity Analysis and Industry Forecast, 2022–2030
Prepaid Card Market by Card (Single-purpose Prepaid Card and Multi-purpose Prepaid Card), by Usage (General-Purpose Reloadable Card, Gift Card, Government Benefits/Disbursement Card, Incentive/Payroll Card, and Others), by Industry Vertical (Retail Establishments, Corporate Institutions, Government, Financial Institutions & Others) - Global Opportunity Analysis and Industry Forecast, 2020–2030
About Us:
Next Move Strategy Consulting is a premier market research and management consulting firm that has been committed to provide strategically analyzed well documented latest research reports to its clients. The research industry is flooded with many firms to choose from, what makes Next Move different from the rest is its top-quality research and the obsession of turning data into knowledge by dissecting every bit of it and providing fact-based research recommendation that is supported by information collected from over 500 million websites, paid databases, industry journals and one on one consultations with industry experts across a diverse range of industry sectors. The high-quality customized research reports with actionable insights and excellent end-to-end customer service help our clients to take critical business decisions that enable them to move beyond time and have competitive edge in the industry.
We have been servicing over 1,000 customers globally that includes 90% of the Fortune 500 companies over a decade. Our analysts are constantly tracking various high growth markets and identifying hidden opportunities in each sector or the industry. We provide one of the industry's best quality syndicate as well as custom research reports across 10 different industry verticals. We are committed to deliver high quality research solutions in accordance to your business needs. Our industry standard delivery solutions that range from the pre consultation to after-sales services, provide an excellent client experience and ensure right strategic decision making for businesses.