Ottawa, May 23, 2023 (GLOBE NEWSWIRE) -- The global industrial robotics market size was valued at USD 27.4 billion in 2022. As the manufacturing and industrial sectors continue to evolve, industrial robots are becoming more widespread.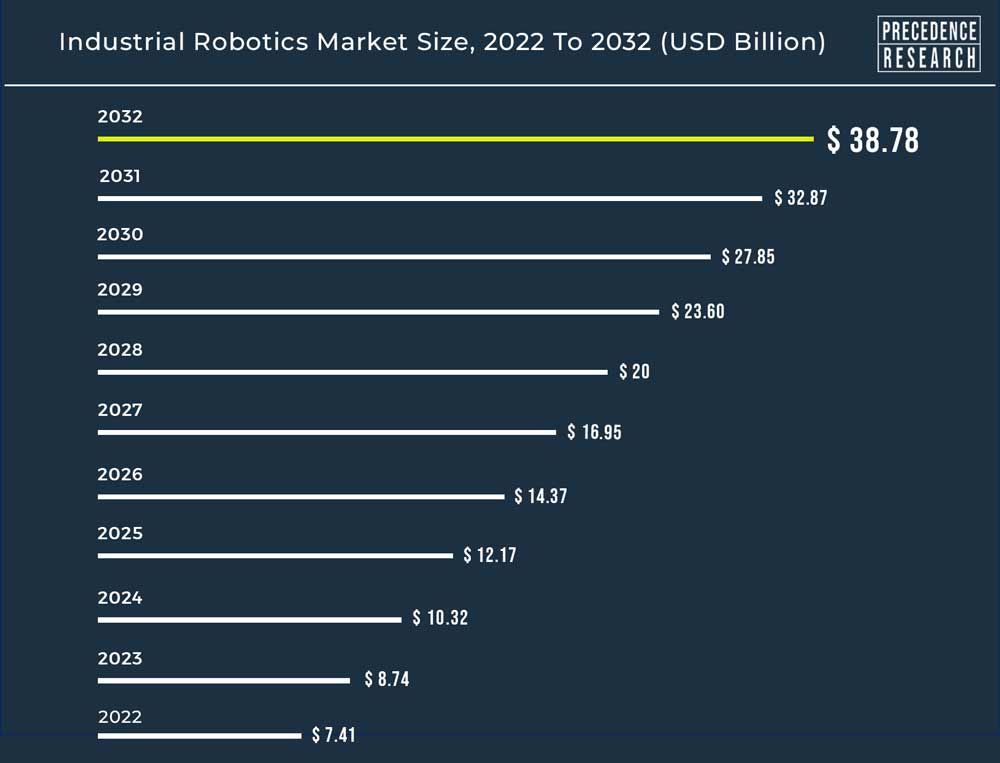 The main driving force behind this growth is the need for robots to help address the anticipated skills gap, especially in material handling tasks. Service robots are also being utilized in novel applications due to their ability to improve productivity, streamline processes, and enhance workplace safety. These robots are being deployed to achieve a high return on investment and reduce operational costs. Emerging trends in industrial robots include collaborative robots, commercial drones, AI-powered robots, self-repairing robots, customized robots, and cloud robots, which are expected to significantly impact the manufacturing and industrial sectors.
Get the sample pages of report@ https://www.precedenceresearch.com/sample/2757
Key Highlights
Asia Pacific market has contributed 66% revenue share in 2022.
Middle East & Africa is growing at a CAGR of 20.2% over the forecast period.
By application, the handling segment has held 42% revenue share in 2022.
The processing application segment is growing at a CAGR of over 20.3% from 2023 to 2030.
By end-use, the electrical/electronic end-use segment has accounted for 27% revenue share in 2022.
The chemical, rubber, & plastics end-use segment is poised to grow at a CAGR of over 12.5%.
The regional landscape of the global industrial robotics market
The North American region is expected to experience significant growth in the industrial robotics market during the forecast period. This growth is mainly attributed to the increasing adoption of industrial robots across various regional industries. In 2021, the region's market players from the US, Canada, and Mexico recorded 11,595 orders for industrial robots, marking an increase compared to the previous year. The revenue generated from these orders increased by 43%, reaching a value of USD 664 million. The Americas, in general, witnessed a remarkable recovery from the pandemic drop in 2020, with 50,712 industrial robots installed in 2021, representing a 31% increase from the previous year. This increase in installations marked the second time robot installations surpassed the 50,000-unit mark, with the first time being in 2018, where 55,212 units were installed.
In the United States, new installations of industrial robots increased by 14% in 2021 to reach 34,987 units. This is higher than the pre-pandemic level of 33,378 units in 2019 but still significantly lower than the peak level of 40,373 units in 2018. The automotive industry remains the leading adopter of industrial robots, with 9,782 units installed in 2021. However, there has been a decline in demand for industrial robots over the past five years (2016-2021), with installations falling by 7% in 2021 compared to the previous year. Metal and machinery installations increased by 66% to 3,814 units in 2021, placing this industry second in robot demand. In the plastics and chemical products industry, there were 3,466 new robot installations in 2021, marking a 30% increase from the previous year. The food and beverage industry also witnessed a 25% increase in robot installations in 2021, reaching a new high of 3,402 units. The use of industrial robots in the robotics industry has also increased, especially during the Covid-19 pandemic, where hygienic solutions were in high demand.
You can further customize the report@ https://www.precedenceresearch.com/customization/2757
Scope of this report
Coverage
Details
Market Size in 2032
USD 77.31 Billion
CAGR
10.93%
 
APAC Market Share
66%
 
Handling Application Segment Share
42%
 
Electrical/Electronic End-use Segment Share
27%
 
Key Players
ABB, FANUC CORPORATION, KUKA AG, YASKAWA ELECTRIC CORPORATION, Comau S.p.A., Seiko Epson Corporation, Kawasaki Heavy Industries, Ltd, Mitsubishi Electric Corporation, Staubli International AG., Universal Robots and Others
Segmental Landscape of the global industrial robotics market
Type Landscape
In 2022, articulated robots accounted for the highest market share. Industrial robots with articulated arms are increasingly popular in manufacturing due to their versatility and precision. These robots have rotary joints that allow for a greater range of motion, making them like human arms in movement style. Compared to other types of robots, articulated robots have a more comprehensive range of capabilities. They are used in various applications, such as material handling and assembly, due to their ability to repeat precise motions. The market growth of articulated robots is being driven by their increasing use in various industries such as food and beverage, pharmaceuticals, and automobiles.
Application Landscape
The Assembling & Disassembling segment is expected to grow faster during the forecast period. Deploying robots for assembling and disassembling tasks can boost production speed and consistency while relieving workers from performing repetitive tasks on assembly lines. Robotic automation in assembly and disassembly processes can lead to enhanced efficiency, the superior quality of output, a safer working environment, and increased profitability for businesses.
End User Landscape
The electrical and electronics segment is estimated to grow faster during the forecast period. Increased sales in the electronics industry can be attributed to the growing demand for electronic devices and components such as batteries, chips, and displays. The implementation of robotics in electronics manufacturing has become crucial to meet the rising demand for products, as well as to improve the overall quality and reduce production costs. Robotic automation allows for faster and more precise handling of small parts, enhancing productivity and efficiency. The integration of advanced technologies, such as smart end-effectors and vision systems, has further enhanced the capabilities of robots in electronic product manufacturing.
Market Dynamics of the global industrial robotics market
Driver: Advancements
Industrial robots are commonly used in automotive and cell phone assembly, where precision and consistency are paramount. However, the growth rate of the manufacturing robot market in the US has slowed down, possibly suggesting that the market has reached a saturation point. Furthermore, traditional manufacturing machines may not be well suited for modern lean manufacturing practices, indicating that there may be untapped potential for new robotic applications. The development of machine vision and obstacle avoidance technology has resulted in significant improvements in the ability of robots to work alongside humans in logistics operations. These advancements have driven demand for logistics robots beyond the growth driven by increased e-commerce. As robots continue to improve their perception and adaptation capabilities, they will be able to automate a wide range of production and transportation tasks while working seamlessly with humans. Although this vision has already been realized in certain areas, such as logistics, further advancements in enabling technologies will allow robots to assist with increasingly complex tasks.
Restraint:
Lack of standards
Given the lack of regulation in several aspects of robotics, it has been challenging for some companies to realize the ability of promising technologies or incorporate new types of robots into manufacturing lines. Some companies have established in-house systems and capabilities over the years that they would like to keep. Others, often smaller businesses, are developing manufacturing lines or acquiring new technologies from the ground up. Each type of robot may necessitate knowledge of various programming languages, interfaces, or communication protocols. Aside from safety standards and hardware, standardization should cover all these considerations.
Opportunity:
Industrial robots play a crucial role in the era of Industry 4.0, characterized by digitized and networked production processes. To facilitate effective communication between robots, regardless of their manufacturer, a joint working group of the VDMA and the Open Platform Communications Foundation (OPC) has developed the "OPC Robotics Companion Specification." This specification defines a standardized generic interface for industrial robots, enabling them to connect to the Industrial Internet of Things (IoT).
Integrating robots with digital technologies such as cloud computing has created new business opportunities, particularly in Robot-as-a-Service (RaaS) or robot leasing models. These models provide numerous benefits, especially for small and medium-sized enterprises (SMEs), such as low capital investment, fixed costs, automatic upgrades, and reduced reliance on highly skilled operators. The combination of standardized interfaces and innovative business models transforms the industrial landscape, making it more flexible, efficient, and cost-effective.
Related Reports
Next Generation Surgical Robotics Market - The global next generation surgical robotics market was accounted for USD 2.6 billion in 2021 and it is expanding around USD 10.8 billion by 2030 with a CAGR of 35.14% from 2022 to 2030.
Service Robotics Market - The global service robotics market size was valued at US$ 27.3 billion in 2021 and it is expanding around US$ 155.49 billion by 2030 with a CAGR of 21.33% from 2022 to 2030.
Key developments in the marketplace (2021)
In 2022, Epson launched the GX series SCARA robots to deliver next-level performance and flexibility. The GX4 and GX8 robots provide smooth control and heavy payloads with advanced Epson GYROPLUS technology.
In 2021, Accenture, the world's largest consulting firm, agreed to acquire Pollux, an industrial robotics and automation solutions provider. Accenture made the acquisition part of its strategy to strengthen its digital manufacturing, operations, and supply chain capabilities. It will broaden the company's capabilities for clients in the consumer goods, pharmaceutical, and automotive industries seeking to improve the productivity, safety, and sustainability of their factories, plants, and supply chains. The acquisition's financial terms have not been disclosed.
In Feb 2020, FANUC and BMW AG announced an agreement to supply 3,500 robots for new production lines and plants. These robots will be implemented in establishing existing and future generations of BMW models.


Market Segmentation
By Type
Articulated robots
Cartesian coordinate robots
Cylindrical-coordinate robots
Spherical Coordinate robots
SCARA robots
Others
By Application
Welding & Soldering
Material Handling
Assembling & Disassembling
Dispensing
Processing
Others
By End-User
Automotive
Electrical & Electronics
Metals & Machinery
Plastics, Rubbers, & Chemicals
Food & Beverages
Precision Engineering & Optics
Pharmaceuticals & Cosmetics
Others
By Geography
North America
Europe
Asia-Pacific
Latin America
Middle East and Africa


Immediate Delivery Available | Buy This Premium Research Report@ https://www.precedenceresearch.com/checkout/2757
You can place an order or ask any questions, please feel free to contact at sales@precedenceresearch.com | +1 9197 992 333
About Us
Precedence Research is a worldwide market research and consulting organization. We give an unmatched nature of offering to our customers present all around the globe across industry verticals. Precedence Research has expertise in giving deep-dive market insight along with market intelligence to our customers spread crosswise over various undertakings. We are obliged to serve our different client base present over the enterprises of medicinal services, healthcare, innovation, next-gen technologies, semi-conductors, chemicals, automotive, and aerospace & defense, among different ventures present globally.
For Latest Update Follow Us:
https://www.linkedin.com/company/precedence-research/
https://www.facebook.com/precedenceresearch/
https://twitter.com/Precedence_R