Ottawa, May 23, 2023 (GLOBE NEWSWIRE) -- As per Precedence Research, the global specialty oleochemicals market size was valued at USD 26.06 billion by 2022. Specialty oleochemical use has grown as a result of rising personal care product usage, more readily available men's hygiene products, and rising customer expenditure on cosmetic and beautification products.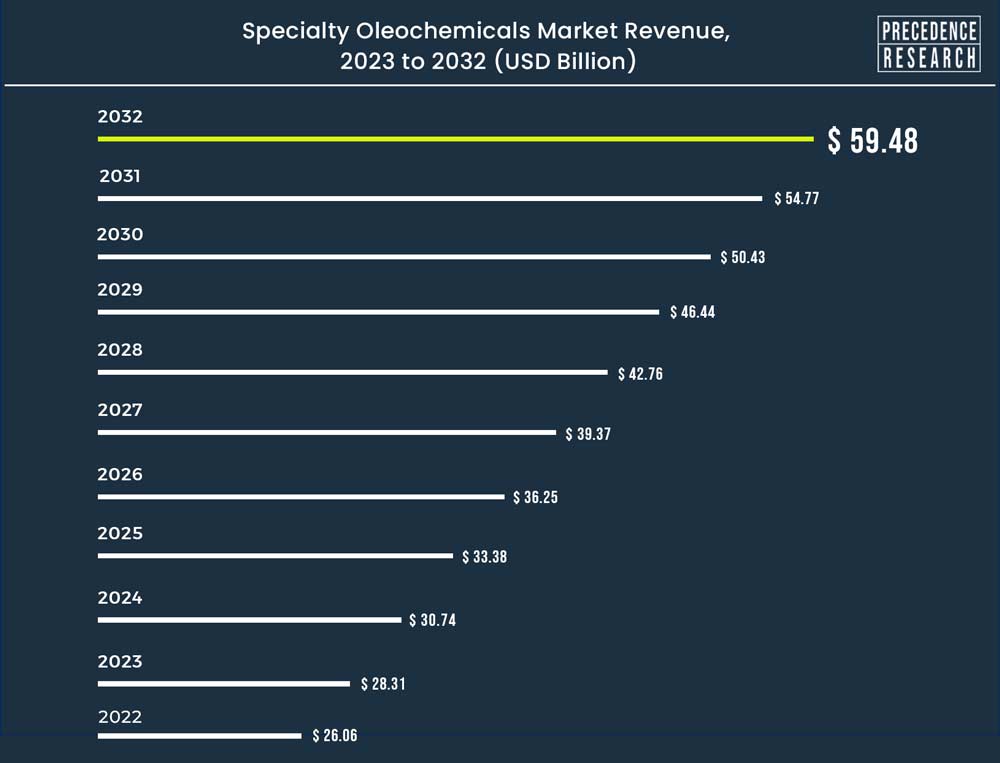 Specialty oleochemicals are produced using plant-based feedstocks like palm oil, soybean oil, canola oil, and sunflower oil. Among other uses, these specialized oleochemicals are used as natural components in lubricants, compostable plastics, cosmetics, and bio-surfactants. The goods have special characteristics like emulsifying abilities and surface action with advantageous biological characteristics.
Ask here for report sample pages@ https://www.precedenceresearch.com/sample/2833
The study on the global specialty oleochemicals market offers a comprehensive analysis of the industry. The study provides a thorough review of the market's major segments, trends, drivers, restraints, competitive environment, and other important elements.
In the paints, inks, health and medicinal goods, food manufacturing, and polymer and plastic additive sectors, the use of specialized oleochemicals has grown. Numerous specialized oleochemical end-use companies have experienced substantial global expansion. Specialty oleochemical compounds can be found in pharmaceutical products. The oleochemical industry has concentrated more on affordable and sustainable feedstocks to produce oleochemicals with high biodegradability, low toxicity, and low environmental impact. The demand for oleochemicals is anticipated to boost oilseed production. Approximately 80% of the 105 million tonnes of fats and oils eaten worldwide each year are for human sustenance.
The specialized specialty oleochemical market is anticipated to grow in response to the rising demand for eco-friendly polymers. Numerous environmental problems brought on by the use of plastic and other non-biodegradable materials have compelled businesses and consumers to adopt sustainable polymers. The goal of using sustainable plastic is to minimize inefficiencies that damage the ecosystem and improve company processes. This increase in customer demand for eco-friendly plastic creates new markets, especially for specialized oleochemicals in the cosmetics, pharmaceutical, fashion, and culinary sectors. For instance, European Bioplastics, an organization that represents the interests of the bioplastics industry in Europe, stated in December 2020 that the region's ability to produce bioplastics is anticipated to increase from around 2.1 million tons in 2020 to 2.8 million tons in 2025. As a result, the market for specialized oleochemicals is anticipated to grow during the time of forecasting due to the rising demand for environmentally friendly plastics.
Report highlights
For a variety of uses, specialty esters are an option to chemicals and products made with petroleum.
Specialty oleochemical compounds and formulas are used in creams, skincare, sun care, hair care, and dental care items in personal care and makeup. The need for personal care products is being driven by the rising demand for organic and anti-aging products to keep a young look.
The specialty oleochemicals market was led by Asia Pacific in 2019 and is anticipated to expand at the fastest rate during the projection period. This can be ascribed to Malaysia and Indonesia having a significant number of producers.
The demand for specialized oleochemicals has increased in North America as a result of strict government restrictions regarding the use of petroleum-based goods due to their negative environmental effects. Consumption of the product is anticipated to increase due to rising demand from a number of end-use sectors, including personal care and cosmetics, healthcare, and food preparation.
You can further customize the report@ https://www.precedenceresearch.com/customization/2833
Regional Snapshots
The most profitable regional market for the world's specialized oleochemicals is anticipated to be Asia Pacific. Due to its extensive manufacturing infrastructure, this area has a ton of opportunities for various downstream companies. The area also has an enormous supply of raw materials, particularly in Indonesia, Malaysia, and the Philippines where the markets for palm and coconut oil have seen extraordinarily rapid expansion.
The specialized oleochemicals' second-largest market is North America. Due to increasing application development possibilities in the personal care & cosmetics, consumer products, healthcare, and paints & inks sectors, the United States is the largest contributor. Europe is also expected to experience significant development as the importance of biodiesel and ecology grows.
Market dynamics
Drivers
Important businesses are concentrating their efforts on bio-based options as the general public becomes more conscious of the biodegradability of plastics and polymers. In order to maintain their competitiveness, manufacturers are raising their expenditures in strategic alliances and collaborations. During the anticipated era, this factor will drive the market's increased penetration and long-term development.
One of the application areas with the quickest growth is the personal care and cosmetics industry. Specialty oleochemicals are now more widely accepted in the makeup industry as a result of tighter restrictions on the use of potentially harmful chemical ingredients like parabens, aluminum salts, and phthalates. The market for specialized oleochemicals has greatly benefited from this trait. Specialty oleochemical use has grown as a result of rising personal care product usage, more readily available men's hygiene products, and rising customer expenditure on cosmetic and beautification products.
Restraints
There is fierce competition among market participants who give comparable goods in the specialized oleochemicals sector. For lesser or more recent competitors in particular, this may result in pricing pressure and margin loss. Additionally, specialty oleochemicals producers are under pressure to implement more environmentally friendly production practices and lessen their carbon footprint as a result of the increasing consumer demand for sustainable and environmentally friendly goods. This might necessitate sizeable R&D expenditures, adjustments to the way manufacturing is done, and supply chain management reforms. During the forecast period stated above, these are some of the key reasons limiting the development of the specialty oleochemicals market.
Opportunities
The main reasons propelling the market's development are the rising demand for biodiesel and the quick expansion of the fast-moving consumer goods (FMCG) industry. A significant growth-inducing element is also the expanding use of oleochemicals by chemical producers to create bio-surfactants, bio-lubricants, and biopolymers as viable substitutes for petrochemicals. Consumer desire for natural components in soaps, food additives, infant care items, and makeup is also rising. For instance, to create organic detergent, caustic soda, sodium, oil-based oleochemicals, scents, and preservatives are mixed. Global industrialization is developing quickly, which is another element boosting the industry.
Oleochemicals are used to make basic oils, industrial lubricants, hydraulic fluids, and softening, polishing, and vulcanizing compounds for rubber goods. Additional factors are anticipated to fuel the market, such as increased research and development (R&D) to use metabolic engineering methods for the production of oleochemicals using green and sustainable feedstocks.
Challenge
There are issues with the security of the food supply and expensive manufacturing expenses. Vegetable oil demand is rising, which suggests that there has been a substantial rise in world oil and fat consumption. It provides additional channels when vegetable oil is limited for another crucial use, which is why food security is a growing source of worry. The production procedure, on the other hand, is pricy and necessitates cutting-edge technology. To some degree, these variables limit market expansion.
Related Reports
Recent developments
Oxiteno (Brazil), the chemical business of Brazilian oil firm Ultrapar Participacoes SA, will be purchased by Singapore-based Indorama Corporation in August 2021, with the delayed payment scheduled to end in 2024.


Mega First Corporation, located in Malaysia, acquired Emery Oleochemicals' Asia Pacific business in August 2021. Edenor Technology Sdn Bhd, a partnership between Mega First Corp Bhd and 9M Technologies Sdn Bhd, will carry out the acquisition.


On November 3–4, 2021, Emery Oleochemicals, one of the best specialist oleochemical businesses, will showcase its selection of Bio-Lubricants products at the ICS Conference Center in Stuttgart, Germany.


Market Segmentation
By Product
Specialty Esters
Fatty Acid Methyl Esters
Glycerol Esters
Alkoxylates
Fatty Amines
Others
By Application
Personal Care & Cosmetics
Consumer Goods
Food Processing
Textiles
Paints & Inks
Industrial
Healthcare & Pharmaceuticals
Polymer & Plastics Additives
Others


By Geography
North America
Europe
Asia-Pacific
Latin America
Middle East and Africa


Immediate Delivery Available | Buy This Premium Research Report@ https://www.precedenceresearch.com/checkout/2833
You can place an order or ask any questions, please feel free to contact at sales@precedenceresearch.com | +1 9197 992 333
About Us
Precedence Research is a worldwide market research and consulting organization. We give an unmatched nature of offering to our customers present all around the globe across industry verticals. Precedence Research has expertise in giving deep-dive market insight along with market intelligence to our customers spread crosswise over various undertakings. We are obliged to serve our different client base present over the enterprises of medicinal services, healthcare, innovation, next-gen technologies, semi-conductors, chemicals, automotive, and aerospace & defense, among different ventures present globally.
For Latest Update Follow Us:
https://www.linkedin.com/company/precedence-research/
https://www.facebook.com/precedenceresearch/
https://twitter.com/Precedence_R