Tokyo, May 23, 2023 (GLOBE NEWSWIRE) -- As per Precedence Research, the global anti-counterfeit packaging market size was valued at USD 140.27 billion in 2022. Anti-counterfeit packaging refers to packaging options made to stop the manufacture and selling of imitation goods. Products that are made and distributed under the guise of authenticity but are actually false or subpar products are known as counterfeits.

Ask for report sample pages@ https://www.precedenceresearch.com/sample/2701
Anti-counterfeit packaging is made to make it difficult or impossible for counterfeiters to imitate the packaging of real products, hence preventing such practices. Due to the rising demand for counterfeit protection across several industries, including pharmaceuticals, food and beverage, consumer electronics, automotive, and luxury goods, the anti-counterfeit packaging industry has been expanding quickly in recent years. Government rules requiring the use of anti-counterfeit packaging and the expanding demand for high-quality packaging solutions are some of the market-driving elements. Other market-driving elements include growing concerns about product safety and authenticity.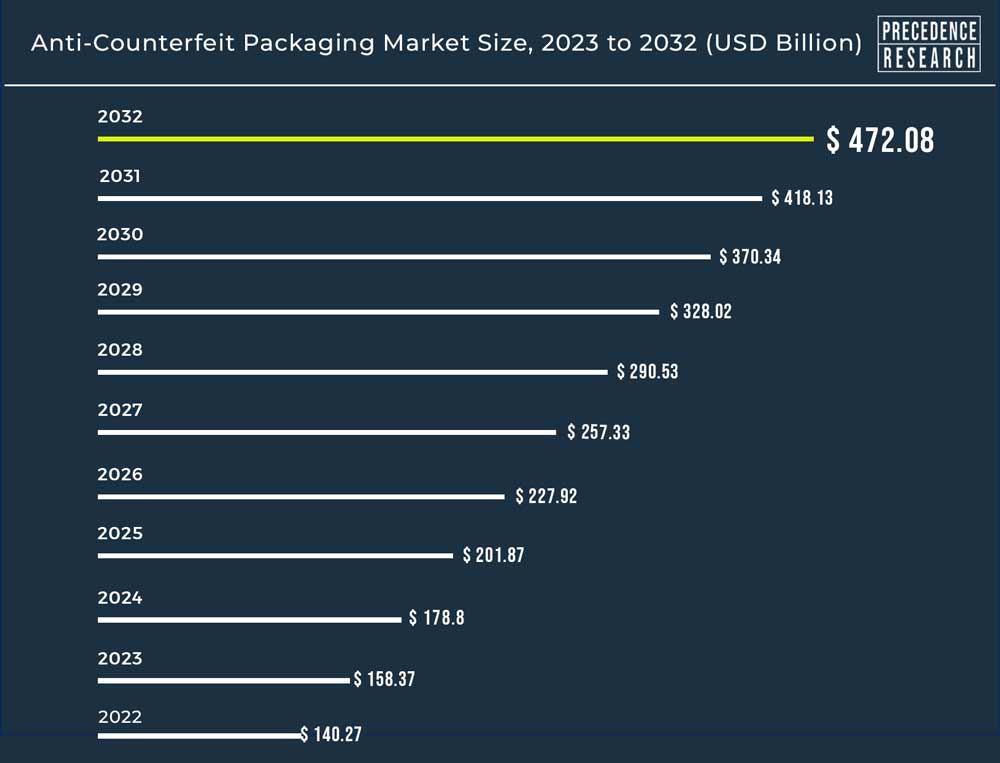 Holograms, security inks, RFID tags, tamper-evident seals, and special product identification codes are just a few examples of characteristics that can be used in anti-counterfeit packaging systems. These characteristics are intended to make it challenging for counterfeiters to imitate the packaging of real products and to make it simple for customers to confirm the realness of the products they are buying. The market for anti-counterfeit packaging is quite competitive, with many businesses providing a variety of solutions to satisfy the requirements of various industries.
Report highlights
Based on technology, the anti-counterfeit packaging market is segmented into holograms, RFID, mass encoding, forensic markers, tamper evidence, and others.
Based on end user, anti-counterfeit packaging market is segmented into pharmaceuticals, food and beverage, automotive, personal care, electrical & electronics, luxury products, and others. The medicines market segment held the greatest market share in 2021.
Based on geography, North America accounted for the majority of the market share. The anti-counterfeit packaging sector in North America is fuelled by government measures to combat the counterfeit market in the United States and Canada.


Recent developments
In August 2021 Vestcom was acquired by Avery Dennison Corporation for USD 1.45 billion. The company will be able to offer more branded labelling options to the retail and consumer packaged goods industries thanks to the purchase.


You can further customize the report@ https://www.precedenceresearch.com/customization/2701
Scope of this report
Coverage
Details
Market Size in 2032
USD 472.08 Billion
CAGR
12.9%
 
North America Share
40%
 
Fastest Growing Region
Asia Pacific
Key Players
3M Company, CCL Industries, Zebra Technologies Corporation, SATO Holdings, DuPont, SICPA Holdings SA, Applied DNA Science, Intelligent Label Solutions, SML Group, Avery Dennison Corporation, 3D AG, Systech International, Ampacet Corporation, Tracelink Inc., TruTag Technologies, Inc., IMPINJ, Inc., AlpVision S.A., SAVI Technology, Inc., Authentix, Inc, Advance Track &Trace and Others
Regional snapshots
Based on region, North America dominated the majority of the market. Government initiatives to combat the counterfeit market in the United States and Canada are what essentially fuel the anti-counterfeit packaging industry in North America. The need for product traceability stems from consumer demands for greater accessibility. Anti-counterfeiting rules being upheld has helped the company increase its market share. Manufacturers are gradually integrating more complex technologies into machines to aid in item tracking and identification.
Because businesses there are constantly coming up with new ways to ensure the quality of their products and adhere to strict health and safety requirements, Asia-Pacific had the market's fastest growth rate in 2022. For instance, the fact that many pharmaceutical companies produce their goods in China has caused the nation to adopt more pro-active steps to protect consumers from fake medications, food fraud, and medical device fraud. That suggests that it is more important than ever to grasp product authenticity and anti-counterfeiting technologies like barcodes, holograms, labelling, and RFIDs (radio frequency identification).
Market dynamics
Drivers
The prevalence of counterfeit goods, the value of safety and security, and government measures to counteract it are the main market-influencing variables. Businesses can prevent their products from being portrayed as coming from other enterprises by using anti-counterfeit packaging. To avoid situations like this, high-end clothing companies, for instance, imprint their logos on their clothing. Several businesses require anti-counterfeit packaging. Given the size and scope of the packaging industry, it is also growing in the anti-counterfeit packaging sector as this tendency becomes more widespread. It could be challenging for customers to tell whether a product is genuine due to the usage of uniform packaging. Product duplication can be avoided by adopting packaging technology like holograms, RFID, and bulk encoding.
One of the most lucrative sectors of the global market for illegally copied goods is counterfeit medications. False pharmaceuticals cause harm and even death to millions of people throughout the world. The trademarks of the biggest pharmaceutical manufacturers suffer severe damage as a result. There have recently been multiple cases of populations in various countries receiving fake COVID vaccines. For instance, the World Health Organization (WHO) discovered the counterfeit Covishield (made by the Serum Institute of India) sparked grave concerns among all pertinent parties. Also, Pfizer's phoney vaccination vials were discovered in a number of countries, including the United States.
Opportunities
The anti-counterfeit packaging industry is seeing new growth potential as a result of emerging economies like China and India. Demand for anti-counterfeit packaging will rise as a result of urbanisation, an increase in the middle class, and more discretionary incomes. Online sales have greatly increased in China and India. The volume of goods that the same number of people carry and touch daily has made the world more vulnerable to counterfeiting. Forgers and counterfeiters have made it easier to transport bogus goods by weakening anti-counterfeit packing materials. The packaging business has a large potential to build a foundation and expand its operations as a result of the major increase in key industrial sectors like pharmaceuticals, apparel and clothing, food and beverages, and agriculture in emerging nations.
Related Reports
Market Segmentation
By Technology
Holograms
RFID
Mass Encoding
Forensic Markers
Tamper Evidence
Others
By Packaging Format
Bottles & Jars
Vials & Ampoules
Blisters
Trays
Pouches & Sachets
Tubes
Syringes


By End-User
Pharmaceuticals
Food and Beverage
Automotive
Personal Care
Electrical & Electronics
Luxury Products
Others


By Geography
North America
Europe
Asia-Pacific
Latin America
Middle East and Africa


Immediate Delivery Available | Buy This Premium Research Report@ https://www.precedenceresearch.com/checkout/2701
You can place an order or ask any questions, please feel free to contact at sales@precedenceresearch.com | +1 9197 992 333
About Us
Precedence Research is a worldwide market research and consulting organization. We give an unmatched nature of offering to our customers present all around the globe across industry verticals. Precedence Research has expertise in giving deep-dive market insight along with market intelligence to our customers spread crosswise over various undertakings. We are obliged to serve our different client base present over the enterprises of medicinal services, healthcare, innovation, next-gen technologies, semi-conductors, chemicals, automotive, and aerospace & defense, among different ventures present globally.
For Latest Update Follow Us:
https://www.linkedin.com/company/precedence-research/
https://www.facebook.com/precedenceresearch/
https://twitter.com/Precedence_R