Ottawa, May 25, 2023 (GLOBE NEWSWIRE) -- According to Precedence Research, the global intelligent process automation market size will reach USD 39.52 billion in 2030. The use of artificial intelligence and technologies like machine learning, cognitive automation, and computer vision with robotic process automation is part of the development of the concept of intelligent process automation. These solutions assist companies in streamlining their processes by getting rid of routine, repetitive, and repeated tasks. This enhances response times and reduces process-related operational risk. It is widely used in IT operations, application and content management, security, and business process automation. Digital process automation (DPA), robotic process automation (RPA), and artificial intelligence are the main technologies that go into intelligent process automation (AI).

Ask here for report sample pages@ https://www.precedenceresearch.com/sample/2772
Intelligent process automation has several advantages, such as effective governance and risk minimization, coordination of work across robots, humans, and systems, end-to-end process visibility and customer journey visibility, agility and speed of process modification, and increased market acceptance.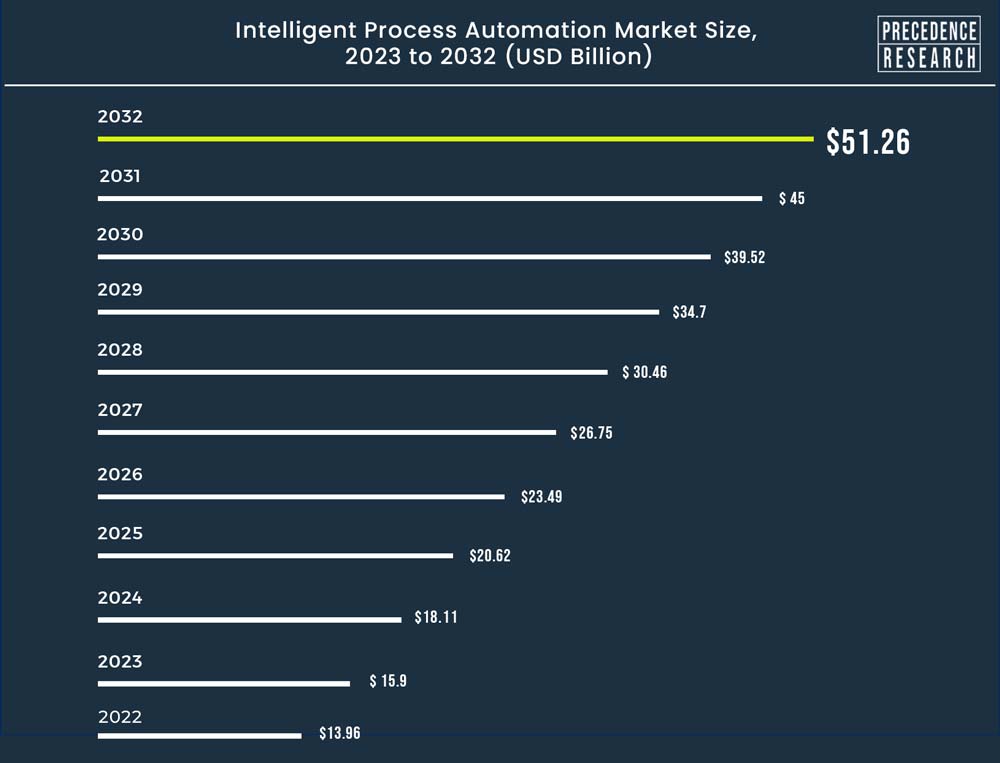 In order to keep their business profitable, organizations all around the world are embracing Intelligent Process Automation. A number of business advantages are provided by intelligent process automation, including the organization of humans and robots, the automation of tedious and scheduled tasks, the assurance of sound management and the reduction of risk, the measurement of permeability across the entire client journey, and business sprightliness and accelerating the rapidly changing business measures. Organizations can increase their efficiency by identifying, modeling, surveying, assessing, improving, advancing, overseeing, and computerizing various organizational procedures.
Key Insights:
Europe region has registered 33% market share in 2022.
By Vertical, the BFSI segment has captured 36% market share in 2022.
By Technology, the machine learning segment has held 40% market share in 2022.
By Offering, the solution segment has held largest market share in 2022.
By Organization Size, the SMEs has held largest market share in 2022.
By Application, the IT operations segment has held largest market share in 2022.
By Deployment Mode, the on-premises segment has held largest market share in 2022.


You can further customize the report@ https://www.precedenceresearch.com/customization/2772
Scope of the report
Coverage
Details
Market Size in 2030
USD 39.52 Billion
CAGR
13.89% from 2023 to 2032
North America Market Share
41%
 
Asia Pacific Market Share
18%
 
LAMEA
8%
 
Key Players
Wipro, Capgemini, Cognizant, Syntel, Tech Mahindra, Infosys, Accenture, HCL Technologies, Tata Consultancy Services, Xerox Corporation, Genpact and Others
Regional Snapshots
The market is currently dominated by North America. This is a result of increased cellphone penetration and widespread use of artificial intelligence in the area. Due to the rapid rise in demand for automated processes and cloud-based technologies, together with rising investment in the IT industry, the intelligent process automation market in Asia-Pacific is anticipated to grow at the fastest rate during the forecast period. The development of digital economy in emerging nations will also fuel this region's prosperity. With the growing need for process automation in nations like Germany and Italy, which are known for their industrial centers, the European market is anticipated to maintain its dominance and open up new potential opportunities. Process automation is anticipated to be accelerated by the issues of high labor costs and a lack of sufficient skilled workers.
On the strength of the establishment of manufacturing facilities by certain global companies and stimulated Foreign Direct Investments in rising countries like India, the Asia-Pacific market is anticipated to attain new development avenues over the scheduled course of time.
Market dynamics
Drivers
The market for intelligent process automation is expanding significantly as a result of the rising need for automated IT solutions. In addition, a major driver of the market's development is the rising use of resource optimizations such intelligent automation in reaction to a decline in human interaction. Additionally, a favorable effect element on market growth was imposed as digitalization investment increased. The market's expansion is, however, being hampered by worries about the prohibitive implementation costs and legal compliance requirements.
The growth of the intelligent process automation market is driven by the accelerated acceptance rate of automation processes to transform over work environments efficiency. The advancement in the choice of computerization programming has also stimulated the growth of the intelligent process automation market due to the advanced transformation, the increase in speculation by company visionaries, and the ability to make speedier business decisions.
Restraints
IPA systems require continuous upkeep and defense against cyberattacks. Companies must invest significantly in the installation of sophisticated security systems as well as ongoing maintenance. Additionally, a newly automated operational model needs competent personnel to run, but it's critical to find people with RPA and AI experience. This includes technical competence, knowledge of the organization's commercial practices, and the capacity to modify management strategies. Equally important to employing or upskilling employees to implement automation is allocating people to continual maintenance, support, and troubleshooting. For small and medium-sized firms, the total cost is extremely expensive and includes maintenance, cybersecurity charges, recruiting fees, and training expenses. Therefore, these expenses create a barrier to IPA market expansion in the smaller industries.
Opportunities
The market for intelligent process automation is expanding as workplace productivity is increasingly being converted by automation procedures. Additionally, the advancement in the usage of automation software has contributed to the expansion of the intelligence process automation market. These factors include the digital revolution, the rise in entrepreneur investment, and the capacity to make business choices more quickly. Additionally, the rise is being fueled by the telecommunications, healthcare, and IT industries' growing embrace of process automation. During the projection period, it is also projected that the creation of a unified intelligent automation tool, rising R&D advances, and the growth of digital workforces would present significant potential in the process automation market.
Additionally, the use of intelligent process automation in the banking sector has significantly increased recently. In the stage of intelligent process automation, firms must provide data to customers, but manual processes, such processing insurance claims or automating customer requests, take a significant amount of time. As a result, adopting intelligent process automation helped businesses run more efficiently. For instance, one of the biggest banking groups in Latin America, Bancolombia, uses bizagi as their platform for intelligent process automation to give improved customer care both online and in-person, enabling robots and people to collaborate successfully.
Challenges
A newly automated operational model needs skilled labor to run, but it's critical to find people with RPA and AI experience. This involves technical expertise, familiarity with the business procedures of the firm, and the ability to change management tactics. The employment or upskilling of humans to construct automation, which is often top of mind, is equally important as assigning people to continual maintenance, support, and troubleshooting. According to McKinsey, there is a 31% skilled labor scarcity in Asia, a 27% skilled labor need in Europe, and a 25% skilled labor shortage in the US when it comes to implementing IPA solutions.
Report highlights
Intelligent process automation is expected to have significant market expansion due to the high emphasis on automation in processes and the trend of applying artificial intelligence to improve working efficiency and process quality.
Customers are becoming more attracted to intelligent process automation due to the entrance of new market participants and ongoing growth and innovation by global companies.
During the anticipated period, the services sector is anticipated to dominate the market for intelligent process automation.
Throughout the projection, North America is expected to continue to dominate the market. The growth in the enterprise's usage of process management and automation technologies in the US is fueling regional development.
The BFSI industry had the largest market share in 2022. The BFSI sector automates repetitive tasks including data entry, regulatory compliance, assembly, and formulation to boost speed and efficiency.


Related Reports
Recent developments
IBM Corporation and Cisco Systems Inc. announced their partnership in October 2021 with the goal of facilitating the orchestration and administration of a sizable number of 5G core and radio nodes.


IBM Corporation announced the release of hybrid cloud-based and AI-powered automation software in June 2021. This software will let different communication service providers automate the administration of the 5G network more quickly and across a variety of contexts.


Market Segmentation
By Technology
Natural language Processing
Machine and Deep Learning
Neural Networks
Virtual Agents
Mini Bots
Computer Vision
Others


By Organization Size
By Application
IT Operations
Business Process Automation
Application Management
Content Management
Security Management
Other
By Deployment Mode
By Vertical
BFSI
Telecommunication and IT
Manufacturing & Logistics
Media & Entertainment
Retail & eCommerce
Healthcare & Life Sciences
Others


By Geography
North America
Europe
Asia-Pacific
Latin America
The Middle East and Africa


Immediate Delivery Available | Buy This Premium Research Report@ https://www.precedenceresearch.com/checkout/2772
You can place an order or ask any questions, please feel free to contact at sales@precedenceresearch.com | +1 9197 992 333
About Us
Precedence Research is a worldwide market research and consulting organization. We give an unmatched nature of offering to our customers present all around the globe across industry verticals. Precedence Research has expertise in giving deep-dive market insight along with market intelligence to our customers spread crosswise over various undertakings. We are obliged to serve our different client base present over the enterprises of medicinal services, healthcare, innovation, next-gen technologies, semi-conductors, chemicals, automotive, and aerospace & defense, among different ventures present globally.
For Latest Update Follow Us:
https://www.linkedin.com/company/precedence-research/
https://www.facebook.com/precedenceresearch/
https://twitter.com/Precedence_R