Ottawa, May 25, 2023 (GLOBE NEWSWIRE) -- As per Precedence Research, the global data center automation market size is predicted to expand around USD 14.98 billion by 2027. Factors such as rising internet penetration, an upsurge in the adoption of cloud services by small & medium size enterprises, the surge in the volume of data, a surge in demand for energy-efficient data centers, growing cloud computing, social media, online gaming, and big data applications are fueling the market growth.

Ask here for sample pages@ https://www.precedenceresearch.com/sample/2756
However, a lack of skilled professionals is obstructing the growth of the data center automation market. Furthermore, the rising number of green data centers and the increase in investments to develop advanced data centers are expected to drive the market.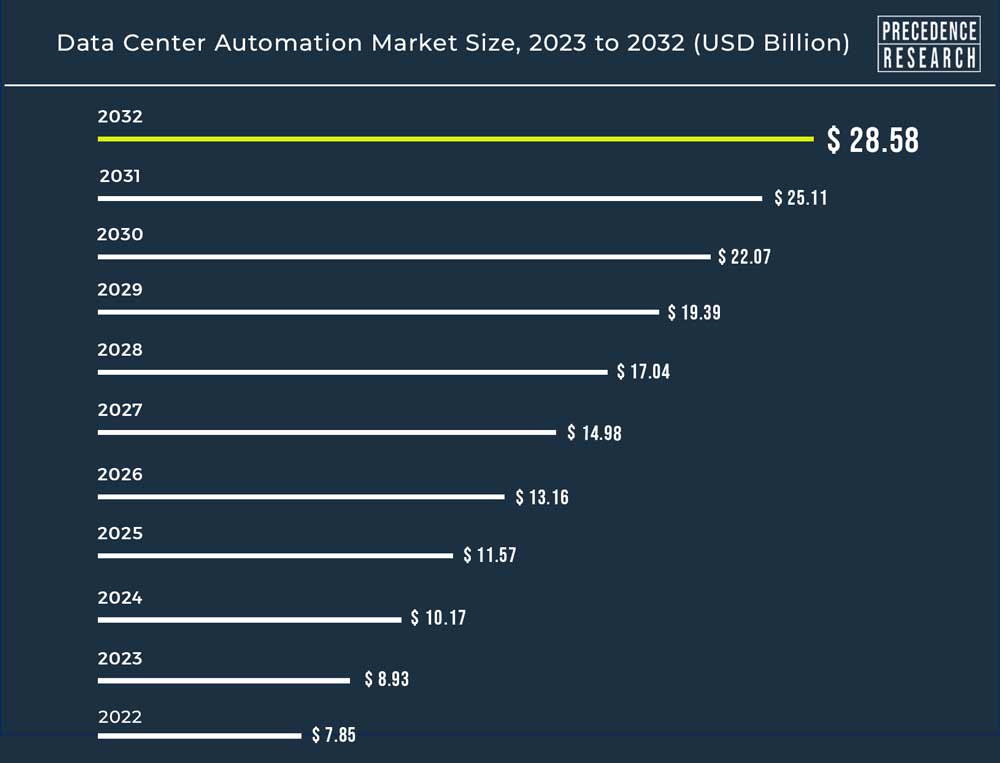 Report Highlights:
North America market has accounted for a revenue share of 42% in 2022.
Based on Solution, the server automation segment has garnered 52% of revenue share in 2022.
Based on Service, the installation and support services segment has captured the highest market share in 2022.
Based on Deployment, the cloud segment has contributed revenue share of 52% in 2022.
Based on Enterprise, the large-size enterprise segment has generated 70% of total revenue share in 2022.


Solution Landscape
The network automation segment is expected to grow faster during the forecast period. Networking can help data centers improve, allowing for the rapid provisioning of new resources, scalability, increased security, and traffic and monitoring analysis. Furthermore, open APIs are used in software networking, which promotes integration across data center software resources and provides universal user access.
Deployment Landscape
The on-premises segment is expected to grow faster during the forecast period. This is due to increased demand from small and medium-sized enterprises (SMEs). On-premises deployment is expected to proliferate in the industry as it gives customers full access to their data, applications, and infrastructure while lowering operating costs and improving security.
Enterprise Landscape
The small-size enterprise segment is expected to grow faster during the forecast period. The growing demand for quickly deployable and scalable data centers drives market growth among SMEs. Furthermore, several factors, such as increased SMEs' adoption of cloud services, increased demand for green data centers, and increased demand for energy-efficient data centers, contribute significantly to the market's growth.
Vertical Landscape
The healthcare segment is estimated to be the fastest growing during the forecast period due to the rapid adoption of digitalization. Digitization has greatly increased the volume and speed with which healthcare data is generated. By 2020, it is expected that up to 80% of healthcare data will be stored in the cloud. As per the research study by oxford economics, healthcare organizations are expected to invest in Big Data and analytics (76%), cloud technology (65%), mobile (50%), and security (48%) in two years. Data center automation is expected to grow significantly as digital transformation becomes a mainstream technology in the healthcare sector. The growing use of online Electronic Health Records (EHRs) and e-prescriptions enhances storage demands among healthcare providers, prompting them to invest in data centers.
You can further customize the report@ https://www.precedenceresearch.com/customization/2756
Scope of the report
Coverage
Details
Market Size in 2030
USD 22.07
CAGR
13.79%
 
North America Market Share
42%
 
Asia Pacific Market Share
21%
 
Europe Market Share
24%
 
On-Premises Segment Share
48%
 
Key Players
Cisco Systems Inc., Oracle Corporation, Microsoft Corporation, ABB Limited, ServiceNow, Citrix Systems, Inc, Hewlett Packard Enterprise Development LP, BMC Software, FUJITSU, VMWare and Others
Regional landscape
Asia Pacific is estimated to grow faster during the forecast period. Countries such as Japan, China, and India, among others, are investing heavily in IT infrastructure and the construction of new data centers to keep up with the region's ever-increasing data volume. Furthermore, the Asia-Pacific data center automation market benefits from many small and medium-sized businesses and their increasing adoption of cloud computing.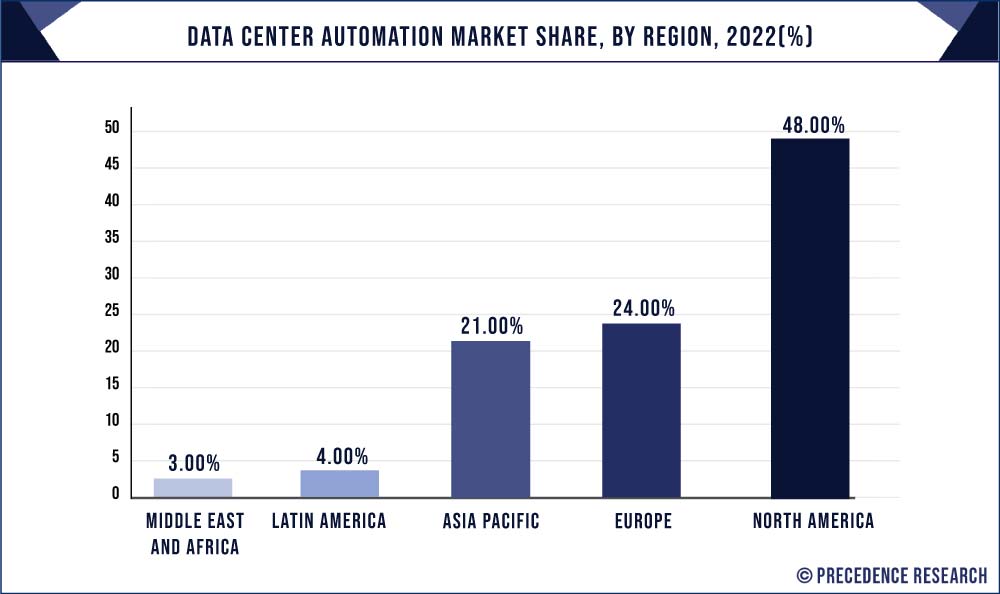 Some major factors driving demand for data centers in India are growing cloud computing, increasing internet penetration, government regulations for data generated in the country, and growing investment by foreign players. The country's digital expansion of end-user industries, as well as state government initiatives to attract the construction of data centers in their states for economic growth, will provide a massive opportunity.
Market Dynamics
Driver
Data centers provide businesses with increased data storage capacity, more advanced servers, and faster computing capability. The demand for data centers is growing across all industries. One of the primary factors driving the data center automation market is the increasing reliance of businesses on data centers. Data centers are used in various industries, including IT and telecommunications, banking and finance, public sector and utilities, healthcare, energy, manufacturing, retail, education, and others. Organizations use data centers to host web applications, save, process, and access massive amounts of data, and to carry out critical tasks.
Energy efficiency is a crucial factor driving the data center automation market, as all businesses strive to improve their overall energy efficiency. Organizations prefer data center automation, allowing them to operate with maximum energy efficiency while minimizing their environmental impact. The desire to save electricity costs fuels the demand for energy-efficient automated data centers. In data centers, high-density blade servers and storage solutions provide increased computer capacity per Watt energy consumed.
Opportunity
According to the Environmental Investigation Agency, in 2020, data centers consumed approximately 1% of global electricity demand and contributed about 0.3% of total carbon dioxide emissions. Moreover, data centers use between 3 and 5 million gallons of water per day. Furthermore, a report from the Central Statistics Office of Ireland in 2021 shows that data centers consumed 32% more electricity than 2020. This significant reduction in electricity consumption is expected to fuel the demand for green data centers.
Covid-19 Impact
The pandemic influenced the desire for automated solutions significantly. Companies have adopted data automation for production due to the pandemic and other health and safety concerns. People became more concerned about privacy and security, which fueled the growth of the automation industry. The digitization of healthcare data, for example, has dramatically increased its volume and portability. The increasing use of digital Electronic Health Records (EHRs) and online prescriptions raises storage needs among healthcare providers, prompting them to invest in data centers. For instance, In 2020, Hartford HealthCare partnered with Google Cloud in November 2022 to accelerate the health system's digital transformation, data analytics, and patient access. The two organizations would work together to maximize the value of Hartford HealthCare's patient data, which is often difficult to obtain and use because it is disorganized or difficult to find in ever-more-complex EHRs.
Related Reports
Key Developments in the Marketplace
In 2022, Augtera Networks, an AMD, announced its collaboration on data center automation.
In 2022, Red Hat collaborated with General Motors (GM) to improve the performance of connected vehicles by connecting them to edge data centers. This acquisition will create infrastructure to move data from GM's vehicles to the internet
In 2021, Google announced an investment of USD 9.5 billion in establishing a cloud data center.
In 2021, Daimler, a German automobile manufacturer, chose Norway's Green Data Center, Lefdal Mine. The transition to green data centers is intended to transfer high-performance computing workloads for automated driving technologies and vehicle design.
In 2021, Alibaba cloud launched two new data centers in Thailand and South Korea. The latest data center goal is to assist local businesses in their digital transformation journey.


Market Segmentation
By Solution
Network automation
Server automation
Storage automation


By Service
Consulting service
Installation and support services
By Deployment
By Enterprise
Large Size Enterprises
Small and Medium Sized Enterprises (SMEs)
By Vertical
Telecom and Information Technology (IT)
Media and Entertainment
Healthcare
Banking
Financial Services and Insurance (BFSI)
Public Sector
Manufacturing
Retail
Others


By Geography
North America
Europe
Asia-Pacific
Latin America
Middle East and Africa


Immediate Delivery Available | Buy This Premium Research Report@ https://www.precedenceresearch.com/checkout/2756
You can place an order or ask any questions, please feel free to contact at sales@precedenceresearch.com | +1 9197 992 333
About Us
Precedence Research is a worldwide market research and consulting organization. We give an unmatched nature of offering to our customers present all around the globe across industry verticals. Precedence Research has expertise in giving deep-dive market insight along with market intelligence to our customers spread crosswise over various undertakings. We are obliged to serve our different client base present over the enterprises of medicinal services, healthcare, innovation, next-gen technologies, semi-conductors, chemicals, automotive, and aerospace & defense, among different ventures present globally.
For Latest Update Follow Us:
https://www.linkedin.com/company/precedence-research/
https://www.facebook.com/precedenceresearch/
https://twitter.com/Precedence_R