Tokyo, May 30, 2023 (GLOBE NEWSWIRE) -- Precedence Research, the hydrogen peroxide market size will reach at USD 8.41 billion in 2027. The substance hydrogen peroxide, which combines hydrogen and oxygen, is widely employed in a variety of industrial sectors. The substance has a variety of qualities, including antibacterial and effective bleaching capabilities, which make it well suited for the paper & pulp business as well as the healthcare sector.

Additionally, hydrogen peroxide is employed in a number of medical and personal hygiene procedures. It is used as a mouthwash to clean away mucus and other oral irritations as well as an antiseptic for treating small wounds and burns on the skin.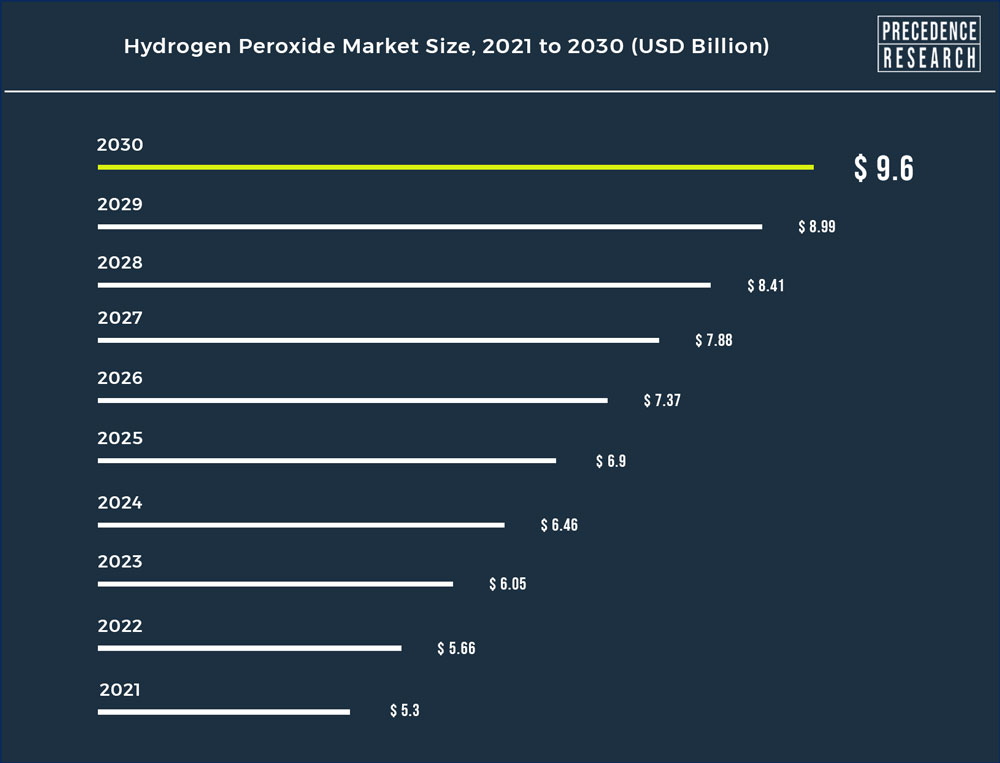 The main factors contributing to this rise are the rising demand for pulp and paper throughout the world as well as the proliferating product use in the HPPO process for producing propylene oxide.
Get the sample pages of report@ https://www.precedenceresearch.com/sample/2173
Carotenoids are pigments that are found in algae, bacteria, and plants that use photosynthesis. The market for carotenoids in the food and beverage industry will be driven by rising customer preference for natural food items. The material also has a wide range of uses in the wastewater treatment industry since it is a great oxidising agent and is also trustworthy, eco-friendly, and flexible in its usage. The product's catalysed form is thought to be extremely useful in the industry because of its quick capacity to oxidise contaminants and eliminate them. Since the U.S. has been plagued by chronic water-borne illness, the market for water treatment products has seen a considerable uptick. As a result, consumption of the product is expected to continue to expand steadily in North America, particularly the U.S.
Regional Snapshots
China continued to lead Asia Pacific in 2022 and is expected to continue this trend throughout the course of the assessment period. With the fastest growth rate of 6.3% from 2022 to 2030, Asia Pacific will have a revenue market share of over 50% in 2030. This expansion is mostly attributed to the increase in demand for hydrogen peroxide in the paper & pulp and chemical industries.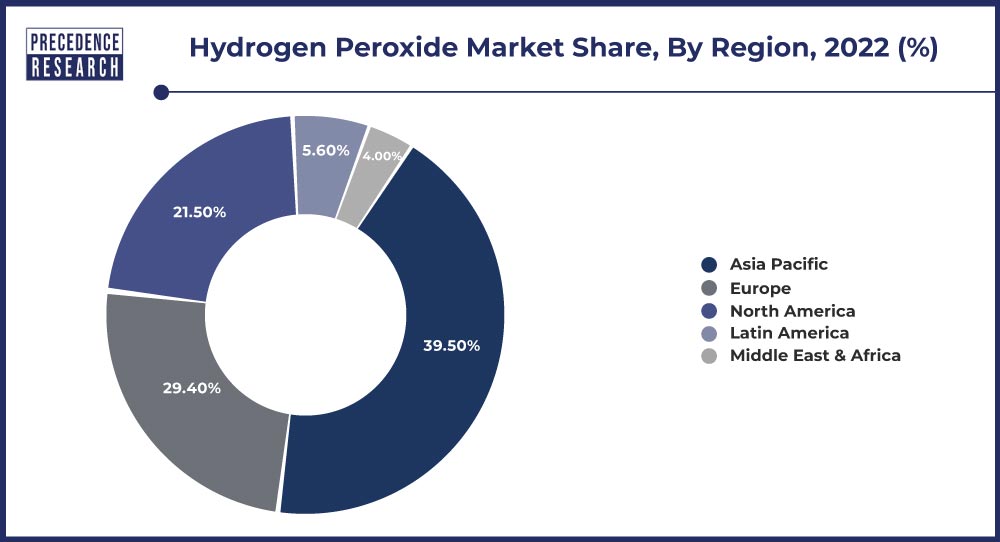 India and Indonesia, among other nations, have seen rapid industrialization and urbanisation, which has fuelled the expansion of the manufacturing sector, which is mostly made up of chemical production and processing businesses. Additionally, throughout the course of the projection period in this area, trends in the market for hydrogen peroxide in the paper and pulp industry are projected to pick up steam due to the rising usage of paper in hygienic tissue sheets and food packaging. Additionally, for the anticipated period, the expanding HPPO facilities in this region will have a beneficial effect on the expansion of the product market there.
Report Highlights
The market is anticipated to grow as a result of rising demand from the paper and pulp industry and rising consumption of hydrogen peroxide as a raw material for the production of propylene oxide (HPPO Process).
Health risks and adverse consequences linked to hydrogen peroxide exposure are anticipated to impede market expansion.
The use of hydrogen peroxide in water treatment and the expansion of the electronic sector in developing Asian nations would probably boost demand for the market under study.
The hydrogen peroxide market is expected to be dominated by the Asia-Pacific region, which is also anticipated to see the greatest CAGR.
Over the course of the forecast period, hydrogen peroxide use in the wastewater treatment sector is anticipated to increase in response to growing awareness of healthy lifestyles and clean drinking water.
After the looming epidemic, the market for hydrogen peroxide has taken off. The market is anticipated to experience potential success and growth on a global scale as a result of growing application in the paper & pulp sector.
You can further customize the report@ https://www.precedenceresearch.com/customization/2173
Coverage
Details
Market Size in 2030
USD 9.6 Billion
CAGR
6.82%
 
Asia Pacific Market Share
39.50%
 
Europe Market Share
29.40%
 
Bleaching Segment Share
40.20%
 
Key Players
Evonik Industries AG, Arkema, Grupa Azoty, Solvay, Akzo Nobel N.V., Gujarat Alkalies & Chemicals Ltd., Taekwang Industrial, CO., LTD., National Peroxide Limited, OCI Company Ltd., Airedale Chemical and Others.
Market Dynamics
Drivers
Use of hydrogen peroxide is prevalent in the paper & pulp application area. In the paper and pulp business, hydrogen peroxide is widely employed as a bleaching and oxidising agent. Utilizing hydrogen peroxide aids in achieving a brightness level appropriate for premium magazine papers, board, and tissue goods. Due to the rising use of paper throughout the world, this industry's demand for hydrogen peroxide is anticipated to expand in the near future. In affluent nations, the consumption of newspaper paper has decreased due to internet penetration and digitisation. However, the growing need for paper in the packaging and personal care sectors in emerging nations has boosted demand overall. With a market share of more than 35% in terms of application, the paper & pulp category has a dominant position. Hydrogen peroxide is utilised in the paper and pulp industry in three processes: delignification and bleaching of cellulose, pulp bleaching (high yield pulp), and recycling wastepaper (de-inking). For secondary fibres, hydrogen peroxide is utilised as a bleaching agent. When a high level of brightness is required, hydrogen peroxide is a widely utilised chemical for high-yield pulp bleaching.
Restraints
Hydrogen peroxide nevertheless has a detrimental effect on the environment even though it is generally regarded as a safe chemical for usage in a variety of industries. As a result, several nations are seeking to restrict the chemical's manufacturing and usage. Long-term, this might be a significant barrier for the hydrogen peroxide market.
Opportunities
Hydrogen peroxide manufacturing technology advances are anticipated to boost market expansion soon. For instance, in January 2019, scientists from the Ulsan Institute of Science and Technology located in South Korea reported that they had created a novel catalyst for the use of energy to make hydrogen peroxide. A highly effective carbon catalyst that can change oxygen into hydrogen peroxide was created by the researchers.
Sodium perborate and sodium percarbonate are created using hydrogen peroxide and then used as bleaching agents in the production of detergents. Due to the numerous uses and global expansion of the paper and pulp sector, industry grade hydrogen peroxide is anticipated to see rising consumer demand. Due to its biological degradability and exceptional chemical characteristics, hydrogen peroxide is widely employed in a variety of culinary applications. In the food processing sector, it is the most often used oxidising reagent for bleaching purposes. Among other items, hydrogen peroxide is primarily employed in natural sugars, gums, starches, oils, and waxes. Food products like natural fatty acid, cheese, whey, instant tea, emulsifiers, and herring all contain hydrogen peroxide.
Challenges
The expansion of the hydrogen peroxide market is anticipated to be hampered by strict rules implemented by organisations like the Occupational Safety and Health Administration (OSHA) based on exposure to hydrogen peroxide. Furthermore, over the course of the forecast period, policies adopted by regulatory organisations like the Food & Drug Administration (FDA), Registration, Evaluation, Authorisation and Restriction of Chemicals (REACH) and Environmental Protection Agency (EPA)  are anticipated to restrain market growth for hydrogen peroxide. For instance, consumers are cautioned not to use concentrated hydrogen peroxide, such as 35% food grade hydrogen peroxide, for medicinal purposes by the U.S. Food and Drug Administration (FDA).
Related Reports
Nickel Hydrogen Batteries Market - The global nickel hydrogen batteries market size was valued at USD 4.02 billion in 2022 and it is expanding around USD 22.13 billion by 2032 with a CAGR of 18.6% over the forecast period 2023 to 2032.
Hydrogen Buses Market - The global hydrogen buses market is poised to reach at a CAGR of 67.21% over the forecast period from 2023 to 2032.
Hydrogen Generator Market - The global hydrogen generator market size was valued at USD 146.63 billion in 2022 and is expanding around USD 288.41 billion by 2030 with a CAGR of 8.82% from 2022 to 2030.


Recent developments
In May 2020, the chemical company Kemira Oyj and the Finnish forest industry company UPM-Kymmene Corporation signed a contract to increase hydrogen peroxide production in Uruguay, South America. Kemira Oyj increased its bleaching chemical supply in Uruguay, South America, as a result of this agreement.
Gujarat Alkalies and Chemicals announced the start of the polyaluminum chloride and hydrogen peroxide partial operations in Dahej in April 2020.
In June 2020, Nouryon announced plans to build a cutting-edge manufacturing facility of the highest calibre at its existing location in Ningbo, China, in order to create two essential intermediates for its organic peroxide business.


Market Segmentation
By Function
Disinfectant
Bleaching
Oxidant
Others
By Grade
By Application
Pulp & Paper
Chemical Synthesis
Wastewater Treatment
Mining
Food & Beverages
Personal Care
Healthcare
Textiles
Others


By Sales Channel
By Geography
North America
Europe
Asia-Pacific
Latin America
Middle East & Africa (MEA)


Immediate Delivery Available | Buy This Premium Research Report@ https://www.precedenceresearch.com/checkout/2173
You can place an order or ask any questions, please feel free to contact at sales@precedenceresearch.com | +1 9197 992 333
About Us
Precedence Research is a worldwide market research and consulting organization. We give an unmatched nature of offering to our customers present all around the globe across industry verticals. Precedence Research has expertise in giving deep-dive market insight along with market intelligence to our customers spread crosswise over various undertakings. We are obliged to serve our different client base present over the enterprises of medicinal services, healthcare, innovation, next-gen technologies, semi-conductors, chemicals, automotive, and aerospace & defense, among different ventures present globally.
For Latest Update Follow Us:
https://www.linkedin.com/company/precedence-research/
https://www.facebook.com/precedenceresearch/
https://twitter.com/Precedence_R