Ottawa, May 31, 2023 (GLOBE NEWSWIRE) -- As per Precedence Research, the global electron microscopy market size will reach around USD 11.84 billion in 2030. Electron microscopy (EM) is a tool that allows biologists to photograph their samples at a higher and higher resolution than a light microscope. The technique is also used to obtain high-resolution images of non-biological specimens. Electron microscopy (EM) is widely used in biomedical research to investigate and study detailed images of tissues, cells, organelles, and macromolecular complexes.

Ask here for sample pages of report@ https://www.precedenceresearch.com/sample/2959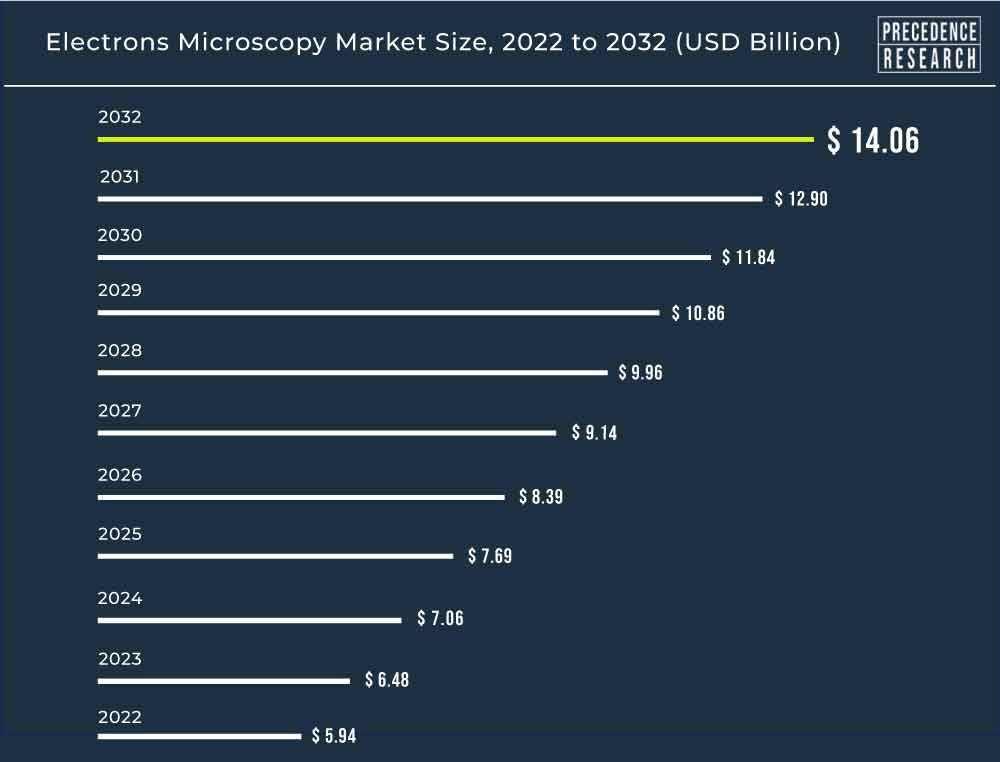 Covid 19 impact on the Electron Microscopy Market:
Microscopy was affected by the coronavirus epidemic and the resulting state-wide lockdowns. Many sectors have seen significant growth, especially in nations where COVID-19 is prevalent, such as India, China, the United States, and several European countries (Russia, Italy, and Spain, among others). While industries such as oil and petroleum, aviation, and mining are experiencing revenue declines, the healthcare, biotechnology, and pharmaceutical industries are taking advantage of the situation to serve as many patients and healthcare professionals as possible. The COVID-19 epidemic has wreaked havoc on the global economy and business. However, it is expected to have a positive impact on the healthcare microscopy market.
Regional Outlook:
North America is the dominating region for the electron microscopy market in 2022. The presence of research and academic institutes, as well as many clinical trials conducted in the region, have been attributed to the region's growth. Research-based activities in the biological sciences, biotechnology, and pharmaceutical industries are an important part of the innovation system in North American countries, which is likely to boost demand for SEMs over the forecast period. In addition, top players establishment in North America region dominate the market growth.
Asia-Pacific had a remarkable revenue share in 2022. The regional market is expected to maintain its lead, with the fastest CAGR, from 2023 to 2032. The rapid growth of this region in application areas such as semiconductors, automobiles, pharmaceuticals, and nanotechnology are a major factor driving market expansion.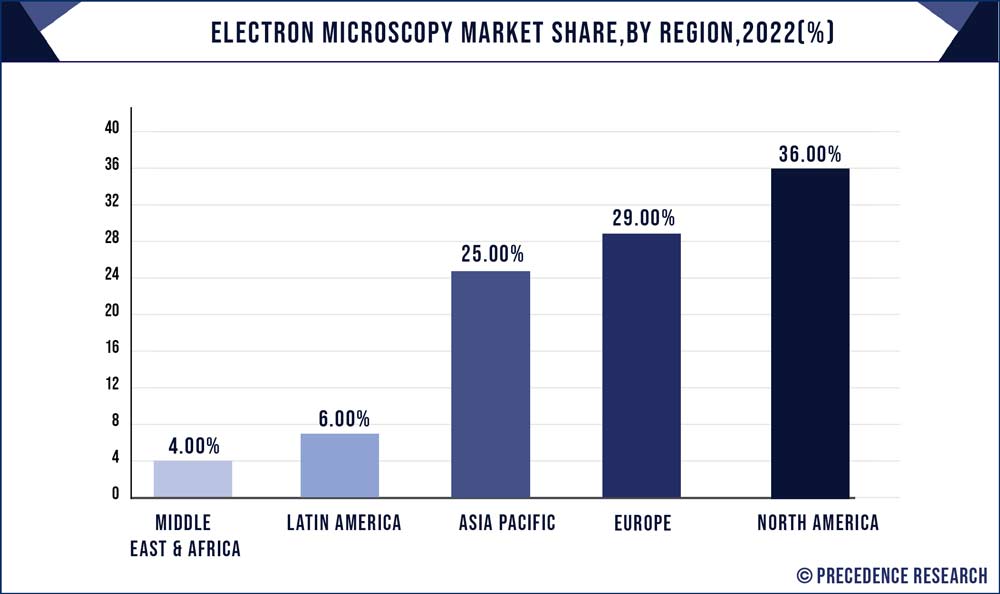 China, Japan, India, South Korea, Australia, and the rest of Asia Pacific make up the Asia-Pacific microscopy market. It is expected to be the fastest growing region, capitalizing on opportunities such as emerging microscope applications and novel innovations in digital imaging technology. Atomic Force Microscopy (AFM) is widely used in the Asia-Pacific region for a variety of applications, including the study of imaging surfaces with nanometer resolution, the investigation of film thickness, the determination of surface roughness, the measurement of particle size, and the study of two-dimensional and three-dimensional images. Furthermore, academic institutions in the region, including Kyushu University (Japan), ZJU University (China), and the Indian Institute of Technology, Bhubaneswar (India), are increasingly launching advanced microscopy techniques, such as High Voltage Electron Microscopy (HVEM), for use in education and research.
You can further customize the report@ https://www.precedenceresearch.com/customization/2959
Scope of this Report
| | |
| --- | --- |
| Coverage | Details |
| Market Size in 2032 | USD 14.06 Billion |
| CAGR | 9% from 2023 to 2032 |
| North America Share | 36% in 2022 |
| Life Science Segment Share | 26% in 2022 |
| Fastest Growing Region | Asia Pacific |
| Key Players | Danish Micro Engineering (DME), Hitachi High Technologies Corp., JEOL Ltd., Leica Microsystems, Thermo Fisher Scientific, Nanoscience Instruments, Inc., Nikon Corp., Olympus Corp., Carl Zeiss, and Others |
Market Dynamics:
Market Drivers:
Increase Industrial Use:
Electron microscopy is frequently used in industry to aid in the development of new products and throughout the manufacturing process. Electronics industries, for example, use electron microscopes for rising imaging in the development and manufacturing of semiconductors and other electronics. Aeronautics, automotive, apparel, and pharmaceutical industries may also use electron microscopes as part of their manufacturing process. Electron microscopy can also be used in the analysis of industrial failures and process control in a variety of industries.
Forensic Science research
Forensic science is another application of electron microscopy that includes an analysis to provide evidence for crime and law enforcement purposes. An electron microscope, for example, can be used to examine the fine details of an applicable specimen, such as gunshot residue or a sample of clothing fibers, blood, or another biological substance.
Electron microscopy provides more detail than other techniques, allowing forensic scientists to learn more about the crime scene, which can aid in the provision of evidence.
Market Restrain
High Cost restrain the market growth
Electron microscopes are high-priced, highly specialized instruments. Because most projects have limited budgets, using an electron microscope in the research may be detrimental. However, operating costs can be comparable to alternative solutions such as confocal light microscopes, so investing in a basic electron microscope is still worthwhile even if budgetary concerns are a major factor in decisions not to use the technology and it limit the demand of electron microscopes.
Market Opportunities
Increase use of microscopy in nanotechnology research
Electron microscopy relies heavily on nanotechnology. Electron microscopy is the most effective tool for analyzing chemical and structural properties at the nanoscale. According to a study published in the journal Nature Nanotechnology, scientists believe that nanoparticles with distinct colors will aid in the future development of multicolor electron microscopy.
Scientists discover cellular morphology at nanoscale resolution using EM, but it does not provide adequate information about protein location. If EM can pinpoint the location of these proteins, it can shed light on molecular biology.
The researchers believe that the new method will enable the creation of even smaller labels for multicolor electron microscopy, resulting in even better images for research and future studies.
Because electron microscopy is important in nanotechnology, it is a two-way connection. For example, transmission electron microscopy is a highly effective tool in the study of nanomaterials in the biomedical, biological, and material science fields. Seeing materials and samples at the nanoscale can aid in the development of new technologies to aid humans in a variety of applications.
Market Segmentation:
By Type: The scanning electron microscopy held the largest share in 2022. The scanning electron microscopy is in demand due to the increase in nanotechnology research. The nanotechnology research requires scanning electron analysis and transmission electron analysis for sample analysis. The demand for more affordable and smaller more efficient equipment and users growing desire for product downsizing helps in the development of nanotechnology across many industries.
By Application: The life science segment dominated the overall market, accounting for more than X% of total revenue. Some of the factors contributing to the segment's large market share include the increasing prevalence of chronic diseases, which has led to increased R&D expenditure and demand for digital microscopes in the fields of life sciences and medicine. Life science, material science, nanotechnology, semiconductors, and other application segments are among those being studied in the industry.
Recent Development
In 2021, Leica Microsystems and SurgicalOne have expanded their partnership to include the distribution of electron microscopes in Maryland, Virginia, and Washington, D.C.
In 2021, Nikon Corporation introduced the ECLIPSE Ci-L plus biological microscope, which eliminates the need to adjust light intensity after changing magnifications and reduces physical strain during extended observations.
Key players present
Danish Micro Engineering (DME)
Thermo Fisher Scientific
Hitachi High Technologies Corp.
JEOL Ltd.
Leica Microsystems
Nanoscience Instruments, Inc.
Nikon Corp.
Olympus Corp.
Carl Zeiss


Segmentation presents the electron Microscopy Market:
By Type
Scanning Electron Microscopy (SEM)
Transmission Electron Microscopy (TEM)
Others


By End User
Industries
Academic and Research Institutes
Others


By Application
Electronics and Semiconductors
Pharmaceutical
Automotive
Steel or Other Metals
Others


Regional:
North America
Europe
Asia Pacific
LAMAEA
Immediate Delivery Available | Buy This Premium Research Report@ https://www.precedenceresearch.com/checkout/2959
You can place an order or ask any questions, please feel free to contact at sales@precedenceresearch.com | +1 9197 992 333
About Us
Precedence Research is a worldwide market research and consulting organization. We give an unmatched nature of offering to our customers present all around the globe across industry verticals. Precedence Research has expertise in giving deep-dive market insight along with market intelligence to our customers spread crosswise over various undertakings. We are obliged to serve our different client base present over the enterprises of medicinal services, healthcare, innovation, next-gen technologies, semi-conductors, chemicals, automotive, and aerospace & defense, among different ventures present globally.
For Latest Update Follow Us:
https://www.linkedin.com/company/precedence-research/
https://www.facebook.com/precedenceresearch/
https://twitter.com/Precedence_R