Tokyo, May 31, 2023 (GLOBE NEWSWIRE) -- The global reverse logistics market size will reach at USD 2,521.36 billion in 2030. Reverse logistics is the area of supply networks that handles goods coming back into the system or traveling "backward" through the system. Reverse logistics is a type of supply chain management where products are moved backwards from buyers to vendors or producers. Reverse logistics is needed for procedures like returns and recycling after a consumer gets a product.

Ask here for report sample pages@ https://www.precedenceresearch.com/sample/2947
A reverse logistics service that is both effective and efficient is required due to the increase in the regularity of returns and replacement products caused by the global growth of e-commerce companies. Reverse logistics services are increasingly in demand on a global scale as producers become more aware of the need to minimize their detrimental environmental impact and guarantee ongoing customer happiness.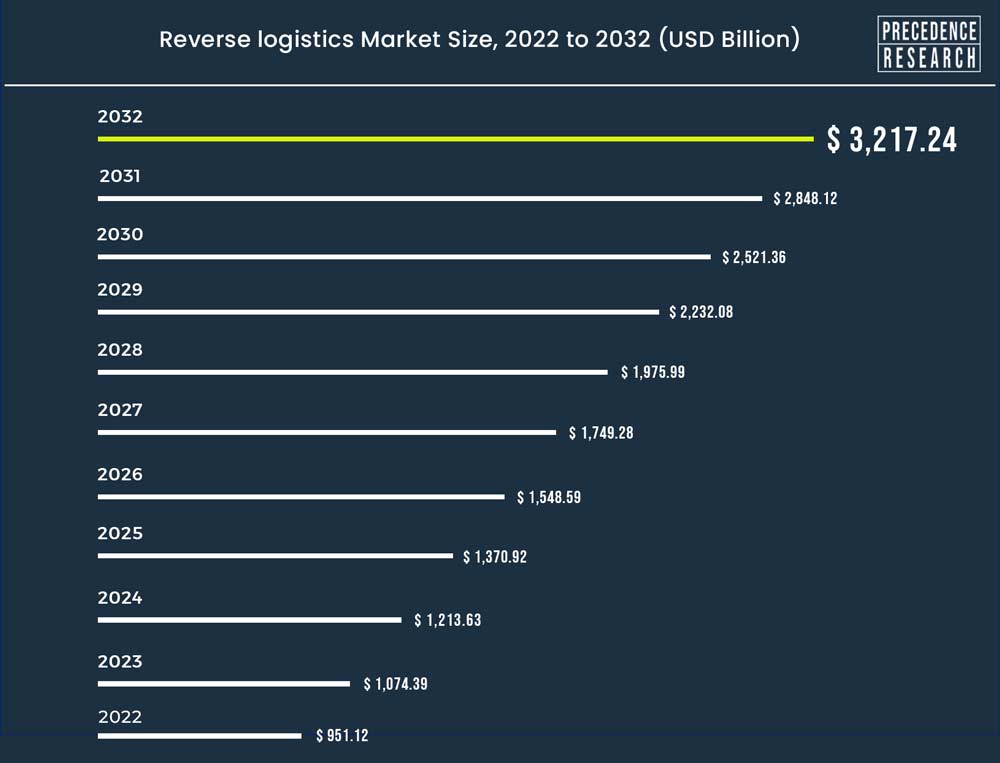 In a variety of sectors, including the ones for the automobile, technology, and pharmaceutical businesses, reverse logistics is a crucial component of the supply chain. Reverse logistics systems have been developed and put into use all over the world to get the most value out of returned and broken products. Recycling administration, returns management, and environmental regulations are all parts of reverse logistics. Due to increased inventions and the advancement of automation technologies, the global reverse logistics market is expected to diversify over the course of the projection period. Government financing for the construction of transportation facilities has increased, which has helped the reverse logistics sector expand. Due to rising retail sales, a spike in the introduction of cutting-edge technological products, and stringent government laws prohibiting the selling of hazardous goods to customers, significant investment in reverse logistics services has grown.
During the projection period, the market's growth will be driven by increasing public knowledge of the benefits of reverse transportation operations as well as climate change. Reverse logistics refers to the cycle in which the product or things travel backward from their ultimate location, such as the location of the end-client or end-purchaser, to their beginning point or place of production. Reusing materials or things that have been returned is related to each activity that may take place. Different activities are included in switch strategies, such as item overhauling, remanufacturing, restoration (exchanging an item after mending it or ensuring that it is in good condition), and their appropriate destruction.
Report highlights
In 2022, the market was led by the e-commerce sector, which had a revenue share of more than 56%. From 2023 to 2032, this sector is expected to expand at the greatest compound annual growth rate (CAGR). The rise in popularity of online purchasing as well as its greater use and adoption have had a big impact on the e-commerce industry's expansion.
The Middle East and Africa is poised to reach at a CAGR of 13% from 2023 and 2032.
By End User, the automotive segment is poised to grow at a CAGR of 13% from 2023 and 2032.
With a CAGR of 6%, the category of repairable returns is anticipated to hold the largest market position during the projection term. An increase in domestic and global interconnectivity has made it easier for companies to expand their global market limits.
Asia Pacific is predicted to have the fastest CAGR from 2023 to 2032, with a portion of more than 53% of global income in 2022. The market is anticipated to expand as a result of the increasing profits from the area brought on by the increased use of e-commerce.


You can further customize the report@ https://www.precedenceresearch.com/customization/2947
Scope of the report
Coverage
Details
Market Size in 2032
USD 3,217.24 billion
CAGR
12.96%
 
By End User

E-commerce
Retail
Automotive
Consumer Electronics
Pharmaceutical

By Software

Recalls
Commercial Returns
Repairable Returns
End-of-use Returns
End-of-life Returns

By Region

North America
Europe
Asia-Pacific
Latin America
Middle East and Africa

Key Players
DB SCHENKER (Deutsche Bahn AG), Deutsche Post AG, Kintetsu World Express, Inc., United Parcel Service, Inc., FedEx Corporation, Yusen Logistics Co., Ltd., RLG Systems AG, Core Logistic Private Limited, Safexpress Pvt. Ltd., and Others
Regional Snapshots
Due to a convergence of sustainability, e-commerce, and infrastructural advancement, the reverse logistics market is expected to expand globally. The market in North America is anticipated to expand rapidly, propelled by the expansion of the e-commerce sector and the rising popularity of sustainable business practices. The market is anticipated to be dominated by the United States, followed by Canada and Mexico. With the UK as the largest market and Germany and Sweden also showing considerable growth, North Europe is also anticipated to expand significantly. China, India, and Japan are the region's three main growth engines, and the market there is anticipated to expand rapidly because of rising consumer demand for sustainable practices and the development of the e-commerce sector.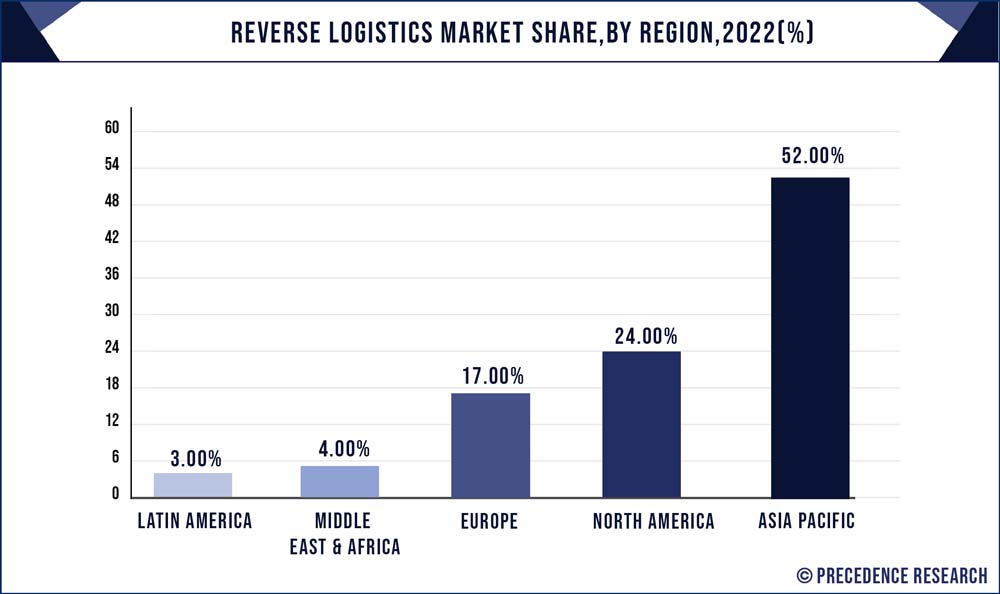 The market in LAMEA is anticipated to expand moderately, with Brazil, Saudi Arabia, and South Africa serving as the region's major development engines. However, growth could be hampered by issues like poor transportation infrastructure, a lack of awareness, and low investment levels. In conclusion, the desire for sustainable and environmentally friendly business practices, the expansion of e-commerce, and the presence of a well-developed infrastructure are projected to fuel the growth of the reverse logistics market throughout the world in the next years.
Market dynamics
Drivers
Several factors, such as the rise in e-commerce, the adoption of sustainable business practices, improved infrastructure, governmental rules and efforts, and technical improvements, are fueling the expansion of the reverse logistics industry. Reverse logistics services are in higher demand because of the rapid expansion of e-commerce and the rise in online purchases and returns of goods. Businesses now understand the value of sustainable business operations and how reverse logistics can help cut waste and advance sustainability. While government policies and programmes encourage the adoption of sustainable business practices, the expansion of the market is supported by the development of the transportation, warehousing, and logistics infrastructure. Reverse logistics operations are becoming more effective and efficient thanks to technological developments like automation and the use of data analytics, which is further boosting the market's expansion.
Restraints
Several factors, including high operational expenses, a lack of knowledge and understanding of reverse logistics, a lack of technological investment, and inadequate transportation infrastructure in underdeveloped nations, are restraining the market for reverse logistics. Reverse logistics can be difficult for businesses to embrace because of the high operating costs associated with processing, storage, and shipping. Lack of knowledge and comprehension of reverse logistics might also prevent it from being adopted by businesses, as they may not be aware of its potential advantages. Reverse logistics operations may be inefficient and expensive because of low technological investment, and the market's expansion may be constrained by insufficient transportation infrastructure in underdeveloped nations. The intricacy of reverse logistics operations, together with the requirement for coordination amongst numerous parties, might potentially be a barrier to the market's expansion.
Opportunities
Expanding into new geographical areas, rising need for sustainable business practices, technology improvements, governmental rules and efforts, and the expanding e-commerce market are some of the growth prospects in the reverse logistics market. By providing reverse logistics services that minimize waste and advance sustainability, businesses can profit from the rising demand for sustainable business practices. Automation and data analytics advances in technology can help increase the effectiveness and cost-effectiveness of reverse logistics operations. The growth of e-commerce activities creates a rising market for reverse logistics services as more goods are bought and returned online, and government rules and programmes aimed at encouraging sustainability and decreasing waste can raise the need for these services.
Challenge
High operational expenses, complicated rules, a lack of standardisation, poor investment, and a lack of suitable transportation infrastructure are some of the difficulties the reverse logistics business faces. Reverse logistics services are constrained by these issues in their expansion and uptake, especially in undeveloped and small locations. It may be challenging for businesses to implement these services due to high operational expenses and complex laws. Services and quality are inconsistent when there is a lack of uniformity. Low investment levels and a lacklustre transportation network restrict market expansion.
Recent developments
January 2022: FedEx has recently collaborated with Microsoft to launch a logistics-as-a-service solution aimed at bolstering its logistics capabilities. The primary aim of this launch is to keep up with the ever-growing technology and to provide innovative logistics solutions.
July 2021: Deutsche Post DHL Group has secured a contract from Lotus Cars for the provision of transport and logistics services to its manufacturing facilities for the next five years. The contract will involve inbound-to-manufacturing warehousing and transport operations, with the goal of improving the quality of delivery services provided to customers. This agreement is expected to enhance the company's reputation in the market as a provider of top-notch logistics and transport solutions.
Immediate Delivery Available | Buy This Premium Research Report@ https://www.precedenceresearch.com/checkout/2947
You can place an order or ask any questions, please feel free to contact at sales@precedenceresearch.com | +1 9197 992 333
About Us
Precedence Research is a worldwide market research and consulting organization. We give an unmatched nature of offering to our customers present all around the globe across industry verticals. Precedence Research has expertise in giving deep-dive market insight along with market intelligence to our customers spread crosswise over various undertakings. We are obliged to serve our different client base present over the enterprises of medicinal services, healthcare, innovation, next-gen technologies, semi-conductors, chemicals, automotive, and aerospace & defense, among different ventures present globally.
For Latest Update Follow Us:
https://www.linkedin.com/company/precedence-research/
https://www.facebook.com/precedenceresearch/
https://twitter.com/Precedence_R