Forge Nano's equity round C was led by Korea's Hanwha with participation from Orion Infrastructure Capital ("OIC"), Catalus Capital, Ascent Funds, and existing investors
Strategic capital partnership created with OIC via a senior secured term loan
Company has raised over US $95 million to date, supporting the buildout of a new 1 GWh battery production line to satisfy increased demand for premium batteries
Forge Nano's Atomic Armor technology is used across battery applications for vehicles, aerospace, consumer electronics, defense and additional premium Li-ion users
Forge Nano expects to double revenue again in 2023 with growing market adoption

DENVER, June 06, 2023 (GLOBE NEWSWIRE) -- Forge Nano, Inc., a global leader in precision nano-coating technology, today announced the closing of US $50+ million in funding led by key investments from Korea's Hanwha Corporate Venture Capital with participation from OIC, Catalus Capital, Ascent Funds and existing investors. This funding brings the Company's total amount of capital raised to-date to more than $95 million.
The financing will allow Forge Nano to capitalize on its already growing commercial-scale nanotechnology opportunities for battery material as well as develop a battery production line to satisfy full-scale, premium battery contracts. Plans are underway to launch construction of the pilot battery production line in Q2 2023 that will support applications including aerospace, consumer electronics, defense and more.
"This funding milestone allows us to fulfill the customer demand that already exists for our advanced batteries and equipment. As we move to grow our Atomic Armor™ technology in the Lithium-ion market, we are excited to finally be able to internally provide a finished battery solution at scale," said Paul Lichty, CEO, Forge Nano. "In the past 4 years, we have seen dramatic revenue growth every year. With this new funding, we now aim to significantly accelerate this growth."
Funding will also bolster the company's capabilities for applying Atomic Armor™ across industries by increasing the manufacturing footprint and putting more resources towards customer support. Leveraging all aspects of modern digital management infrastructure, the company anticipates its production capacity will increase five-fold while bringing efficiencies to tool production and capabilities.
Over the last year, Forge Nano has signed key strategic partnerships with leading U.S. producers of materials and battery off-takers that demonstrate the capabilities of Forge Nano's proprietary nanocoating technology, Atomic Armor™, to create next-generation batteries and strengthen the U.S. domestic battery supply chain. For example, the company's recent partnership with Anovion, an innovation-led, U.S.-based battery material producer, combines the strengths of Forge Nano's proven surface engineering capabilities with Anovion's synthetic graphite for next-generation, lithium-ion batteries that deliver industry-leading performance.
About Forge Nano
Forge Nano is changing the way that batteries are made. With our proprietary Atomic Armor™ technology we allow manufacturers to engineer their materials, down to the individual atom, in a way that is scalable and cost saving. The superior coatings produced by our Atomic Armor™ process allow us to unlock a material's performance at the atomic level, optimizing battery characteristics like range, safety, and cycle life, to name a few. Our team of scientists have worked with an expansive portfolio of commercial partners to develop custom solutions to meet any need at any scale, from small-scale R&D and laboratory work to large-scale, high-volume production.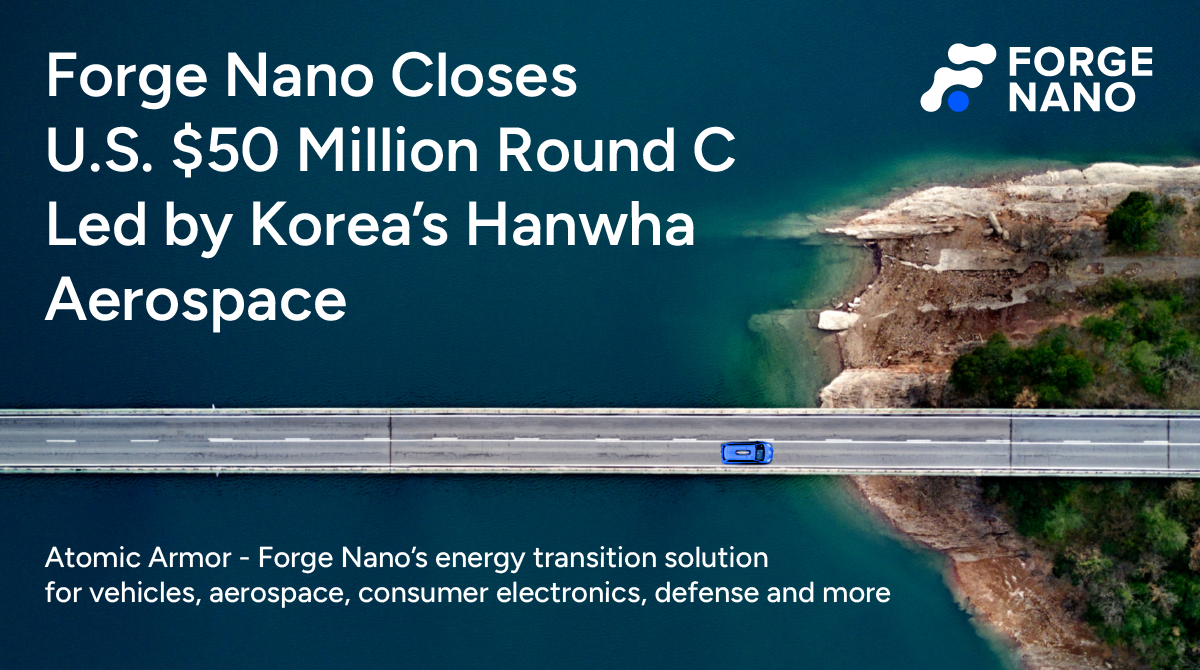 A photo accompanying this announcement is available at https://www.globenewswire.com/NewsRoom/AttachmentNg/8ddf34ce-9d6c-4e25-90a6-adadf2e87049
CONTACT
Michael Talarico
Marketing Director
Forge Nano
mtalarico@forgenano.com