BOSTON, June 07, 2023 (GLOBE NEWSWIRE) -- Bicycle Health, the leading telehealth provider of integrated medical and behavioral health care for opioid use disorder (OUD) in the United States, announced new research published in JAMA Network Open that highlights the limitations of buprenorphine availability in pharmacies across America.

Medications for opioid use disorder (MOUD) – including buprenorphine – are widely considered to be a gold-standard of care for OUD. Adherence to MOUD has been shown to reduce ER visits, non-fatal drug overdoses, and healthcare costs. A 2019 study in the Journal of Substance Abuse Treatment found that 3.6% of patients who were adherent to MOUD experienced a nonfatal drug-related overdose, compared to 13.2% of MOUD patients who were non-adherent.
In spite of the success of MOUD with buprenorphine, access to the medication continues to be a challenge for patients and their providers. This peer-reviewed study showed that 42.1% of the nearly 5,300 unique retail pharmacies contacted by Bicycle Health's team on behalf of its patients did not report buprenorphine stock at the time of the request. Importantly, access to buprenorphine stock varied heavily depending on the state the patient resided in or type of pharmacy queried.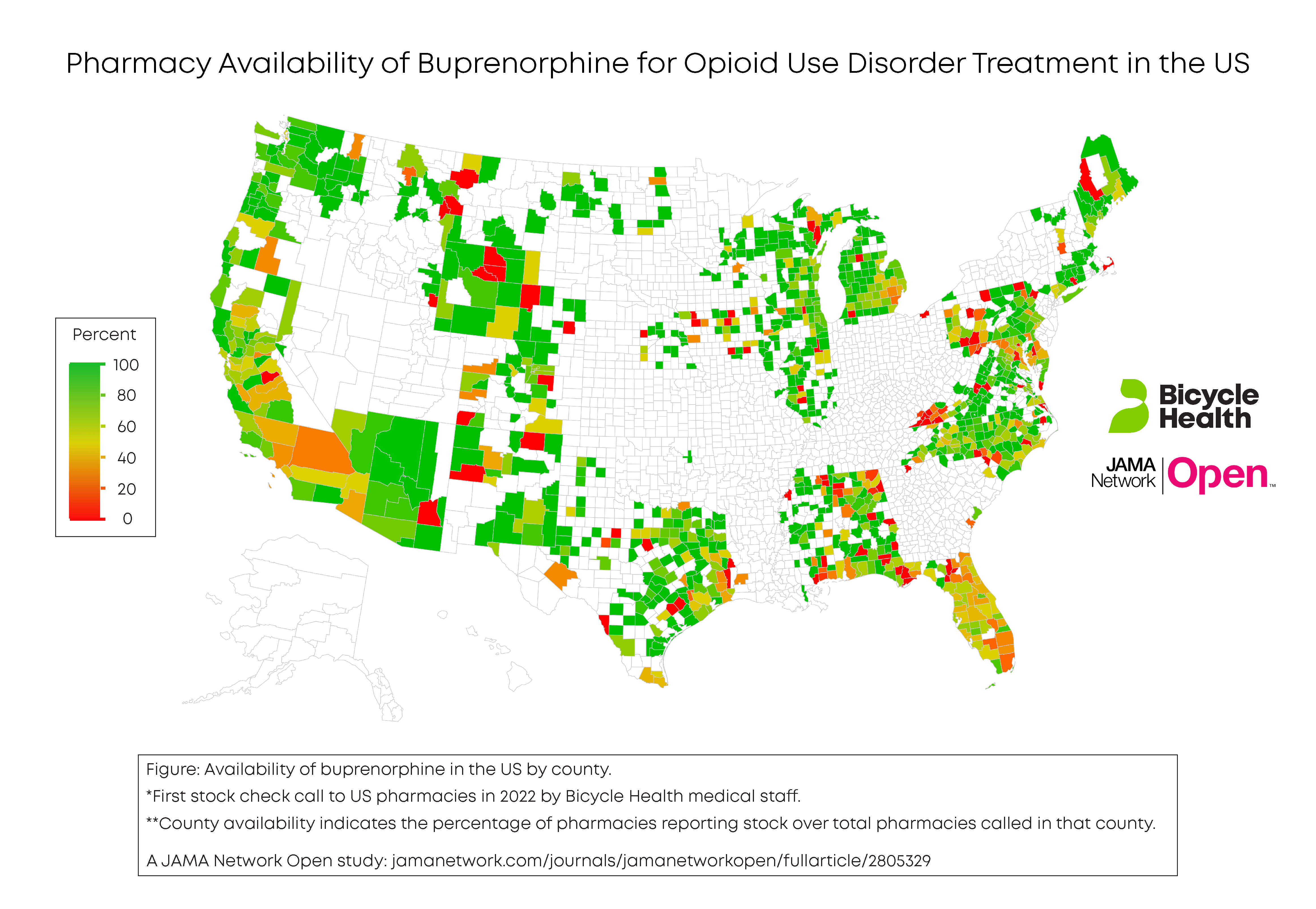 Key findings include:
Pharmacy chains were more likely to have buprenorphine stock, with 61.6% of chain pharmacies reporting availability vs. 45.3% of independent pharmacies;
Despite being more likely to have buprenorphine stock, there was still significant variability across chain pharmacy locations, based on chains where more than 40 locations reported stock;
Over the course of this study, Bicycle Health made the most buprenorphine stock inquiries on behalf of patients to CVS and Walgreens locations. Buprenorphine availability was reported 59.7% and 70.3% of the time, respectively;
Buprenorphine availability varied widely across the 32 states included in this study. Of states with more than 100 pharmacies queried, Florida locations were least likely to have stock (37.1%) and Washington State locations were most likely to have stock (83.9%);
Over the course of this study, Bicycle Health made the most buprenorphine stock inquiries on behalf of patients in Florida and California. Buprenorphine availability was reported 37.1% and 46.8% of the time, respectively.
A Media Snippet accompanying this announcement is available by clicking on the image or link below:
A full summary of the key outcomes and insights from the research are available online here in Bicycle Health's resource center for strategic partners.
"Buprenorphine is a critical tool in the fight against the opioid overdose epidemic, but to be safely and effectively administered to patients with OUD, they must have consistent, timely, and convenient access," said Bicycle Health's Director of Research Scott G. Weiner, MD, MPH. "This study highlights how medication availability still represents a major barrier to care for many of Bicycle Health's patients – as well as others seeking MOUD treatment across the United States."
"At Bicycle Health, we talk a lot about defiant hope, which is essentially the need to stay upbeat and hopeful, even when it feels like we cannot help enough people, or that too few people care about our patients. Seeing this research published in JAMA is a 'defiant hope day' for me, because it means this issue will get the attention it deserves," said Ankit Gupta, Bicycle Health's Founder and CEO. "The responses we've gotten from some of the nation's leading pharmacies have been inspiring, with their leaders pledging to partner with us to do better for patients long-term."
Gupta continued, "This mission we're on, to end opioid use disorder and increase access to treatment, needs an army of advocates working together if we're going to overcome this epidemic. I'm grateful to see this research published and for the opportunities it's creating for us to accelerate our mission in partnership with major pharmacies."
"This data helps illustrate a major gap in our ability to care for patients with OUD, but the good news is it's a problem with a clear solution, "said Brian Clear, Bicycle Health's Chief Medical Officer. "We've already had a positive response and commitment to improve stock rates from pharmacies."
The stigma associated with opioid use, the cost of in-person treatment options, and the lack of absence of telehealth treatment programs prior to the COVID public health emergency have all been consistent impediments in efforts to expand access to MOUD treatment with buprenorphine. As the Drug Enforcement Administration (DEA) looks to outline the regulations for prescribing via telehealth and continues setting stocking limits for buprenorphine, understanding the role these drugs play in addressing opioid use disorder is an important consideration. Bicycle Health's evidence-based, clinically proven virtual care model is helping to increase access to these life-saving medications and address the opioid overdose epidemic head-on.
Bicycle Health is committed to working alongside America's leading pharmacies, policymakers, and regulators to ensure patients across this country can safely and conveniently access the medications they need to maintain a healthy recovery.
To learn more about Bicycle Health, please visit www.bicyclehealth.com.
About Bicycle Health
Bicycle Health is the leading telehealth provider of medications for opioid use disorder (MOUD) in the United States, offering an evidence-based clinical care model that includes FDA-approved Medications for Addiction Treatment (MAT), access to a highly-trained team of medical experts, therapy, a customized treatment plan, and peer support groups. Bicycle Health's mission is to address the country's number one public health crisis by helping to reduce stigmas associated with opioid addiction and providing access to affordable, convenient, and confidential teleMOUD treatment for individuals in need. The company's "whole person" approach to treatment encourages patients to focus on their life passions and goals, which has been shown to play a vital role in recovery. For more information, visit www.bicyclehealth.com.
Contact
LaunchSquad for Bicycle Health
bicyclehealth@launchsquad.com
A photo accompanying this announcement is available at https://www.globenewswire.com/NewsRoom/AttachmentNg/10b690f4-c270-4fff-a176-458bb774eb7d