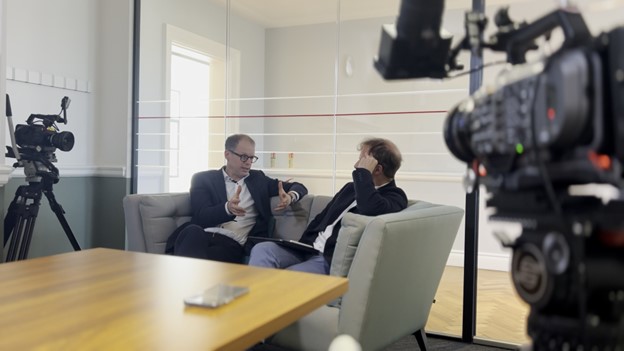 Chris Caldwell in Conversation with Tom Gosling
DOUGLAS, Isle of Man, June 20, 2023 (GLOBE NEWSWIRE) -- Asset managers are facing a choice: align their investments with climate targets or risk losing client funds.
A recent study by the World Bank found that climate change could cost the global economy up to $20 trillion by 2050. The study also found that investing in climate-friendly technologies could create up to 28 million new jobs by 2030.
In the wake of the Glasgow Climate Pact, asset managers are under pressure to align their investments with net-zero emissions targets. But some argue that climate change is a long-term risk that is difficult to quantify, and investors should focus on shorter-term financial goals. Others worry that divesting from fossil fuels could lead to stranded assets and losses for investors.
The bottom line is that climate change is a serious threat to the global economy, and asset managers who fail to take this into account are putting their clients at risk.
"Asset managers have a responsibility to their clients to protect their investments," said Chris Caldwell, CEO of United Renewables. "And that means taking climate change seriously."
But the question still remains: "Are climate targets truly in asset manager's best interests?" In this inspiring article, Caldwell hopes to answer this question. "The precise degree of divestment is open for debate. But consider this: more warming only creates more negative outcomes for investors, and these outcomes scale non-linearly and with greater uncertainty for each fraction of a degree. The full article is available for reading here.
Caldwell is an entrepreneur and founder of United Renewables, a green energy firm working across wind, solar, tidal and anaerobic technologies with a special interest in serving island communities. He is also a growing authority in the digital climate debate, as host of the podcast Conversations on Climate.
Gosling is a seasoned veteran of TWC and a passionate advocate for climate, ESG, and company stewardship. With an impressive career spanning 24 years, Tom has worked closely with renowned Footsie 100-level firms, advising boards, and leading P.W.C's executive pay practice.
Conversations on Climate is a joint production of United Renewables and the London Business School Alumni Energy Club.
The related episode of the Conversations on Climate Podcast, featuring Tom Gosling, is available here.
Conversations on Climate brings world-leading thinkers from business and academia together to share their expertise on the subject of climate change. Previous guests include Sir Andrew Likierman, Julio Dal Poz, Professor Jean-Pierre Benoît, and Professor Ioannou, Tara Schmidt, Professor Dan Cable, Professor Zoe Chance, Professor Lynda Gratton, François Ortalo-Magné and Eduardo Famini Silva.
All previous episodes can be found here. Related articles can be found here.
CONTACT Isabella Hawke – Sales and Marketing Consultant
COMPANY United Renewables
PHONE +447624457139
EMAIL IIhawke@unitedrenewables.co.uk
WEB unitedrenewables.co.uk/resources
A photo accompanying this announcement is available at https://www.globenewswire.com/NewsRoom/AttachmentNg/64d642df-016b-4665-914a-78100edc07a6