DENVER, June 27, 2023 (GLOBE NEWSWIRE) -- Bolstering its commitment to a diverse and equal opportunity workforce, Forge Nano, Inc. – a global leader in surface engineering and precision nano-coating technology – has entered its second year as an industrial partner of the Arrupe Jesuit High School Work Study Program. Hailed as an integral part of an Arrupe Jesuit education, the program provides opportunities for economically disadvantaged students to gain college-prep education through work experiences in entry-level corporate positions in the Denver Metro area. As an industrial program partner, Forge Nano provides career mentoring and student tuition, giving students of all backgrounds the opportunity to gain highly sought-after skills.  
Today's students will play a vital role in the nation's transition to a clean energy future, and positions offered through the program provide incredible opportunities to engage youth in the fields of science, technology, engineering and math (STEM). Such programs are invaluable in preparing the next generation of scientists and engineers, but they are often inaccessible for many students and families - particularly those from economically disadvantaged backgrounds. With the goal of fostering an inclusive STEM program, Forge Nano first partnered with the Arrupe Jesuit High School in the Fall of 2022.  
"We want the students to learn some of our basic processes and in turn produce quality output in their respective departments. But these internships are also about exposure. For this reason, each student intern, alongside having a work area supervisor, has also been paired with an engineer or scientist mentor," said Barbara Hughes, Vice President of Energy Storage and Program Lead at Forge Nano. "This is an opportunity for these students to really understand where their strengths may be best applied, and to strive for something tangible. And of course, we hope that all of our wonderful, talented, hard-working interns will return to Forge Nano for a challenging and meaningful career when they complete their studies."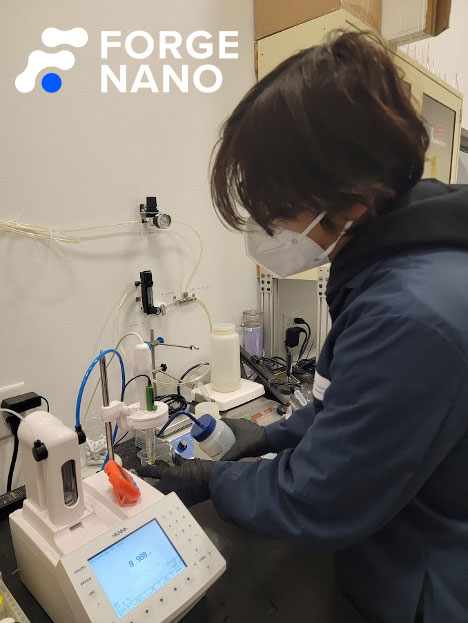 Arrupe Jesuit High School freshman Fermin Torres, and sophomore, Andreas Silva, have prepared themselves for future chemistry courses in Forge Nano's Analytical Quality Control Lab, where textbook techniques are commonplace in everyday life. These intrepid students are learning the intricacies of instrument calibration and systematic measurement. They are seizing upon the opportunity to independently operate sensitive analytical equipment that measures both the moisture content and the pH of incoming samples. Subsequent data entry and generation of calibration curves allows these students to get a taste of scientific analysis, and a real-world peek into life as an analytical chemist.
Fermin and Andreas are two of the four student interns currently working and learning at Forge Nano's facility in Thornton, where they get hands-on training in the day-to-day science and engineering activities that take place in one of Colorado's leading clean energy technology companies. 
Forge Nano's interns have the opportunity to explore multiple aspects of the business. Junior, Diego Rodriguez, and senior, Giovanni Olivas Marquez, have worked with Forge Nano's Operations Team, which is responsible for the manufacturing and installation of atomic layer deposition (ALD) tools at businesses and universities across the globe. As a part of the Operations Team, Diego, Giovanni and other students learn how to decipher engineering designs and take part in the equipment builds from wiring to framing. 
Giovanni, who was recently accepted into two Top-10 U.S. engineering programs in the country, said that what he likes most about working at Forge Nano is the environment. "The people here are amazing and they've been such patient and encouraging teachers. They've taught me so much. I've learned to read schematics, and I can wire a panel solo."  
Back in the Analytical Quality Control Lab, Andreas says he can't wait to come back next year. When asked what he likes most about working at Forge Nano, he replied, "Everything. Before I came here, I never considered doing science or engineering with the rest of my life. But I love this."
About Forge Nano
Forge Nano is changing the way that batteries are made. With our proprietary Atomic Armor™ technology we allow manufacturers to engineer their materials, down to the individual atom, in a way that is scalable and cost saving. The superior coatings produced by our Atomic Armor™ process allow us to unlock a material's performance at the atomic level, optimizing battery characteristics like range, safety, and cycle life, to name a few. Our team of scientists have worked with an expansive portfolio of commercial partners to develop custom solutions to meet any need at any scale, from small-scale R&D and laboratory work to large-scale, high-volume production.
CONTACT
Michael Talarico
Marketing Director
Forge Nano
mtalarico@forgenano.com
A photo accompanying this announcement is available at https://www.globenewswire.com/NewsRoom/AttachmentNg/7841727f-0692-4284-832f-6d406f83e447.