Hong Kong Island, Aug. 01, 2023 (GLOBE NEWSWIRE) -- Hong Kong Island, Hong Kong -
Palace Studios is leading the future of personal training as Hong Kong's first ever tech-enabled fitness centre that offers premium state of the art studios for fitness professionals and their clients. Instead of relying on their own home gym or big box fitness centres, personal trainers can now book a fully stocked gym studio by the hour, with just a click of a button. The studio is powered through their innovative app, which allows trainers to select their studio, the hours when they need it, pay for it on the spot, and get the access code to enter the studio during their scheduled time. Since opening its doors in August 2022, Palace Studios has been Hong Kong's hottest training studio for personal trainers and fitness junkies alike. For more information visit https://palace-studios.com/
"The fitness industry has changed so much in the past few years since the COVID-19 pandemic," says company founder Dinesh Nihalchand. "People are moving away from those traditional big box gyms in search for something more personal and innovative. That's how we came to develop Palace Studios."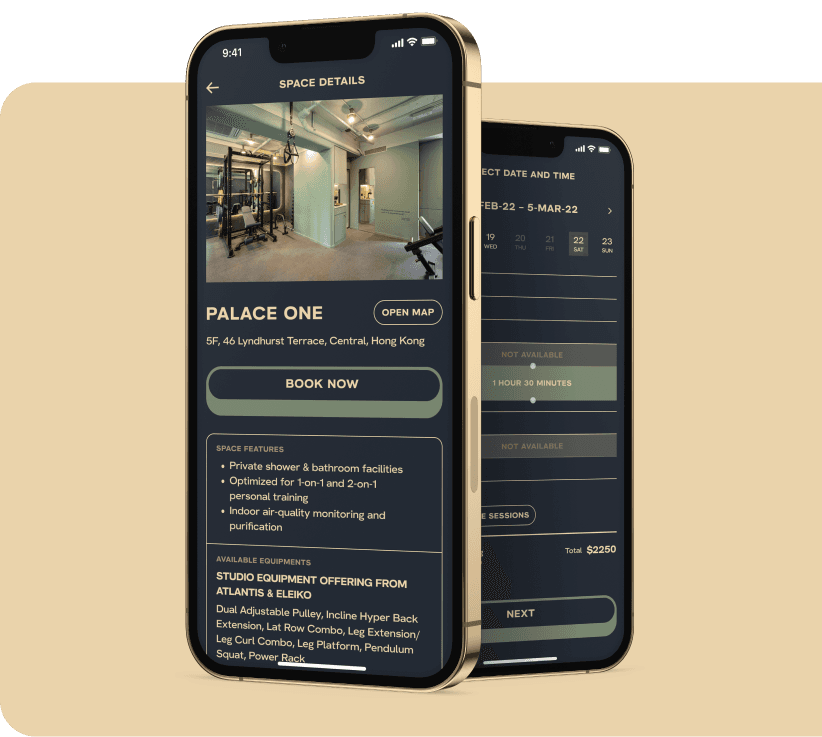 Nihalchand, who has over 20 years of real estate experience, saw an interesting problem emerge from the pandemic. Many commercial buildings continue to operate at a very high vacancy rate. Overall grade A office vacancy rate in April was 15%, which was more than 3 times higher than in 2019. On the same trend, personal trainers saw loss in clientele because of the perceived lack of safety of big box gyms. So Nihalchand strategised a way to solve problems for both industries. Property owners sitting on vacant real estate could collaborate with Palace Studios to configure a fitness studio, which would add value to their property P&L and personal trainers could gain new clients by providing a smaller, more intimate training experience.
Nihalchand then took this concept a step further by offering a 100% hands-off experience through the app. There's no need to meet in person with a coordinator to book rooms. Just like Airbnb which offers contact-free check-in, the Palace Studios app gives trainers contactless access to their studio.
Each studio is equipped with the highest grade, state-of-the-art fitness equipment that's sure to meet fitness instructors' needs. Rooms include equipment from Atlantis and Eleiko, featuring the lat-row combo, dual adjustable pulley, incline hyper back extension, power rack, air bike, and free weights. With this equipment, fitness instructors can plan a full spectrum workout for their clients.
As previously announced, the studios are well ventilated for optimum air quality and safety with a professional air circulation system and integrated indoor air quality monitoring system. Showers and restrooms are available in-room, and the company partners with local businesses to provide eco-friendly bathroom amenities. Between booked sessions, custodial teams thoroughly clean the whole studio, from the equipment to the floors, showers and everything else.
While big box gyms require monthly memberships, Palace Studios is an on-demand fitness centre. This means trainers only pay for the time during which they need the facilities. This gives trainers more flexibility and autonomy over their client schedule. This is important, given the unpredictable circumstances that the pandemic has left the world in. Booking the studio is simple. Just download the app, select the time and studio, pay for the slot, and unlock the door to get started.
"We want our clients to have a hassle-free experience," says Nihalchand.
The spaces have enough room to conduct a single-person session, a 1:1 session or a 2:1 session.
As their business continues to grow, Palace Studios wants to collaborate with more Hong Kong landlords by showing them the value of their underutilised spaces. "There's a lot of money hidden in these spaces, and we can help landlords see the value in partnering with us," says Nihalchand.
The company is a grant recipient of the Cyberport Creative Micro Fund, where thousands of businesses compete for funding to launch their innovative business. With funding and support from CCMF, the company plans to expand its services, making an in-app community for personal trainers and athletes.
The future of Palace Studios is quite bright. "Our business model is the way of the future," says Nihalchand. "Over the next few years, you'll see a huge boom in businesses like ours. But in terms of competition, we're ahead of the pack."
To learn more about Palace Studios visit the website at https://palace-studios.com/our-spaces
###
For more information about Palace Studios, contact the company here:

Palace Studios
Information
+852 9878 5785
hello@palace-studios.com
46 Lyndhurst Terrace, Central, Hong Kong