Paris, Sept. 12, 2023 (GLOBE NEWSWIRE) -- Global connected cars market is expected to be worth more than USD 136.11 billion by 2032. With increased connectivity expected, 5G-enabled connected cars will become the new norm. Connected vehicles have apparent advantages, such as being safer and less environmentally harmful. They also provide the auto industry with an unprecedented opportunity to innovate and build stronger customer relationships. 5G connectivity is the auto industry's future and will change how we think about mobility. In addition, the government of various countries focuses on designing many legislative regulations and policies to monitor the users and proposing guidelines for encouraging consumers to install ADAS in vehicles to mitigate the increase in road accidents across several countries.

Ask here for sample pages@ https://www.precedenceresearch.com/sample/2666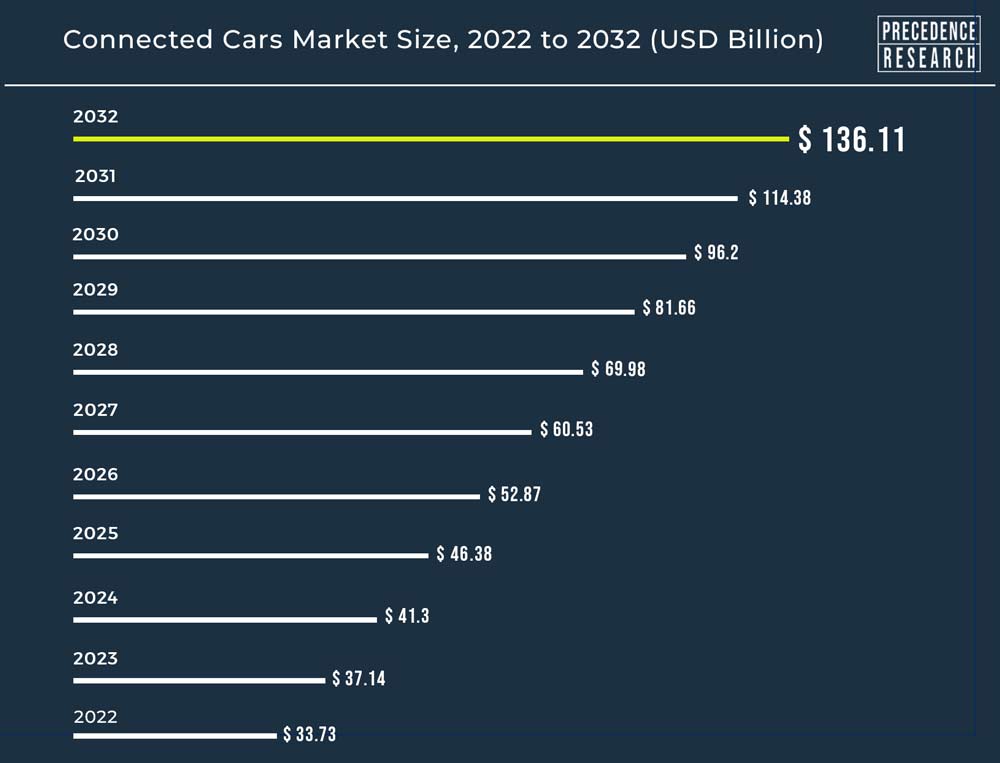 Market Trends:
The market is being influenced by rising demand for in-car security solutions. The widespread integration of connected cars with driver assistance systems (ADAS) for tracing road hazards and anti-lock braking systems (ABS) for safe braking is expected to drive the market forward. Furthermore, the emergence of 5G connectivity, as well as the growing utilization of artificial intelligence (AI) as well as machine-to-machine (M2M) connections between multiple vehicles, have a positive impact on the market. As a result, ongoing developments in the manufacturing of advanced active suspension boost the market.
The growing popularity of luxury cars among individuals with high disposable income levels and the emergence of autonomous driving trends are also driving the market. Other factors driving market growth include rapid digitization in the automotive sector and extensive research and development (R&D) activities carried out by key players.
Key Takeaways:
Asia Pacific market has captured revenue share of 38% in 2022.
By service, the driver assistance segment has generated revenue share of 34% in 2022.
By technology, the 5G segment has held revenue share of around 52% in 2022.
By connectivity solution, the integrated segment accounted revenue share of around 48% in 2022.
By end-use, the OEM segment has accounted revenue share of over 65% in 2022.


Covid 19 impact on connected car market
The COVID-19 outbreak has revealed several challenges for the automotive industry. Governments worldwide are preparing for the virus to spread further, and South Korea, Italy, and Japan are the most affected among the major industrialized economies. As a result, 80 percent of automotive and related companies expect Coronavirus to directly impact their 2020 revenue. Seventy-eight percent of businesses need more employees to run a full production line1. However, over 80% of the global auto supply chain is linked to China2. In January 2020, car sales in China fell by 18%3. According to the China Passenger Car Association (CPCA), the first two-month sales could drop by 40% or more compared to the same period in 2019. Shortages in production as a result of supply chain issues.
Customize this study as per your requirement@ https://www.precedenceresearch.com/customization/2666
Scope of This Report
| | |
| --- | --- |
| Report Coverage | Details |
| Market Size in 2030 | USD Billion |
| Asia Pacific Revenue Share | 38% in 2022 |
| 5G segment Revenue Share | 52% in 2022 |
| OEM segment Revenue Share | 65% in 2022 |
| Key Players | Airbiquity Inc., Audi AG, BMW Group, CloudMade, AT&T, Daimler AG, Ford Motor Company, Intellias Ltd., Continental AG, LUXOFT and Others |
Market Dynamics
Drivers: Growing Concern about safety and security driving the market growth
One of the major factors driving the globally connected car market is the growing concern for safety and security among OEMs, end users, and governments. ADAS, anti-lock braking systems, and lane assist technologies significantly improve the driving experience, making the journey safer. Such technologies aid in the reduction of traffic rule violations, resulting in a decrease in road accidents. Security and safety solutions are becoming more prevalent in new vehicles. Stringent safety regulations, combined with a high-end user preference for safety features, are expected to drive ADAS and IoT demand, and thus the connected car industry, in the coming years.
Restrains: Data hacking restrains the market growth
The market for the connected car is hindered by unlawful access to various automotive connectivity solutions or hacking into the in-vehicle connectivity system. the main concern is that hackers have access to the computer system of the cars, which can easily collect and store the data. Thus, hacking threats against connected cars hamper the market growth.
Opportunities: introduction of IOT provide lucrative opportunities
The face of mobility has changed since incorporating IoT-based technologies in the automotive industry. IoT is assisting OEMs in achieving ground-breaking results in the connectivity solutions used in connected cars, and it is the most important factor driving the market growth. The Internet of Things enables various infotainment services and advanced connectivity solutions for drivers. With the rapid adoption of IoT and related technologies, IoT services have become an essential component of the connected car industry. With the development of these technologies, IoT services have evolved into an essential element in the related car industry. These technologies' advancement is expected to drive market growth in the coming years.
Market Segmentation:
By Network: Based on the network, the connected car market is divided into 3G,4G, and 5G. The 5g segment is expected to grow with highest CAGR in the forecast period. Nowadays, several automobile manufacturers are switching to 5 G-supported connected car devices, and the 5G services are more expensive than other devices. The 5G segment was experiencing growth because of fast data transfer speed and increased bandwidth. Most automobile manufacturers are switching from 4G to 5G. A car with 5G-enabled connections provides many services, such as remote-control access, telematics, infotainment, and GPS tracking. 5G solutions are affordable, easy to use, and provide a remote diagnosis of the vehicles.
By technology type: Based on technology, the globally connected car market is divided into integrated, tethered, and embedded. The combined segment dominates the market and is estimated to grow at a highest CAGR during the forecast period. Key manufacturers of products for connected cars receive certification from the organizations that govern the safety functions in the automotive industry. For Example, Harman International, a Samsung electronics subsidiary, focuses on connected car technologies that received the certification commission from a certification company.
On the other hand, the embedded segment is the second largest leading segment. The main advantage of an embedded system is its render functions. Even mobile phone does not have a residual battery for placing the call or availing services which boost the growth of embedded connectivity in the connected car market.
Regional Landscape:
The rapid adoption of electric vehicles (EVs) in Europe is assisting car manufacturers in achieving CO2 emission reduction targets, supplying deals to purchasers via government subsidies, as well as increasing connected car permeation. In 2021, battery electric vehicles (BEVs) and plug-in hybrid electric vehicles (PHEVs) had 39% and 28% market shares in EV sales, respectively, with Tesla leading this same BEV market, followed by Volkswagen and afterward Renault. OEMs are going to introduce more EV models to remain future-proof. Furthermore, having a mixture of ICE (internal combustion engine) vehicles and EVs in their portfolio management allows them to keep improving their electric vehicle expertise and possibly increase their market share.
After declining in 2020, Europe's connected car market performed best last year, increasing by 16% year on year. Volkswagen and BMW were the top three car manufacturing groups in 2021. Volkswagen was severely impacted by chip shortages, which constrained sales and resulted in low dealership inventories. Within the Volkswagen Group, connectivity penetration was 52% for the Volkswagen and 90% for the Audi brands, with the former shipping more connected vehicles. As a luxury automaker, Audi has a higher connected car penetration rate, with more connected cars in its fleet. Germany performed the best for these brands, followed by the United Kingdom.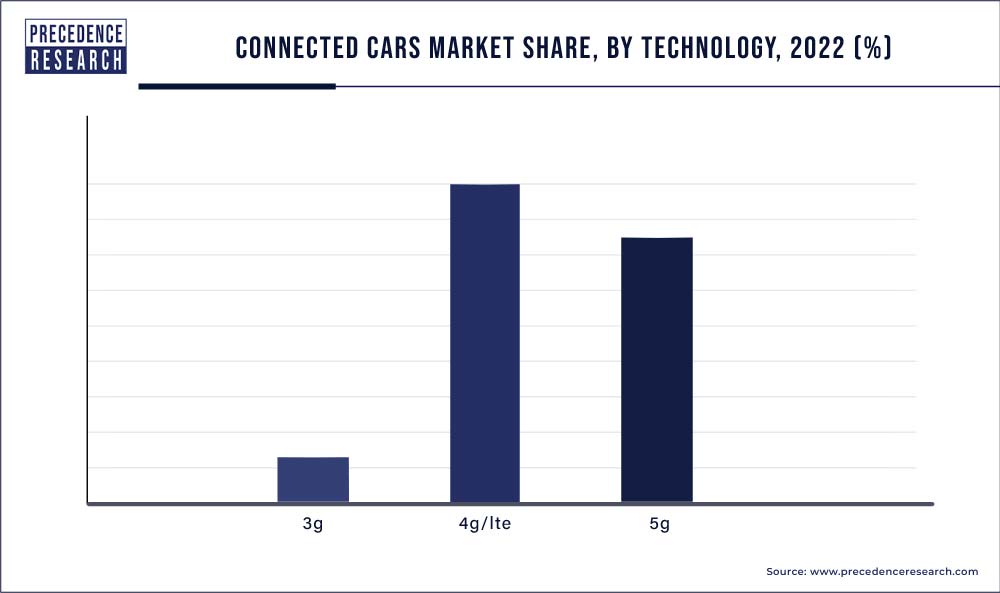 Recent Development present in the connected car market
In 2022, LEVC (London Electric Vehicle Company) announced a new collaboration with Geotab, the global leader in IoT and connected transportation, to provide cutting-edge fleet management systems for its class-leading electric TX taxi and VN5 van.
In 2021, Robert Bosch GmbH collaborated with Mahindra & Mahindra to create a connected vehicle platform. This collaboration contributes to the expansion and enhancement of the connected platform in vehicles.
In 2021, Ford Motors and Google formed a strategic alliance to develop connected car service applications. This collaboration benefits Ford Motors' connected vehicle business.


Key players present in the connected cars market
Harman International
Continental AG
AT & T
Robert Bosh GmbH
Daimler AG
Audi
Tom Tom Inc
General Motors
Ford Motor Company
HYUNDAI MOTOR GROUP
Volvo


Segmentation presents the connected cars market
By Application Type
Mobility Management
Telematics
Infotainment
Driver Assistance
By Network Type
By Technology Type
Embedded
Tethered
Integrated


By Sales channel type
By Communication Type
Vehicle to vehicle
vehicle to infrastructure
By Region
North America
Europe

UK
Germany
France
Italy
Rest of Europe

Asia Pacific

China
India
Japan
South Korea
Rest of Asia Pacific

LAMAEA

Brazil
GCC
South Africa
North Africa
Rest of LAMEA
Immediate Delivery Available | Buy This Premium Research Report@ https://www.precedenceresearch.com/checkout/2666
You can place an order or ask any questions, please feel free to contact at sales@precedenceresearch.com | +1 9197 992 333
About Us
Precedence Research is a worldwide market research and consulting organization. We give an unmatched nature of offering to our customers present all around the globe across industry verticals. Precedence Research has expertise in giving deep-dive market insight along with market intelligence to our customers spread crosswise over various undertakings. We are obliged to serve our different client base present over the enterprises of medicinal services, healthcare, innovation, next-gen technologies, semi-conductors, chemicals, automotive, and aerospace & defense, among different ventures present globally.
For Latest Update Follow Us:
https://www.linkedin.com/company/precedence-research
https://www.facebook.com/precedenceresearch
https://twitter.com/Precedence_R