Ottawa, Sept. 13, 2023 (GLOBE NEWSWIRE) -- The u.s.behavioral health market revenue is predicted to surpass around USD 1,16,660 million by 2029, a study published by Towards Healthcare a sister firm of Precedence Research.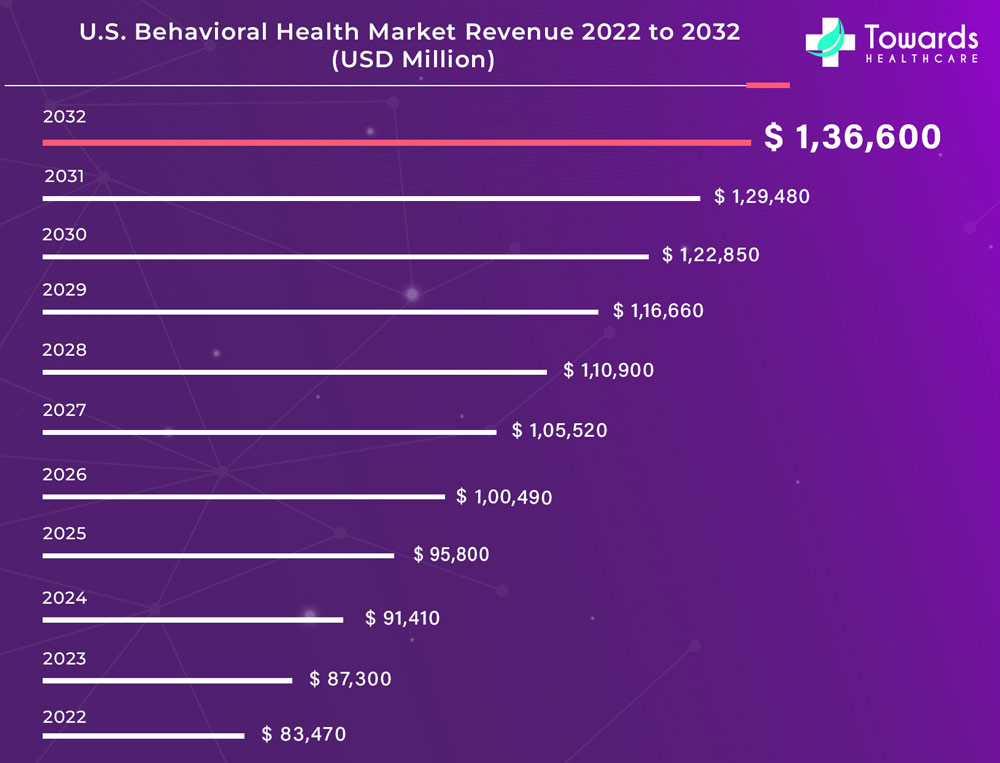 Drug abuse and mental diseases are both classified as behavioral health illnesses. When COVID-19 swept across the country in 2020 and 2021, it significantly affected the country's mental health and raised morbidity and mortality in terms of physical health.
Request a short version of this report @ https://www.towardshealthcare.com/personalized-scope/5007
COVID-19 and the U.S. Behavioral Health Market
Many people's mental health has been negatively impacted by the COVID-19 pandemic and the accompanying economic downturn, and those who already have mental illness or addiction issues now face additional challenges. In the US, 4 in 10 persons have reported symptoms of an anxiety or depressive illness during the pandemic, a proportion that has largely stayed stable, up from the 1 in 10 adults who experienced comparable symptoms from January to June 2019.
According to the July 2020 Health Tracking Poll conducted by Kaiser Family Foundation (KFF), numerous adults reported specific adverse effects on their psychological health and well-being. Some of these include difficulty sleeping (around 36%) or eating (approximately 32%) due to stress and worry over the coronavirus, increases in alcohol or substance consumption (around 12%), and deteriorating chronic conditions (approximately 12%). As the disease spreads, ongoing and mandatory public health measures put an increasing number of people in situations where negative mental health outcomes, like isolation and job loss, are possible.
Symptoms of anxiety disorder and/or depressive disorder reported by adults, 2019 vs. 2020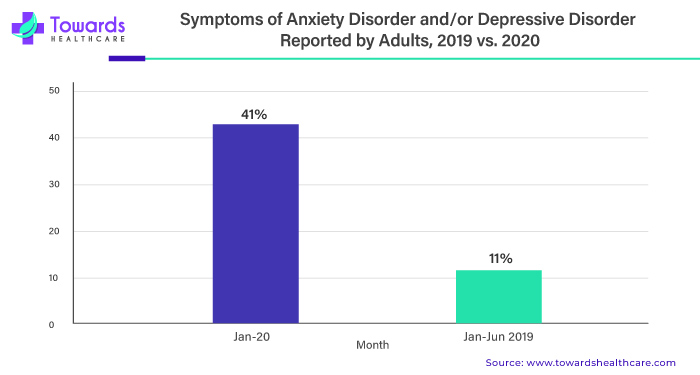 Prevalence of substance and mental disorders during the COVID-19 pandemic
Throughout the COVID-19 epidemic, concerns about substance use and mental health—particularly those regarding suicidal ideation—have grown. 41% of people reported having symptoms of an anxiety or depression condition in January 2021, a figure which has been more or less unchanging since spring 2020. In a June 2020 poll, 13% of respondents said they had started using drugs or alcohol more frequently as a result of the stress caused by the coronavirus, and 11% of adults said they had thought about suicide in the previous 30 days. Since suicide rates have been growing for some time, the epidemic may make them worse. Early 2020 data shows that drug overdose (OD) deaths increased from March 2020 to May 2020, matching the beginning of lockdowns connected to the epidemic.
Undoubtedly, the epidemic has affected mental health in several ways, including the pervasive social isolation brought on by obligatory safety precautions. Several pieces of research have shown a connection between poor mental and physical health and social isolation and loneliness. The pervasive feeling of loneliness has been a public health issue even before the pandemic since it was associated with a shorter lifespan and a higher risk of physical as well as mental diseases. A KFF Health Tracking Poll conducted shortly after several stay-at-home guidelines were issued (in late March 2020), revealed that people who chose to shelter-in-place were more likely than those who chose not to do so to suffer from poor mental health effects as a result of coronavirus-related stress or fear.
Behavioral health outlook
The epidemic has both immediate and long-term effects on substance use and mental health, particularly for people who are at risk of contracting or worsening mental illnesses as well as those who encounter barriers to treatment. COVID- The country is currently receiving 19 immunizations in stages, which could signal the end of the epidemic. However, many of the challenging circumstances used to control the coronavirus are likely to continue for some time to come given the slow and problematic rollout of vaccinations across the nation, cases of people refusing the vaccine out of fear or uncertainty, and the requirement that those who have received the vaccine continue to take the current precautions to control the outbreak.
Disasters' effects on mental health have been found to outlive their physical effects in the past, suggesting that the coronavirus pandemic won't be the end of today's increasing mental health demands. According to a study assessing the psychological toll on healthcare workers during epidemics, psychological distress might remain for up to three years after an outbreak. The pandemic's financial crisis has significant effects on mortality from "deaths of despair," as well. By 2027, the economic downturn and social isolation may have contributed to more suicides and fatalities from alcohol or drug abuse. Policymakers must consider how the increased demand for mental health and substance use services will probably endure over the long term, even if new cases and fatalities associated with the novel coronavirus decrease.
Telehealth and U.S. Behavioral Health Market
The COVID-19 outbreak has accelerated this tendency as telemedicine use has increased considerably in recent years. The telehealth landscape is always evolving, bringing with it new advantages for service providers, patients, populations, and costs.
Example of telehealth implementation
By offering medication-based treatment for people with opioid use disorders (OUD) in underserved rural communities through a combination of in-person and telehealth services, the Eastern Shore Mobile Care Collaborative (ESMCC) at the Caroline County Health Department seeks to improve access to care in Caroline County on Maryland's Eastern Shore.
A division of the UCSF Department of Psychiatry, the Citywide Case Management Program (Citywide) is run by Zuckerberg San Francisco General Hospital (ZSFG). Citywide has been in operation since 1981, and ZSFG bought it in 1983.
U.S. behavioral health market drivers
Rise of digital behavioral health
As a result of the outbreak, many people all across the world are becoming more anxious. Social, political, and economic unrest, as well as a protracted period of physical separation, have contributed to a behavioral health crisis. A recent survey by Mental Health America found that due to the COVID-19 disturbances, about 100,000 Americans had felt anxious or depressed. 13.6% of US citizens, up from 3.9% in 2018, displayed symptoms of severe psychological pain, according to data published in April 2020.
After Q1 2020, Google searches for "virtual mental health" increased as more people looked for alternatives to in-person behavioral health therapies. A study by Oxford University and the NIHR Oxford Health Biomedical Research Center found that approximately one out of five people receive a mental diagnosis such as insomnia, anxiety, or depression within three months of testing positive for COVID-19. Therefore, it should be unsurprising that digital behavioral health companies received nearly USD 1.6 billion in funding in 2020, one of the highest amounts ever.The digital behavioral health business funding in 2020 was significantly more than it was during the same timeframe the year before. According to our research, financing rose 47% in Q4 2020 compared to Q3 2020. This constant rise in investment implies that companies in this area are still expanding despite the COVID-19 limitations.
Customize this study as per your requirement @ https://www.towardshealthcare.com/customization/5007
U.S. Behavioral Health Market Restraint
Lack of coverage and inadequate reimbursement
Even after the Mental Health Parity and Addiction Equity Act (MHPAEA) was passed in 2008, many Americans with insurance still do not have access to comparable behavioral health coverage. The Mental Health Parity and Addiction Equity Act (MHPAEA) requires health insurers and group health plans that cover behavioral health services to provide the same level of benefits for mental health and/or substance use treatment and services as they do for medical and surgical care, but it does not require that behavioral health treatments be covered. Furthermore, even though the Department of Health and Human Services (HHS) produced an action plan for the law's implementation in April 2018 as required by Congress, the provisions' strict enforcement has fallen short.
Access to mental health services may be restricted by the coverage restrictions and limitations in the Medicaid and Medicare programs. Even though Medicaid requires states to fund medically necessary mental health care, states have some discretion in determining medical necessity, which can result in inequities in coverage. States may also provide particular services as optional perks (e.g., rehabilitation, therapy, medication management, and peer support). State-by-state variations in these optional services' accessibility notwithstanding, many are essential for improved recovery and health. Even though IMDs can support adolescent recovery, treatment at institutes of mental illness (IMDs) is an optional service covering children and adolescents with behavioral health difficulties up to the age of 21. Medicare also restricts access to some behavioral health treatments by capping lifetime payments for inpatient mental health treatment at 190 days. This restricts recipients' access to life-saving care, especially for individuals with severe mental illnesses.
Historically, behavioral health treatment has been provided by state mental health organizations, which are chronically underfunded. Similar underpayments apply to providers in the continuum of mental health care under conventional fee-for-service payment models. Important features of behavioral health treatment, such as managing care remotely or coordinating care across clinicians and locations, are rarely covered by fee-for-service payment models (referrals, case management, etc.).
Poor reimbursement rates further impede access to behavioral health services. A recent study found that reimbursement for mental health doctors is still 20% lower than for primary care doctors. The reimbursement issues are a reflection of the undervaluing of mental health services, which usually require more investigation and effort than procedural procedures.
U.S. behavioral health market opportunity
Payer-based strategy
The use of outcome measures is constrained despite a requirement for measurement-based behavioral healthcare on a national scale due to a lack of provider adoption and technological infrastructure to measure and report findings on a big scale. Thus, only about 50% of Americans who suffer from mental diseases obtain care. Even then, there is no measurement of quality, and when there is, there is cause for concern.
Not just policymakers and healthcare professionals, but new approaches are required to address these problems during and after the pandemic. Payers who have been criticized or questioned for their impact on behavioral healthcare access now have a chance to change the future. Payers have traditionally prioritized behavioral health cost reduction, typically working with carve-out companies, which has contributed to the existing system's fragmentation and accessibility issues. With COVID-19 being in effect, ACOs (accountable care organizations) and supplementary risk-bearing entities need to be more conscious of the negative effects that mental health issues have on overall health and costs.
To better the accessibility, effectiveness, and quality of mental health care, Blue Shield of North Carolina (Blue Cross NC) and Blue Cross are currently in the second year of a long-term strategy. The five activities mentioned in this essay include eliminating the integrating care, carve-out, quantifying effect, deploying point solutions at scale, and increasing value-based reimbursement. Although this plan was put in place before COVID-19, it provided a strong foundation that allowed us to quickly change course and accommodate the additional behavioral health aspects of the pandemic. This example shows how payment reform might encourage the development of an adaptable and responsive behavioral health system, especially during periods of high demand.
Services Landscape for the US Behavioral Health Market
In 2020, outpatient counseling held the biggest market share (35.1%), and it is anticipated that this pattern will hold throughout the forecast period. The most common form of treatment for many mental health conditions is outpatient care since it is less expensive, more accommodating of patients' needs and schedules, and has a larger provider pool. Only when ongoing support is not necessary and it is healthy for the patient to remain in their environment to deal with stressors and learn to manage with professional aid can outpatient treatment be employed. This is typically the greatest option for persons who have eating disorders, depression, or anxiety.
The internet has created new opportunities for projects in rehabilitation. Technology has given people a new therapeutic alternative to help them overcome their addictions, although in-person counseling and treatment were formerly the only options to do so. Through group therapy sessions held over Zoom or Google Meet, individual online face-to-face chats, and online video chat, patients and their families have simple access to licensed addiction professionals and their network of supporters. Both the patient's quality of life and their chances of recovery are enhanced by this increased accessibility. If patients can obtain information online and avoid having to travel to and from an outpatient treatment facility, they will be more inclined to continue with therapy.
U.S. behavioral health market, by service, 2020 (%)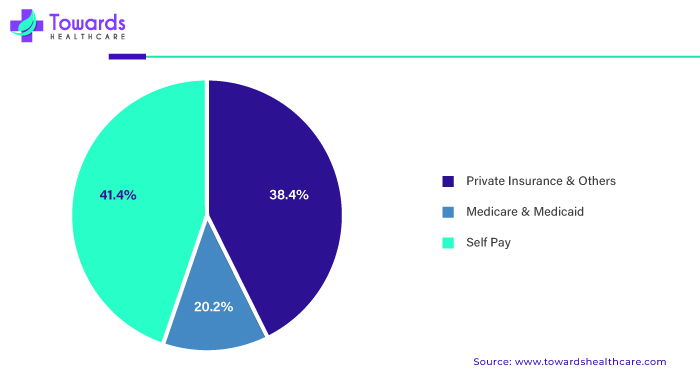 The demand for home-based treatment services is predicted to increase during the projection period, which will result in a decline in the percentage of inpatient hospital treatment, which was 22.0% in 2020. Before the implementation of COVID-19, the majority of payers (including the federal government) only provided coverage for home-based modalities (such as direct-to-consumer and mobile applications) for a small number of conditions that frequently required the coverage of physical comorbidities. In the case of a patient who also has a chronic ailment like diabetes, this may, for instance, just pay telemedicine treatment for substance use disorder. The phenomenal growth of home delivery of telehealth for virtually all diseases has significantly enhanced access to care in emergencies COVID-19 advice and payer policy.
Disorder Landscape for the U.S. Behavioral Health Market
In 2020, anxiety and depressive disorders held the highest market share because of the high incidence of COVID-19, which led to lockdowns and social withdrawal. The second-most common issue in the US behavioral health market in 2020 was substance addiction disorder.
Patients with bipolar disorders have been impacted by the long-term effects of COVID-19, isolation, social withdrawal, and lockdowns. Increased treatment costs are anticipated as a result of the mental illness, which is now displaying slower recovery rates due to increased worry. As more patients and frontline staff experience the loss of family members and friends, PTSD prevalence is predicted to rise. Other conditions like suicide, phobias, schizophrenia and sleep disorders are anticipated to become more common among people.
End-user Landscape for the U.S. Behavioral Health Market
The largest market share held by outpatient clinics in 2020 was 36.9%. Since the majority of patients are diagnosed with mild to moderate symptoms and do not necessarily need to be admitted to hospitals, the sector is anticipated to continue to be the largest.
Mental health professionals have generally operated independently from primary care doctors in clinical care. A one-stop shop can assist ensure that patients obtain treatment sooner and, as a result, cut costs for both patients and providers. This is done by better integrating behavioral health and basic care. For instance, Genoa Healthcare integrates telepsychiatry, medical management, and outpatient mental health care. Psychiatrists now have access to more information that is necessary for accurate patient diagnosis and treatment. Genoa's telepsychiatry services created a patient-centered model and offered a solution for many adults and families who couldn't access mental healthcare.
TABLE    U.S. behavioral health post-COVID-19 market size and estimations, by end-user, 2021-2027 (USD Billion)
End-user
2021
2022
2023
2024        
2025        
2026        
2027
CAGR (2021-27)
Outpatient Clinics        
35.81
37.99        
40.17        
42.34        
44.49        
46.59        
48.63
5.23
%
Hospitals
24.32        
25.40        
26.43
27.41        
28.32        
29.16        
29.91        
3.51
%
Rehabilitation Centers        
21.32        
22.37        
23.38        
24.36        
25.29        
26.17
26.99        
4.00
%
Homecare Setting        
15.56        
17.25        
19.04        
20.90        
22.84
24.84        
26.90        
9.55
%
Total        
97.01        
103.01        
109.02        
115.01        
120.94        
126.76        
132.42        
5.32
%
Due to patient preference, it is anticipated that demand for homecare settings would increase during the projected period. Additionally, throughout the forecast period, the segment for homecare settings is anticipated to rise as more doctors and patients use telehealth solutions in this medical field.
The rise of home care is also being aided by the constantly developing technology that lets patients remain in their own homes. The effectiveness and security of home care can be increased with the aid of internet-based applications, software, and equipment. These technologies include but are not limited to, patient portals, online support groups, caregiver education, and training materials, mobile apps for appointment scheduling and reminders, improvements in telemedicine/telehealth, wearable sensors that remotely monitor patients, personal response systems that can be used to alert a call center when a patient falls, and automated medication dispensing systems. This segment's growth is anticipated to be accelerated by the growing adoption of telehealth.
Payer Landscape for the U.S. Behavioral Health Market
One in four Medicare users suffers from a mental disorder. The prevalence of mental illness appears to be slightly higher among Medicare enrollees in traditional Medicare than in Medicare Advantage managed care plans, although comparisons are challenging due to varied data sources and measures used in different research. Traditional Medicare beneficiaries are more likely to suffer from a severe mental illness that leaves them significantly disabled, such as schizophrenia, bipolar disorder, or major depressive disorder.
Prevalence of Mental Illness Among Medicare Beneficiaries
Over 112 million Americans reside in areas with a dearth of mental healthcare providers, and by 2025, shortages of counselors, psychiatrists, mental health social workers, clinical & counseling psychologists, and other specialized professionals are expected to get worse, according to experts. Rural areas experience a particularly acute shortage of mental health providers, although the prevalence of mental disease among beneficiaries is comparable between rural and urban areas.
Recently, a cost-sharing element has been added to outpatient mental health therapies. As of January 2014, Medicare beneficiaries pay a 20% coinsurance for both types of outpatient treatment, as required by the Medicare Improvements for Patients and Providers Act (MIPAA) of 2008, which mandated the elimination of disparities in cost-sharing between mental health and general medical outpatient services. Particularly among Medicare members living in low-income, low-education areas, this policy adjustment has been associated with an increase in outpatient mental health follow-up care for psychiatric hospitalization.
Related Reports:
The global chatbots for mental health and therapy market is estimated to grow from USD 0.99 billion in 2022 at 21.3% CAGR (2023-2032) to reach an estimated USD 6.51 billion by 2032.

The global digital health market size is estimated to grow from USD 262.63 billion in 2022 to reach $ 939.54 billion by 2032, growing at a 13.1% CAGR from 2023 to 2032.

The global hospital services market is estimated to grow from USD 9.29 trillion in 2022 at 9.15% CAGR (2023-2032) to reach an estimated USD 21.27 trillion by 2032.

Competitive Landscape of the U.S. Behavioral Health Market
With separate units of mental health hospitals and clinics, non-profit organizations, and providers from throughout the US, the market for behavioral health is highly fragmented. The top three revenue-producing businesses as of 2020 were Ardent Health Services, Acadia Healthcare, and Universal Health Services. The market is expanding as a result of the rising prevalence of mental diseases such as PTSD, anxiety, depression, and substance misuse, especially over the past year because of the pandemic.
But as COVID cases have received more attention and hospital patient volumes have declined, mental health care has suffered as a result. These restrictions have opened the door for telehealth options like texting, phone and video consultations, apps for accessing patient, pharmacy, and doctor information, and more. In the coming years, it's anticipated that several start-ups will enter the US behavioral industry and introduce cutting-edge technology.
Market Key Players:
The report provides a comprehensive analysis of the key players operating in the U.S. Behavioral Health market. These include Acadia Healthcare, Promises Behavioral Health (Elements Behavioral Health), Epic Health Services (Aveanna Healthcare), Universal Health Services, Behavioral Health Group, Inc., IBH Population Health Solutions, CuraLinc Healthcare, North Range Behavioral Health, Ardent Health Services and CRC Health Group. The other players operating in the value chain are Lyra Health, Pear Therapeutics, Ginger, Neuronetics, Modern Health and Quartet Health.
Market Segmentation:
By Service
Home-Based Treatment Services
Outpatient counseling
Emergency mental health services
Inpatient hospital treatment
Intensive care management

By Disorder
Bipolar Disorder
Anxiety Disorder
Depression
Post-Traumatic Stress Disorder
Eating Disorder
Substance Abuse Disorder
Others

By End User
Outpatient Clinics
Hospitals
Rehabilitation Centers
Homecare Setting
You can place an order or ask any questions, please feel free to contact us at sales@towardshealthacre.com
About Us
Towards Healthcare is a leading global provider of technological solutions, clinical research services, and advanced analytics to the healthcare sector, committed to forming creative connections that result in actionable insights and creative innovations. We are a global strategy consulting firm that assists business leaders in gaining a competitive edge and accelerating growth. We are a provider of technological solutions, clinical research services, and advanced analytics to the healthcare sector, committed to forming creative connections that result in actionable insights and creative innovations.
Browse our Brand-New Journal@ https://www.towardspackaging.com
Browse our Consulting Website@ https://www.precedenceresearch.com
For Latest Update Follow Us:
https://www.linkedin.com/company/towards-healthcare