New York, Sept. 18, 2023 (GLOBE NEWSWIRE) -- Avocado oil market size reached USD 587.81 Mn in 2022 and is expected to register a revenue CAGR of 5.91% during the forecast period (2023– 2032) It is expected to reach USD 1028.9 Mn by 2032.
The report comes in an all-new design, structure, and presentation, with a more advanced perspective in mind to cater to the evolving needs of its rapidly expanding client base. The market research report provides comprehensive insights into driving factors, restraints, opportunities, and trends, and presents an in-depth outlook with supporting information and figures, tables, charts, illustrations, data, statistics, and actionable insights. The various market scenarios, potential outcomes, viable opportunities, and outcomes are covered extensively in the report, and the data and information formats are simple, yet dynamic so as to ensure ease of reading and understanding, as well as to make for clear presentation and optimization.
To get additional highlights on major revenue-generating segments, Request an Avocado Oil Market sample report at https://marketresearch.biz/report/avocado-oil-market/request-sample/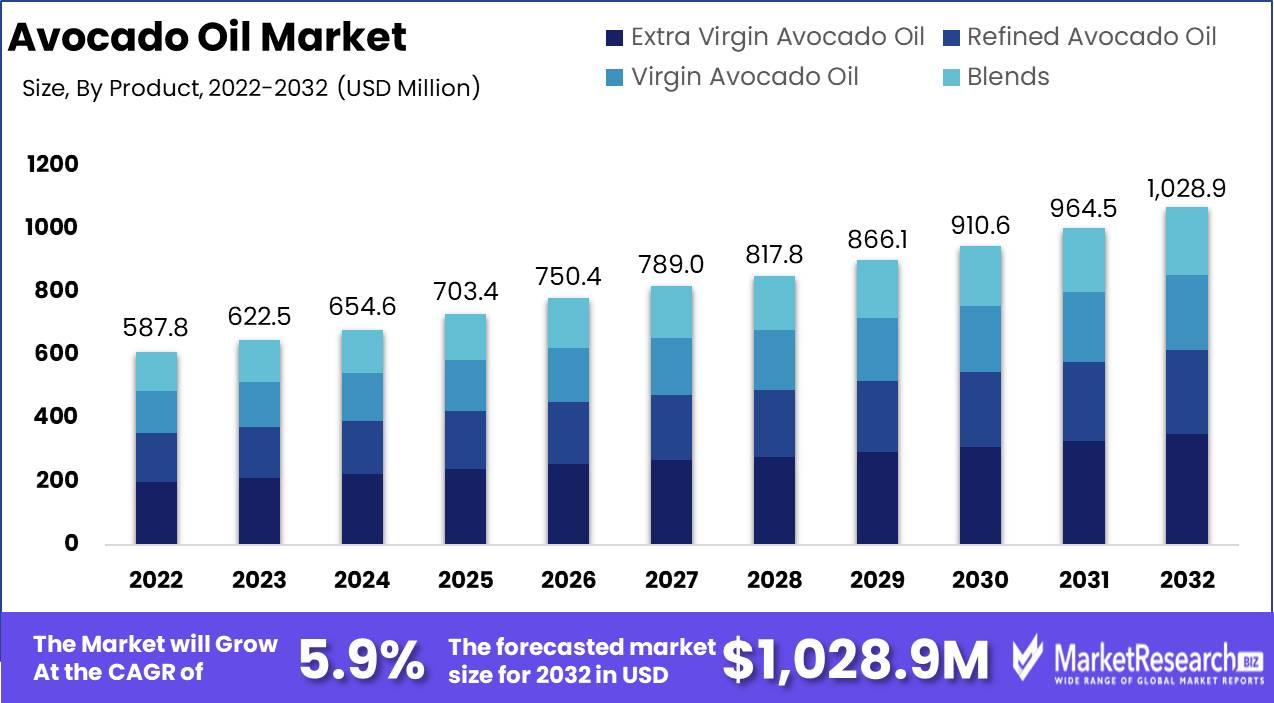 Key Takeaways
The US avocado oil market was valued at USD 183 Million in 2021 and revenue is expected to continue to incline steadily as an increasing number of consumers shift towards more healthy food options and demand rises due to awareness of the potential health benefits this product offers
The application segment accounted for 29.3% of the overall global market revenue share in 2022, with the cosmetics and skincare segment contributing the majority of the revenue earned
The extra virgin avocado oil segment accounted for the majority revenue share of USD 160.12 Million among the product type segments in 2022 and is expected to incline substantially as preference for this product type gains traction in the U.S., Canada, and Germany owing to rising demand in food and beverage sector
In 2022, the top export flow of avocado oil was from China to the Netherlands, with an export value of USD 312.51 Million
Global export data indicates that avocado oil export shipments stood from the world at 17.8K, exported by 1,688 world exporters to 2,295 buyers
As of August 2023, the top three exporters of avocado oil are Spain with 5,104 shipments followed by Italy with 3,412, and India with 1,611 shipments
Driving Factors
Avocado Oil Spans From Kitchen To Beauty Care Products With Good Health Promise
Avocado oil is extracted from the fruit of the avocado tree and is liked for its versatility and health benefits. This oil has a high smoke point, making it excellent for frying and sautéing, and its rich, buttery flavor enhances salad dressings, marinades, and dips. Avocado oil is in high demand in the beauty and cosmetics industry for its moisturizing and skin-nourishing properties and is widely used in skincare products and hair care treatments. Abundant monounsaturated fats, nutrients, vitamins A, D, and E, and antioxidants promote heart health, skin rejuvenation, and hair strength. Avocado trees thrive in warm climates, with major production hubs in Mexico, the United States, and Chile.
Avocado Oil Market Presents One More Healthy Plant-Derived Option For Kitchens
The global avocado oil market has been registering steadily inclining revenue growth and accounted for a substantially larger revenue share in 2022 over 2019. The shift towards healthier plant-derived cooking oils is driving adoption and use in culinary applications in various countries across the globe. Rising consumer awareness regarding health benefits, including heart health and skin nourishment, has been supporting steady demand. The various benefits offered are being leveraged to a major extent in the cosmetics and personal care sectors.
In addition, advancements in extraction technologies have been enhancing production efficiency, while sustainability initiatives encourage eco-friendly practices. Analysis reveals a growing preference for organic and cold-pressed avocado oil and its versatility, in both food and cosmetics sectors, positions avocado oil as an important product and ingredient. Furthermore, consumption trends in North America and Europe indicate robust projected revenue growth over the forecast period.
To understand how our report can bring a difference to your business strategy, Inquire about a brochure at https://marketresearch.biz/report/avocado-oil-market/#inquiry
Restraining Factors
Supply Chain Vulnerabilities and Climate Change Threats Loom Large on Horizon
While product demand and sales indicate a steady incline, there are evidently some factors that can restrain revenue growth of the market to some extent. Supply chain vulnerabilities brought on by weather-related disruptions, such as droughts and hurricanes, can impact avocado production. Besides causing crop damage and reducing yields, the supply shortage can lead to increased costs. Also, avocado prices can be volatile due to factors like seasonal variations and market dynamics. When avocado prices rise, it can lead to higher production costs and reduced profit margins for avocado oil producers.
Avocado trees are sensitive to temperature fluctuations, and extreme heatwaves or frost. Changing rainfall patterns, characterized by intense rains or extended droughts, disrupt the consistent water supply required for avocado cultivation. Climate change also facilitates the spread of pests and diseases, demanding increased pest control measures. Water scarcity, exacerbated by droughts, strains irrigation resources crucial for avocado farming. Additionally, growers may need to shift cultivation to regions with more suitable conditions, posing economic and logistical challenges. Avocado farmers are responding with strategies like adjusting planting times, adopting resilient tree varieties, and enhancing irrigation practices, but the long-term impact of climate change on avocado farming remains a pressing concern, necessitating ongoing adaptation efforts.
Alternative Oils with Similar Benefits Could Raise the Competition Bar For Producers
Avocado oil faces competition from a variety of other cooking oils, including olive oil, for example, which is also a favorite often associated with similar health benefits and culinary uses. Coconut oil, with its distinct flavor and versatility, also competes for market share. Also, traditional vegetable oils such as canola, soybean, and sunflower oils remain popular choices for cooking among a large consumer base globally. Each of these oils has its unique flavor profiles and nutritional attributes, making them viable alternatives to avocado oil. However, avocado oil differentiates itself through its high smoke point, heart-healthy monounsaturated fats, and growing recognition of its benefits, carving out a niche among health-conscious consumers and gourmet chefs.
Growth Opportunities
Portfolio Expansion and Increasing Application Areas Driving Global Reach
Companies can expand product lines to include various avocado oil variants such as extra virgin, refined, organic, and flavored options, cater to a broader consumer base, and enhance revenue opportunities. Offering avocado a wider range of oil-infused skincare and haircare products can enable businesses to create newer revenue streams in the cosmetics and personal care industry, which is a majorly lucrative market segment. Also, private labeling and contract manufacturing are lucrative areas to venture into. Avocado oil producers can explore partnerships with retailers for private labeling or contract manufacturing for other brands, thereby establishing additional revenue streams through strategic collaborations.
In addition, targeting emerging markets and regions with low avocado oil consumption can lead to substantial revenue growth. Expanding export opportunities and building brand recognition worldwide are key strategies to be explored to stay ahead of the competition.
Make informed business decisions with our sample report, revealing key market insights Click Here To Download/Request a Sample
| | |
| --- | --- |
| Report Attribute | Details |
| Market Value (2022) | US$ 587.81 Mn |
| Market Size (2032) | US$ 1028.9  Mn |
| CAGR (from 2023 to 2032) | 5.91% |
| US Revenue Share 2021 | 183 Mn |
| Historic Period | 2016 to 2022 |
| Base Year | 2022 |
| Forecast Year | 2023 to 2032 |
Regional Analysis
Shift Towards Avocado Oil Over Other Oils Gaining Momentum in West
North America accounts for a steady revenue rate in the global avocado oil market. Rising health consciousness is a key factor that consumers in countries in the region are increasingly shifting to healthier food options, and a sizable number of consumers use traditional cooking oils like vegetable or canola oil. The mild, buttery flavor of avocado oil has made it a favorite among chefs and home cooks, and awareness regarding avocado oil and its nutritional benefits has been increasing. Also, rising consumer awareness apart from the versatility of avocado oil in cooking and skincare applications is expected to support revenue growth in the North American market. In addition, technological advancements in extraction techniques and packaging are enhancing product quality and shelf life, and this is also expected to drive sales and support revenue growth.
Europe's avocado oil market is registering substantial revenue growth as consumers increasingly prioritize healthy and natural food ingredients over other products available in the market. The Mediterranean region, known for its traditional use of olive oil, is registering inclining demand for avocado oil as an alternative owing to its high smoke point, and suitability for frying and sautéing. Health-conscious consumers in countries such as the United Kingdom, France, and Germany are incorporating avocado oil into their diets. Also, it has found applications in the cosmetics and personal care industries across Europe.
APAC and Latin America Major Markets With Many Lucrative Revenue Opportunities
Asia-Pacific avocado oil market is emerging with major potential for companies operating in the region. Consumption of avocado oil has been rising owing to evolving dietary habits increasing more health-consciousness among consumers in the region. Also, ongoing initiatives promoting healthy cooking oils and the inclusion of avocado oil in traditional cuisines are expected to result in further penetration of avocado oil as a staple in kitchens in the region.
Latin America is a major producer of avocados and has a strong presence in the avocado oil market. Local companies are capitalizing on this advantage and expanding their market share through exports and supply agreements with larger companies. Technological advancements in avocado cultivation and oil extraction processes are also contributing significantly to the growth of the market in the region.
Grow your profit margin with MarketResearch.biz - Purchase This Premium Report at https://marketresearch.biz/purchase-report/?report_id=10995
The Competitive Landscape
The competitive landscape in the global avocado oil market is characterized by a mix of established companies and emerging players. Leading companies in the market include Chosen Foods, La Tourangelle, Avocado Global, Olivado, and Sesajal S.A. de C.V. These players have adopted strategies that encompass product diversification, emphasizing organic and premium offerings, expanding distribution networks, and investing in sustainable and eco-friendly practices throughout the supply chain. The companies also focus on marketing campaigns that promote the health benefits of avocado oil, catering to the growing demand from health-conscious consumers. Also, partnerships, acquisitions, and geographical expansion remain integral aspects of their competitive strategies in the dynamic avocado oil market.
Key Market Players
Olivado Ltd
The Hain Celestial Group, Inc.
Bella Vado Avocado Oil
Hans Merensky Holdings (Pty) Ltd
SESAJAL S.A. de C.V.
Tron Hermanos, S.A. de C.V.
Cibaria International Inc.
Crofts Ltd
MADANA Inc.
Proteco Oils
Chosen Foods
La Tourangelle
Kevala
Oleico
CalPure Foods
Storino's Quality Product
Segments Covered in the Report:
By Product Type:
Extra Virgin Avocado Oil
Refined Avocado Oil
Virgin Avocado Oil
Blends
By Nature:
By Variety:
Pinkerton
Hass
Gwen
Lamb
Other (Bacon, Fuerte, Zutano)
By Application:
Food & Beverage
Cosmetics and Skincare
Pharmaceuticals
Dietary Supplements
Others
Distribution Channel:
Retail Stores
E-commerce
Foodservice and Restaurants
Direct Sales
Others
By Geography:
North America
Europe
Asia-Pacific
Latin America
Middle East & Africa
For more insights on the historical and Forecast market data from 2016 to 2032 - download a sample report at https://marketresearch.biz/report/avocado-oil-market/request-sample/
Partnerships and Acquisitions
In early August 2023, Chosen Foods, which is the maker of America's #1 Avocado Oil* and one of few on shelves that is guaranteed 100% pure, launched the first-ever Pumpkin Spice Avocado Oil Caviar. Crafted with Chosen Foods' 100% Pure Avocado Oil and a blend of fall spices, including cinnamon, ginger, nutmeg, and allspice, Pumpkin Spice Avocado Oil Caviar is formulated to go with top of ice cream, pancakes, waffles, fresh pastries, yogurt, cupcakes.
In September 2021, Butterfly, which is a Los Angeles-based private equity firm specializing in the food sector, announced that it had reached an agreement to partner with Chosen Foods LLC (Chosen Foods), which is an industry leader and pioneer of avocado oil and creator of avocado-based kitchen staples including cooking sprays, mayonnaises, dressings, simmer sauces, guacamole, and salsa. Butterfly will own a majority stake in the business and further terms of the transaction were not disclosed.
Browse More Related Reports
About Us:
MarketResearch.Biz (Powered by Prudour Pvt Ltd) specializes in in-depth market research and analysis and has been proving its mettle as a consulting and customized market research company, apart from being a much sought-after syndicated market research report-providing firm. MarketResearch.Biz provides customization to suit any specific or unique requirement and tailor-made reports as per request. We go beyond boundaries to take analytics, analysis, study, and outlook to newer heights and broader horizons.
Follow Us on LinkedIn: https://www.linkedin.com/company/marketresearch-biz/
Follow Us on Facebook: https://www.facebook.com/marketresearch.biz
Follow Us on Twitter: https://twitter.com/PrudourResearch