New York, Sept. 19, 2023 (GLOBE NEWSWIRE) -- The global inspection drones market size is expected to expand at ~ 24% CAGR from 2023 to 2035. The market is anticipated to garner a revenue of USD 35 Billion by the end of 2035, up from a revenue of ~USD 4 Billion in the year 2022.  The major factor influencing the growth of the market is growing mining activities. For instance, an estimated 21 million metric tons of copper were produced from mines globally in 2022. From about 15 million metric tons in 2010, the output of copper has increased steadily throughout the world during the past ten years. Hence, the need for inspection drones is also on rise.
Request Free Sample Copy of this Report @
https://www.researchnester.com/sample-request- 5131
In underground mining operations, drone technology replaces the role of humans to track the security of the site, the state of the ground, the walls of the tunnels, the blasting zones, and other locations, allowing any concerns to be identified without putting personnel at risk. Moreover, mines that are making some sort of investment in drones have grown from about 43% in 2018 to approximately 64% in 2022, while about 31% of mines responding to the research study carried out in 2022 globally indicate they have either entirely invested in drones or have made a sizeable investment. As a result, this is going to influence the market revenue in the coming years.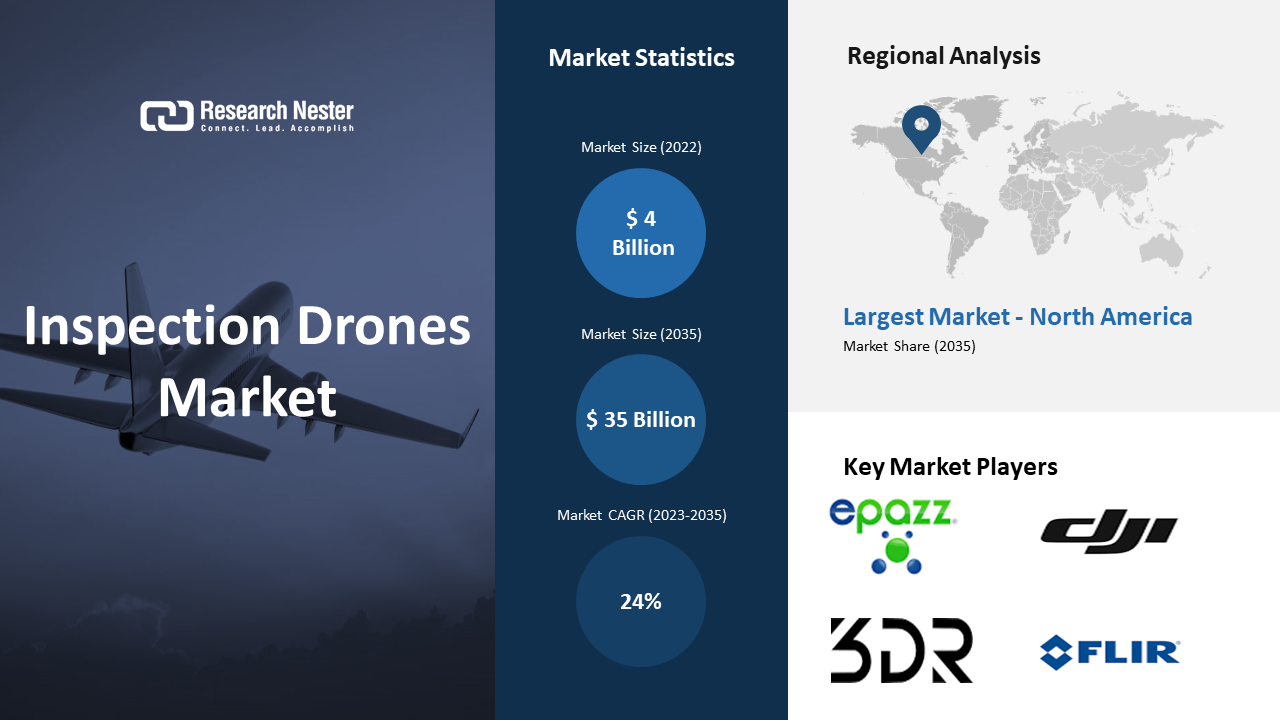 Inspection Drones Market: Key Takeaways  
Market in the North America region to garner the highest share.
The Oil & gas segment to garner the highest revenue.
Market in Asia Pacific region to grow at a notable rate.
Surge in Demand for Wind Energy to Boost the Growth of Global Inspection Drones Market
In 2022, about 76 GW of additional wind generating capacity was added to the world's power systems, bringing the total installed wind capacity to approximately 905 GW1, an increase of about 8% from 2021. However, to avoid damage from use, that can lower the effectiveness and longevity of a turbine's structural components, wind turbines need regular maintenance and inspections. A drone inspection of a wind turbine may detect important issues including blade delamination, core flaws, internal component failure, and others as part of the regular upkeep process. Additionally, compared to conventional inspection techniques, a drone wind turbine inspection delivers more thorough data and may expeditiously complete the inspection.
Inspection Drones Market: Regional Overview 
The global inspection drones market is segmented into five major regions including North America, Europe, Asia Pacific, Latin America, and the Middle East and Africa region. 
Growing Reconstruction Activities to Drive the Growth of the Market in North America
The inspection drones market in North America is anticipated to garner share of about 31% over the forecast period. The growth of the sector in this region could be owing to growing reconstruction activities in North America. In the United States, there are more than 616,000 bridges. In 2021, about 46,153, or approximately 6% of all bridges in the country, were deemed technically deficient, which means they are in "poor" condition and account for about 41% of all bridges that were not less than 50 years old. Unfortunately, close to 177 million journeys per day happen across these bridges, which are structurally unsound. However, these trips could lead to further loss of human life. Therefore, the use of drones for inspection of this structure is growing in North America, further boosting the market revenue.
Rise in Use of Drones in Agricultural Sector to Influence the Growth of the Market in Asia Pacific Region
The Asia Pacific inspection drones market is set to grow at a share of 24% over the forecast period. This growth could be a result of the rising use of drones in inspecting agriculture farms. Moreover, the government of different countries in this region is taking active initiative to promote the use of drones in farming. For instance, a total of USD 1 billion has been made available for the advertising of kisan drones in India, of which USD 0.63 billion has been allocated to the ICAR for the acquisition of 300 kisan drones and the planning to conduct their trials on the farms of 75000 hectares through the use of 100 KVKs, 75 ICAR institutions, and 25 SAUs. Additionally, funding has been provided to various State Governments for the deployment of more than 1500 Kisan Drone CHCs and the distribution of more than 240 Kisan Drones on an affordable basis to farmers.
Make an Inquiry Before Buying this Report @
https://www.researchnester.com/inquiries-before-buying- 5131
Inspection Drones, Segmentation by Application
Construction & Infrastructure
Agriculture
Utilities
Oil & Gas
Mining
The oil & gas segment is anticipated to garner the highest share of 37% over the projected period. The major element to boost the segment growth is the growing demand for oil & gas. Global oil consumption is projected to reach about 98 million barrels per day in 2022. Compared to a rise of approximately 5% in 2021. Drones are utilized to monitor difficult-to-access places, such as cranes and derricks. Inspection of installation jackets and risers prevents risky rope access, and thermographic imaging inspection of splash areas may identify corrosion that would otherwise be difficult to find.
Inspection Drones, Segmentation by Type
Hybrid
Multirotor
Fixed Wing
The multirotor segment is set to have significant growth in the market for the coming years. The growth of the segment is estimated to be encouraged by growing construction activities. According to projections, there were a total of 794,431 built-up areas (BUAs) globally in 2016. This number is anticipated to climb to roughly 849,406 residents by 2022. Furthermore, an additional 2 million new buildings are anticipated to be built by 2050.
Request for Customization of this Report @
https://www.researchnester.com/customized-reports- 5131
Inspection Drones, Segmentation by Solution
Software
Services
Platform
Infrastructure
Inspection Drones, Segmentation by Mode of Operation
Remotely Piloted
Optionally Piloted
Fully Autonomous
Inspection Drones, Segmentation by Component
Mainframe
Brushless Motors & ESC
Transmitter & Receiver
Flight Controller
Inspection Drones, Segmentation by Distribution Channel
A few of the well-known market leaders in the global inspection drones market that are profiled by Research Nester are SZDJI Technology Co., Ltd., Lockheed Martin Corporation, American Robotics, Inc., Parrot SA, Yamaha Motor Co., Ltd., 3D Robotics (Kitty Hawk Corporation), AgEagle Aerial Systems Inc., Intel Corporation, Mistras Group, and others.
Recent Development in the Market 
The Matrice 300 RTK platform from SZ DJI Technology Co., Ltd. is the company's most recent commercial drone solution. For precise airborne inspections and data collection, the newest DJI Zenmuse P1 and DJI Zenmuse L1 are anticipated to offer greater efficiency at a lower cost without sacrificing the quality and accuracy of the data obtained.
A collaborative agreement between Lockheed Martin Corporation and Rafael Advanced Defence Systems, Ltd. calls for the development, testing, and production of High Energy Laser Weapon Systems (HELWS) in Israel and the United States.
About Research Nester
Research Nester is a one-stop service provider with a client base in more than 50 countries, leading in strategic market research and consulting with an unbiased and unparalleled approach to helping global industrial players, conglomerates, and executives for their future investments while avoiding forthcoming uncertainties. With an out-of-the-box mindset to produce statistical and analytical market research reports, we provide strategic consulting so that our clients can make wise business decisions with clarity while strategizing and planning for their forthcoming needs and succeed in achieving their future endeavors. We believe every business can expand to its new horizon, provided the right guidance at the right time is available through strategic minds.