New York, Sept. 20, 2023 (GLOBE NEWSWIRE) -- The global distributed energy storage system market size is projected to expand at ~ 9% CAGR between 2023 and 2035. The market is expected to garner a revenue of USD 15 billion by the end of 2035, up from a revenue of ~USD 5 billion in the year 2022. DESS consists of equipment with DC-charged batteries and a bi-directional inverter. It can store energy for later use and is suitable for transportation & shipping as it withstands extreme environments. The increasing consumption of electricity worldwide as well as the rising share of primary energy consumption that came from renewable technologies, leading to the escalating need to store excess renewable energy for its utilization during periods of power supply shortage, is expected to propel the DESS market in the upcoming years.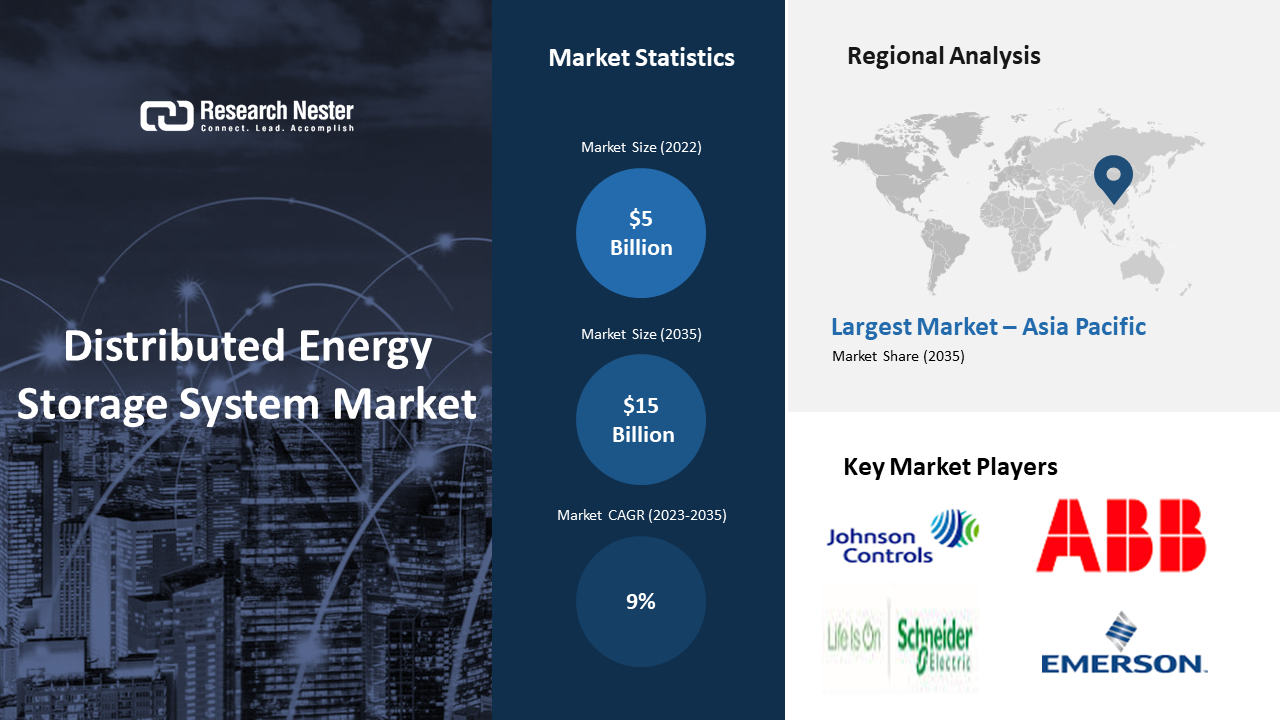 Request Free Sample Copy of this Report @
https://www.researchnester.com/sample-request- 3962
According to research, the world's total electricity consumption reached more than 22 800 TWh in 2019, up from 1.7% in 2018. Moreover, the tremendously augmenting power generation as well as the integration of advanced technologies with energy storage, besides the strengthening energy distribution infrastructure, are forecasted to assist the market growth.
Global Distributed Energy Storage System Market: Key Takeaways
Market in Asia Pacific to propel the highest growth
Transportation segment to garner the highest growth
Market in Europe to grow at the highest rate
Growth in Electricity Demand to Boost Market Growth
According to the International Energy Agency (IEA), the demand for electricity worldwide reached over 1,000 TWh in 2021. The growth of the DESS market is primarily driven by the growing importance of energy storage in solar, wind, and hybrid renewable energy systems. The trend toward renewable energy sources as a result of rising environmental concerns and the growing adoption of this system for the future smart grid and smart energy, particularly by grid operators, to drive demand for distributed ESS. Moreover, the widespread application of distributed ESS in renewable energy microgrid energy management systems, which includes load leveling and peak shifting features used to mitigate load fluctuations and improve power quality, voltage regulation, reactive power support, and operating reserves, is further estimated to escalate the market demand over the forecast period.
Global Distributed Energy Storage System Market: Regional Overview
The global distributed energy storage system market is categorized into major regions, including North America, Europe, Asia Pacific, Latin America, and the Middle East and Africa region. 
Augmenting Industrialization and Urbanization to Drive Growth in the Asia Pacific Region
The distributed energy storage system market in the Asia Pacific region is estimated to garner the largest revenue by the end of 2035. The market in the region is expected to grow significantly over the forecast period as a result of rapidly rising industrial development and rising energy demand in industries. For instance, China is known to consume the largest share of total electricity produced in the world, with over 7.8 terawatt-hours consumed solely in 2021. Furthermore, the growing urbanization in the region is leading to the rising use of small-power energy storage systems instead of large-capacity energy storage units in the distribution region, as these energy storage units are located in distribution grids close to the end consumers, such as residential or commercial buildings, providing distribution efficiency. As a result, this is expected to lead to regional market growth.
Increased Use of Renewable Energy to Drive Growth in the Europe Region
The distributed energy storage system market in Europe is estimated to garner the highest CAGR by the end of 2035. The market growth in the region is expected to foresee an elevation owing to the impressive growth of renewable power and green power, together with the rising adoption of peak shaving to lower grid usage costs for industrial and commercial power consumers, besides the core focus on decarbonization of regional economies. It was found that solar power in Europe has heightened by almost 50% in 2022. Moreover, it was reported that the European Union (EU) installed a record-breaking ~41 GW of solar in 2022. Furthermore, as per findings in July 2021, the Renewable Energy Directive was revised to accelerate the take-up of renewables in the EU to reach the 2030 energy and climate objectives with a common target of 32% for the amount of renewable energy in the EU's energy consumption by 2030. This is expected to boost the DESS market in the region.
Make an Inquiry Before Buying this Report @
 https://www.researchnester.com/inquiries-before-buying- 3962
Global Distributed Energy Storage System, Segmentation by Application
Transportation
Grid Storage
Renewable Energy Storage
Others
The transportation segment is anticipated to hold the largest revenue by the end of 2035. The rising trade & transportation of energy with the growing energy consumption worldwide is a major factor expected to boost the segment growth. According to a report, North America imported around 76,290 GWh of electricity in 2019, while Europe imported ~459,950 GWh of electricity and the Asia Pacific region imported almost 77,860 GWh of electricity in the same year. Furthermore, the grid storage segment is estimated to hold a notable share over the forecast period, owing to the globally increasing demand for continuous, uninterrupted electricity supply. The grid storage system helps electric utilities optimize energy planning, operations, and market management and is anticipated to drive segment growth.
Request for Customization of this Report @
https://www.researchnester.com/customized-reports- 3962
Global Distributed Energy Storage System, Segmentation by Product Type
Single-phase Type
Three-phase Type
Double-phase Fire Line Type
The three-phase type segment is anticipated to hold the largest revenue by the end of 2035. The factors applicable to the growth of the segment include the growing demand for industrial electricity together with the rising demand for heavy electrical equipment that uses three-phase electricity and alternating current, backed by a massively ongoing trend of rising production in energy-intensive industry subsectors worldwide. The International Energy Agency stated that of the total global final energy consumed in 2021, the industrial sector accounted for almost 38% (169 EJ), compared to 33% in 2000. Furthermore, the rapidly augmenting industrial activity at an astonishing pace owing to the increasing demand for industrial goods from a larger global population and economy is expected to boost segment growth in the upcoming years.
A few of the well-known market leaders in the global distributed energy storage system market that are profiled by Research Nester are Johnson Controls International, ABB Ltd., Siemens AG, General Electric, LG Energy Solutions, MCV Energy, Emerson Electric Co., Advanced Control Systems LLC, Hitachi, Ltd., Schneider Electric SE, and other key market players.
Recent Development in the Global Distributed Energy Storage System Market
General Electric an American multinational conglomerate corporation's subsidiary GE Digital acquired Opus One Solutions Energy Corporation, a global software company.
As Germany is undergoing a renewable energy transition, Hitachi Ltd.'s subsidiary Hitachi ABB Power Grids will deliver power solutions for Amprion. The lateral is the largest transmission operator in Germany.
About Research Nester
Research Nester is a one-stop service provider with a client base in more than 50 countries, leading in strategic market research and consulting with an unbiased and unparalleled approach to helping global industrial players, conglomerates, and executives for their future investments while avoiding forthcoming uncertainties. With an out-of-the-box mindset to produce statistical and analytical market research reports, we provide strategic consulting so that our clients can make wise business decisions with clarity while strategizing and planning for their forthcoming needs and succeed in achieving their future endeavors. We believe every business can expand to its new horizon, provided the right guidance at the right time is available through strategic minds.