New York, Sept. 21, 2023 (GLOBE NEWSWIRE) -- The global ethylene glycol market size is slated to expand at ~5% CAGR between 2023 and 2033. The market is poised to garner a revenue of USD 27 billion by the end of 2033, up from a revenue of ~USD 17 billion in the year 2022. Ethylene glycol, which is an odorless, colorless, flammable, viscous liquid, and an organic compound with the formula (CH₂OH)₂ is primarily used as a raw material in the manufacture of polyester fibers and as an antifreeze formulation.
Request Free Sample Copy of this Report @ https://www.researchnester.com/sample-request-4409
The tremendously augmenting packaging industry, as well as the increasing demand for polyethylene terephthalate (PET) resin owing to its various applications in packaging, industrial parts, and sheet manufacturing, among others, is anticipated to escalate the ethylene glycol market in the forecasted years. The market value of flexible packaging, which stood at around USD 42 billion globally in 2020, is projected to reach approximately USD 56 billion by 2025.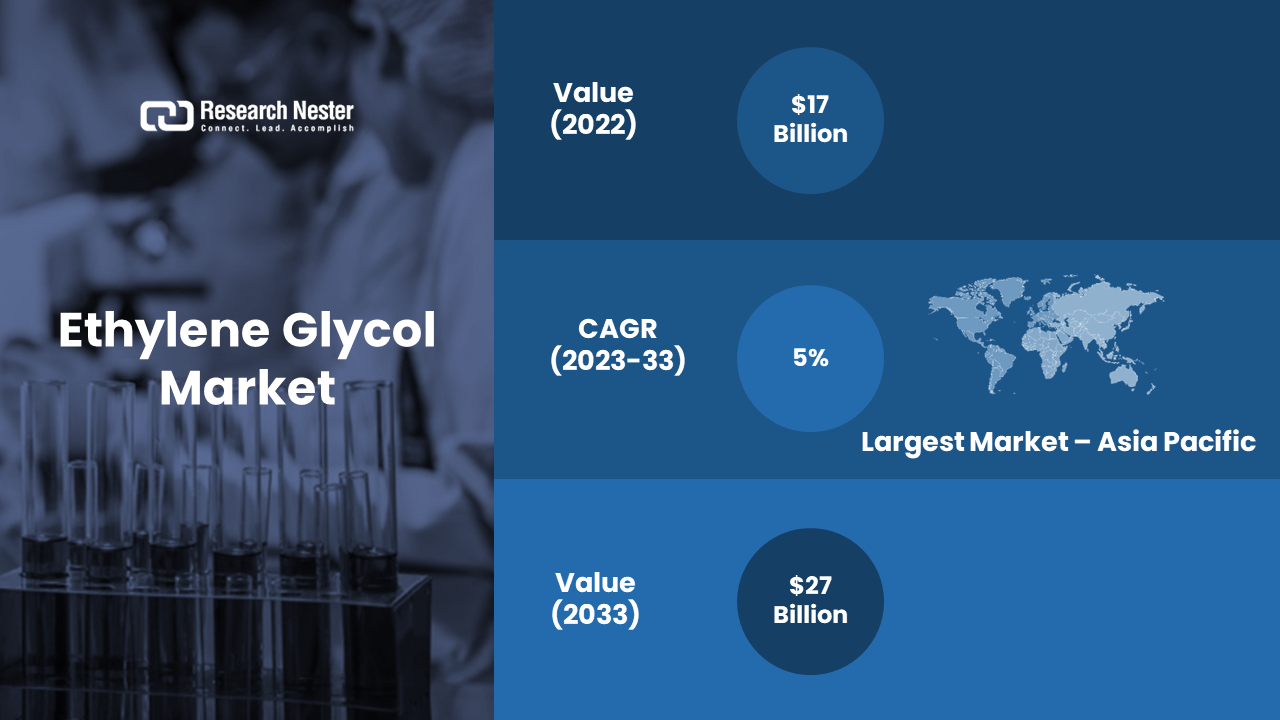 Growth in the Production of Automobiles to Boost Market Growth
A recent report forecasts that the revenue generation of the automotive industry will reach about USD 9 trillion by 2030. Hence, the rapidly augmenting automotive industry as well as the elevating production of vehicles are anticipated to boost the market, as ethylene glycol is used as an antifreeze and coolant to protect a car's engine from freezing in the winter and reduce overheating in the summer, respectively. The widespread use of ethylene glycol, including heat transfer fluids used as industrial coolants for gas compressors, heating, ventilating, and air-conditioning systems (HVAC), and ice skating rinks, is anticipated to elevate its demand. Further, as ethylene glycol is a useful commercial and industrial compound found in many consumer products such as hydraulic brake fluids, ballpoint pens, some stamp pad inks, solvents, paints, plastics, films, cosmetics, and pharmaceuticals, ethylene glycol demand is expected to elevate owing to the propelling demand for these products.
Ethylene Glycol Market: Regional Overview
The market is segmented into five prominent regions including North America, Europe, Asia Pacific, Latin America, and the Middle East and Africa region. 
Prospering Textile Industry to Drive Growth in the Asia Pacific Region
The ethylene glycol market in the Asia Pacific region is estimated to garner the largest revenue by the end of 2033. The market growth in the region over the forecast period can be majorly attributed to the presence of a vast pool of population in the region, which is responsible for the increasing demand, manufacturing, and export of textiles. China, the world's top textile exporter in 2021, had a textile industry worth approximately USD 120 billion, accounting for nearly 55% of Asia's total textile export sector. Furthermore, the existence of giant automobile manufacturers such as China, Japan, and India is further expected to boost regional market growth in the upcoming years.
Make an Inquiry Before Buying this Report @ https://www.researchnester.com/inquiries-before-buying-4409
Escalating Pharmaceutical Companies to Drive Growth in the North American Region
The ethylene glycol market in the North American region is estimated to garner the highest CAGR by the end of 2033. The market growth in the region over the forecast period can be attributed to the speedily expanding expenditure on research and development in the pharmaceutical industry, which has led to the rising demand for novel tailor-made polymers for drug delivery or other therapeutic uses. The United States pharmaceutical industry invested USD 83 billion in R&D expenditures in 2019. For many years, polyethylene glycols, or PEGs, have been utilized in various forms in pharmaceutical preparations as an additive to creams, as solubilizing agents, and as components of injectable formulations. Further, since the polyethylene glycol compounds are widely used in household products, including cleaners, baby wipes, skincare, and cosmetics, the market for ethylene glycol is anticipated to rise with the rising demand for these products in the region.
Ethylene Glycol, Segmentation by End-Use Industry
Textile
Automotive
Packaging
Oil & Gas
Transportation
Medical
Others
The textile segment is anticipated to hold the largest revenue by the end of 2033, owing to the large production of textiles. The rapidly growing textile industry worldwide, besides the flourishing apparel and garment manufacturing industries, is expected to propel segment growth over the forecast period. It was found that the global textile industry amounted to nearly USD 920 billion in 2018 and is projected to reach approximately USD 1,230 billion by 2024. The expansion of the textile industry as well as the uptrending demand for polyester fibers for clothes, upholstery, carpet, pillows, home furnishings, rugs, and various other textile products are expected to bring higher revenues in the segment.
Ethylene Glycol, Segmentation by Application
Monoethylene Glycol
Diethylene Glycol
Triethylene Glycol
The monoethylene glycol segment is anticipated to hold the largest revenue by the end of 2033. The factors applicable to the growth of the segment include the growing production of monoethylene glycol owing to its increasing demand as well as its widespread uses in various end-use industries for manufacturing polyester fibers and as a component in the production of aircraft anti-icers, antifreeze, coolants, and de-icers. It was found that the market volume of monoethylene glycol worldwide amounted to a little over 30 million metric tons in 2021, and the market volume of this organic compound is estimated to grow to nearly 40 million metric tons worldwide in the year 2029.
Request for Customization of this Report @ https://www.researchnester.com/customized-reports-4409
Ethylene Glycol, Segmentation by Type
Polyester Fibers
Polyethylene Terephthalate (PET)
Antifreeze & Coolants
Films
Others
A few of the well-known industry leaders in the ethylene glycol market that are profiled by Research Nester are Reliance Industries Limited, LOTTE Chemical Corporation, Kuwait Petroleum Corporation, Akzo Nobel N.V., Clariant International Ltd., Formosa Plastics Corporation, U.S.A., Exxon Mobil Corporation, Huntsman International LLC, SABIC, BASF SE, and other key market players.
Recent Development in the Global Ethylene Glycol Market
Reliance Industries Ltd. an Indian multinational conglomerate company is set to acquire a majority stake in SenseHawk Inc. a Solar Digitization Platform (SDP).
LOTTE Group Chemical Unit (LOTTE Chemical, LOTTE Fine Chemical) partnered with Syzygy of the US and Sumitomo of Japan to hold joint tests for ammonia photolysis for the first time in the world.
About Research Nester
Research Nester is a one-stop service provider with a client base in more than 50 countries, leading in strategic market research and consulting with an unbiased and unparalleled approach towards helping global industrial players, conglomerates and executives for their future investment while avoiding forthcoming uncertainties. With an out-of-the-box mindset to produce statistical and analytical market research reports, we provide strategic consulting so that our clients can make wise business decisions with clarity while strategizing and planning for their forthcoming needs and succeed in achieving their future endeavors. We believe every business can expand to its new horizon, provided a right guidance at a right time is available through strategic minds.