New York, Sept. 26, 2023 (GLOBE NEWSWIRE) -- Transplantation Market to Grow at a CAGR of 10.7%, And Reach a valuation of $38.2 Bn By 2032: Forecast By Acumen Research And Consulting
Acumen Research and Consulting recently published report titled "Transplantation Market Forecast, 2023 - 2032"
New York, September 26, 2023 (Globe Newswire) – The Transplantation Market is vital for providing life-saving solutions to patients suffering from organ failure.
The transplantation market is a crucial component of the medical sector, focusing on the process of transferring cells, tissues, or organs from one site to another to restore function or establish continuity in the body. The market is experiencing significant growth due to advancements in transplantation technologies, the increasing prevalence of organ failure, and the growing need for organ donors. As the demand for effective transplantation procedures increases and the focus on organ donation and ethical transplantation practices intensifies, the market for transplantation is set to expand. With continuous innovation, patient-centric approaches, and a focus on addressing organ shortage and ethical concerns, the future of the Transplantation Market promises growth, evolution, and broader adoption across the medical sector.
Transplantation Market Statistics:
The global transplantation market is anticipated to grow at a CAGR of 10.7%, reaching a valuation of USD 38.2 billion by 2032, from the current value of USD 13.9 billion in 2022
The North American transplantation market was valued at around USD 5.8 billion in 2022.
The transplantation market in the Asia-Pacific region is poised to experience a growth rate, recording a CAGR of over 11% between 2023 and 2032.
In terms of products, the sub-segment of tissue products accounted for revenue exceeding US$ 8 billion in 2022.
When categorized by application, the sub-segment of tissue transplantation amassed approximately 62% of the market share in 2022.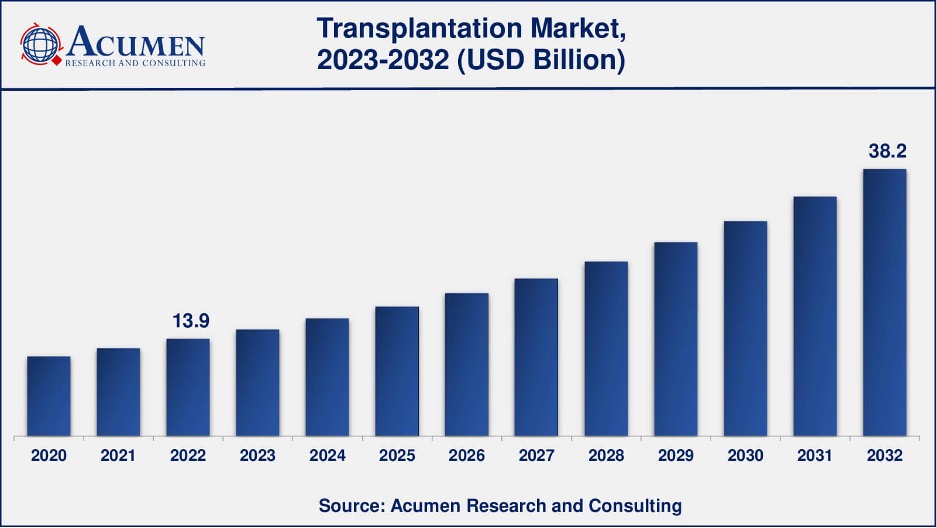 Request For Free Sample Report @

https://www.acumenresearchandconsulting.com/request-sample/3384
Transplantation Market Report Coverage:
Market
Transplantation Market
Transplantation Market Size 2022
USD 13.9 Billion
Transplantation Market Forecast 2032
USD 38.2 Billion
Transplantation Market CAGR During 2023 - 2032
10.7%
 
Transplantation Market Analysis Period
2020 - 2032
Base Year
2022
 
Transplantation Market Forecast Data
2023 - 2032
Segments Covered
By Product, By Application, By End-Use, And By Geography
Transplantation Market Regional Scope
North America, Europe, Asia Pacific, Latin America, and Middle East & Africa
Key Companies Profiled
Abbott Laboratories, Fresenius SE & Co. KGaA, Medtronic, Thermo Fisher Scientific, Becton, Dickinson and Company (BD), Novartis AG, Roche Holding AG, Veloxis Pharmaceuticals, TransMedics Group, Inc., and CryoLife, Inc.
Report Coverage
Market Trends, Drivers, Restraints, Competitive Analysis, Player Profiling, Regulation Analysis
Transplantation Market Overview:
The future outlook for the transplantation market appears to be highly promising, primarily fueled by a rising demand for proficient transplantation procedures and an escalating awareness regarding the significance of organ donation across various demographics. This surge in demand and awareness is a reflection of the collective efforts of healthcare professionals, organizations, and government bodies to enlighten the masses about the life-saving potential of organ donations. Moreover, the market is experiencing substantial advancements due to innovations in transplantation technologies. These innovations are centered around achieving higher success rates, minimizing the chances of organ rejection, and optimizing the overall outcomes for patients, ensuring a better quality of life post-transplant. The continuous research and development in this field are anticipated to unveil more groundbreaking solutions, further propelling the market forward. However, the market's growth trajectory is not without its set of challenges. The persistent issue of organ shortage remains a significant impediment, affecting the number of transplants that can be performed. The high costs associated with transplantation procedures also act as a deterrent, making it inaccessible for a considerable portion of the population, especially in underprivileged regions. Additionally, there are prevailing ethical concerns and debates surrounding organ transplantation, including issues related to consent, allocation, and commodification of human organs. These ethical dilemmas necessitate the establishment of robust legal frameworks and ethical guidelines to address the moral implications and ensure the fair and equitable distribution of organs.
Latest Market Trends and Innovations:
Development of advanced organ preservation solutions to extend organ viability.
Integration of 3D printing technologies to develop bioengineered organs and tissues.
Continuous research on stem cell therapies to enhance organ regeneration capabilities.
Introduction of innovative immunosuppressive drugs to reduce organ rejection rates.
Emphasis on ethical organ procurement and transplantation practices to address legal and moral concerns.


Major Growth Drivers of the Transplantation Market:
The increasing prevalence of chronic diseases leading to organ failure, such as kidney and liver diseases.
Advancements in surgical techniques and post-transplantation care improving transplantation outcomes.
Growing awareness and willingness among the population for organ donation.
Development of bioengineered organs providing potential solutions to organ shortage.
The rising investments in research and development activities in the field of transplantation.


Key Challenges Facing the Transplantation Market:
The persistent shortage of organs available for transplantation.
High costs associated with transplant procedures and post-transplant medication.
Ethical and legal concerns related to organ donation and transplantation.
Risk of complications and organ rejection post-transplantation.
Stringent regulatory frameworks governing organ transplantation practices.


Check the detailed table of contents of the report @
https://www.acumenresearchandconsulting.com/table-of-content/transplantation-market
Market Segmentation:
Based on the Products
Immunosuppressive Drugs
Preservation Solution
Tissue Products


Based on the Applications
Tissue Transplantation
Organ Transplantation
Based on the End-Uses
Transplant Centers
Hospitals
Other


Regional Overview of the Transplantation Market:
North America, with its advanced healthcare infrastructure and high prevalence of organ failure, leads the market. Europe, with its stringent transplantation regulations and high awareness about organ donation, also presents significant demand for transplantation. Asia-Pacific is expected to witness substantial growth due to the rising incidence of chronic diseases and increasing healthcare expenditure.
Buy this premium research report –
https://www.acumenresearchandconsulting.com/buy-now/0/3384
List of Key Players in the Transplantation Market:
Novartis International AG, Pfizer Inc., Sanofi, F. Hoffmann-La Roche Ltd., Astellas Pharma Inc., Veloxis Pharmaceuticals A/S, Accord Healthcare GmbH, BioLife Solutions, Inc., Organ Recovery Systems, Preservation Solutions, Inc., TransMedics, Inc., XVIVO Perfusion AB, OrganOx Limited, Bridge to Life Ltd. and Essential Pharmaceuticals, LLC.
Similar Reports From Healthcare Category:
The Global Medical Tricorder Market size was recorded at USD 3,458 Million in 2021 and is expected to reach the market value of USD 8,965 Million by 2030 at a CAGR of 11.5% during the forecast period 2022 to 2030.
The Global Lab on Chip Market size was valued at USD 5,698 Million in 2021 and is expected to reach the value of USD 14,772 Million by 2030 growing at a CAGR of 11.5% during the forecast timeframe of 2022 to 2030.
The Global Cardiac Arrhythmia Monitoring Devices Market size accounted for USD 6,485 Million in 2021 and is expected to reach USD 11,490 Million by 2030 with a considerable CAGR of 6.8% during the forecast timeframe of 2022 to 2030.
Browse Our Official Website Press release:
https://www.acumenresearchandconsulting.com/press-releases/transplantation-market
About Acumen Research and Consulting:
Acumen Research and Consulting is a global provider of market intelligence and consulting services to information technology, investment, telecommunication, manufacturing, and consumer technology markets. ARC helps investment communities, IT professionals, and business executives to make fact-based decisions on technology purchases and develop firm growth strategies to sustain market competition. With the team size of 100+ Analysts and collective industry experience of more than 200 years, Acumen Research and Consulting assures to deliver a combination of industry knowledge along with global and country level expertise.
For Latest Update Follow Us on Twitter , Instagram and LinkedIn
Contact Us:
Mr. Richard Johnson
Acumen Research and Consulting
USA: +1 347 474 3864
India: +91 8983225533
E-mail: sales@acumenresearchandconsulting.com