Ottawa, Oct. 03, 2023 (GLOBE NEWSWIRE) -- The global clinical trial supplies market was valued at USD 2.61 billion in 2022. The major factors driving the growth of the clinical trial supplies market are rising clinical trial demand globally, increasing disease incidences, government funds for R&D investments, and the development of new treatments, such as personalized medicine, which will lead to the future growth of the clinical trial supplies market.

For instance, the active development of products in human trials in 2021 was 6085, up 67% from 2016 whereas less than 1 % from 2020.


Get the sample copy of report@ https://www.precedenceresearch.com/sample/2777
Covid impact on the clinical trial supplies market:
The COVID-19 pandemic had a significant impact on the clinical trial supply market. Strict lockdowns and government regulations aimed at slowing the spread of COVID-19 resulted in lower demand for products across all aesthetic segments. As a result, the pandemic has had a negative impact on market growth in its early stages. However, the market is expected to gain traction due to a significant increase in clinical trial supply globally.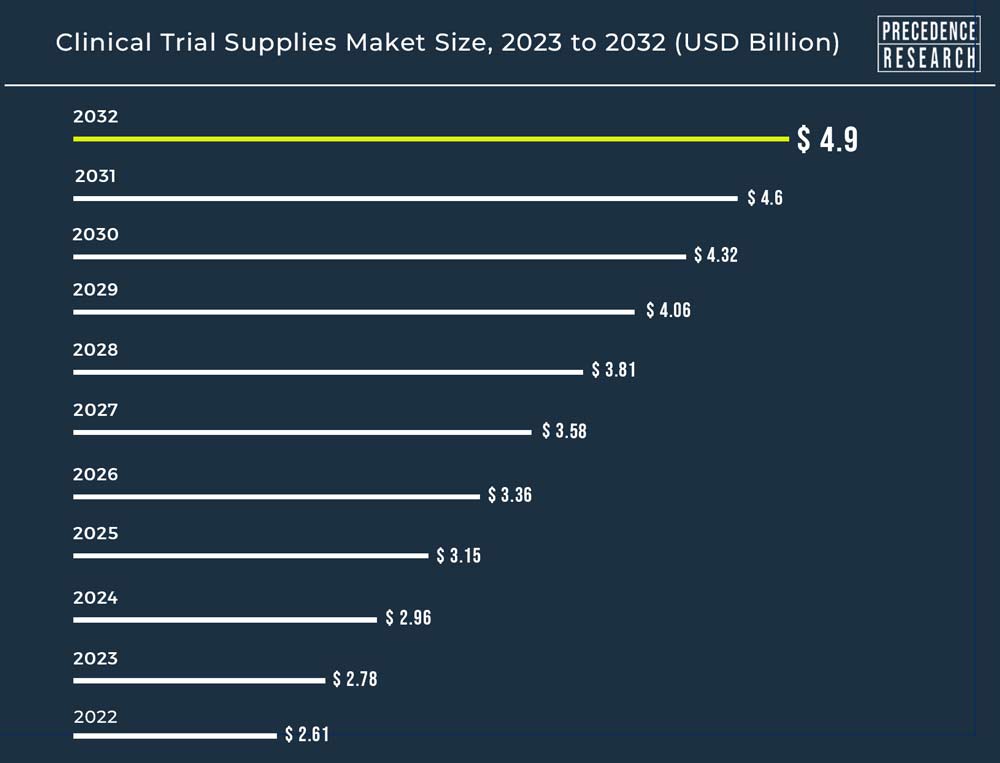 Market Dynamics:
Drivers: increase demand for clinical trials worldwide
In developing countries such as North America, Europe, and Asia, the demand for clinical trials has increased by 82%. As all drugs are available in the market to follow clinical trials, all companies conduct clinical trials depending on the type of drug or machine. As a result, it will act as a significant driver, increasing the treatment market's growth rate.
For instance, ClinicalTrials.gov currently includes 438,902 studies from all 50 states and 221 countries. ClinicalTrials.gov had approximately 4.5 million monthly visitors as of March 2021.


Restrains: Adverse drug reactions restrain the market growth
Adverse drug reactions are unwanted or harmful effects that can occur after the administration of a drug in humans under normal conditions of use. Drug reactions commonly cause jaundice, anemia, rashes, a decrease in white blood cell count, kidney damage, and nerve injury, resulting in impaired vision or hearing. Moreover, adverse drug reactions may cause death in certain conditions, restraining market growth.
Opportunities: Increasing drug development in emerging countries
Clinical trials for drug efficacy are essential in developing drugs for disease treatment before they are released into the market for human consumption. Furthermore, before selling or distributing the new drugs, they must meet license extensions and international standards. Increasing disease prevalence and incidence, as well as an increase in patient numbers, have all contributed to emerging trends in clinical trials for drug development in developing countries over the last few years.
In addition, governments in emerging markets (China, Brazil, Russia, India, and South Africa) are reforming public healthcare and making medicine more accessible. When these two factors work together, it means more freedom for market development and more innovation in clinical research in emerging markets.
Ask here for customization study@ https://www.precedenceresearch.com/customization/2777
Scope of this report
| | |
| --- | --- |
| Report Coverage | Details |
| Market Size | USD 4.9 Billion in 2032 |
| CAGR | 6.51% from 2023 to 2032 |
| North America Revenue Share | 55% in 2022 |
| Phase III Segment Revenue Share | 53% in 2022 |
| Key Players | Thermos Fischer Scientific, Inc., Catalent Pharma Solutions, Piramal Pharma Solutions, UDG Healthcare, Sharp Packaging Services, Almac Group Ltd., Movianto GmbH, Patheon, Inc., Biocair International Ltd., PAREXEL International Corporation, PCI Services and Others |
Market Segmentation:
By Phases: Based on phases of clinical trials, the phase III segment dominated the market with an 53% market share in 2022. The growth of this segment is due to the Phase III trial being the most demanding to design and run and the most costly and time-consuming. In Phase III trials, the drug's efficacy is tested, which is why the phase III segment dominates the market. On the other hand, the phase I trial is expected to show growth in the forecast period due to the increase in research and development activities demand for the phase I trial.
By Services: Biologics are expected to grow significantly due to increased research activities in genetics and biotechnology, such as nanoparticle-based drug delivery systems. For instance, Catalent Pharma Solution worked with Valerius Biopharma, a Swiss-based pharmaceutical company, to develop various biologics products. Over the forecast period, this will drive direct growth in the clinical trials supply market.
By End-user: Based on the end user, the clinical trial supplies market is categorized into pharma and biotech companies, CROs, and medical device companies. The pharma and biotech companies dominated the market. They accounted for an 42.5% share in 2022, Owing to the increase in R&D spending on pharma biotech, influencing the segment growth. On the Other hand, the CRO segment is estimated to grow in the forecast period as the number of clinical trials increases in the CRO industry and the demand for clinical trial supplies.
By therapeutic area: Based on therapeutic area, the global clinical trials supplies market is categorized into Oncology, cardiovascular diseases, Immunology, and infectious diseases. The oncology segment dominated with an 38.6% market share in 2022. The increase in research and development studies on cancer therapeutics for developing innovative cancer drugs in the market helps drive this segment. On the other hand, as cardiac patient increases globally, it is reported that more than 2200 people in the united states die due to cardiovascular diseases per day, which is around 38 seconds 1 death.
Regional landscape:
The clinical trial supplies market is divided into five geographical regions: North America, Europe, Asia-Pacific, South America, the Middle East, and Africa. Regarding market share and revenue, North America dominates the clinical trial supplies market with an 55% market share. It will maintain its dominance during the forecast period of 2023-2032, owing to the region's major key players and well-developed healthcare infrastructure.
Asia Pacific is expected to grow fastest, with a highest CAGR during the forecast period. Due to an expanding patient pool, increased investment in the healthcare sector, and increased government support. The low cost per patient in Asia Pacific countries and the presence of a diverse group of patients that are easy to recruit are the primary factors driving the growth of clinical research in these regions.
Related Reports
Laboratory Supplies Market - Global Industry Analysis, Size, Share, Growth, Trends, Regional Outlook, and Forecast 2021 – 2030
Medical Supplies Market - Global Industry Analysis, Size, Share, Growth, Trends, Regional Outlook, and Forecast 2021 - 2030
Recent Development in a clinical trial supplies market:
In 2022, Thermo Fisher Scientific and Medidata have announced a collaboration to improve clinical research site selection and accelerate patient enrollment in clinical trials. This improves clinical trial planning and execution, allowing for faster clinical trials with datasets generated from 26,000 clinical trials and nearly 8 million patients in more than 140 countries worldwide.
In 2021, Catalent expanded its clinical supply services facility in Philadelphia to better support sponsors working on cell and gene therapies.
Key players operating in the clinical trial supplies market:
Key players are expanding geographically and developing niche business units that cater to the industry. The following companies are major players in the global clinical trial supplies market:
Thermos Fischer Scientific, Inc.
Sharp Packaging Services
Catalent Pharma Solutions
Piramal Pharma Solutions
UDG Healthcare
PAREXEL International Corporation
Almac Group Ltd.
Movianto GmbH
Patheon, Inc.
Biocair International Ltd.
PCI Services


Segments covered in the report:
By Phases:
Phase I
Phase II
Phase III
Phase IV
By Services:
Logistics & distribution
Storage & Retention
Packaging, labeling, and blinding
Manufacturing
Comparator sourcing


By End User:
Pharma & Biotech companies
Contract Research Organization (CRO)
Medical Device Companies


By Therapeutic Area:
Oncology
CNS & mental disorders
Cardiovascular
Digestive disorders
Infectious diseases
Metabolic disorders
Immunology
Blood disorders
Other therapeutic areas (dermatological disorders, rare diseases, ENT diseases, Nephrology)


By Region:
North America
Europe
Asia Pacific
LAMAEA
Immediate Delivery Available | Buy This Premium Research Report@ https://www.precedenceresearch.com/checkout/2777
You can place an order or ask any questions, please feel free to contact at sales@precedenceresearch.com | +1 9197 992 333
About Us
Precedence Research is a worldwide market research and consulting organization. We give an unmatched nature of offering to our customers present all around the globe across industry verticals. Precedence Research has expertise in giving deep-dive market insight along with market intelligence to our customers spread crosswise over various undertakings. We are obliged to serve our different client base present over the enterprises of medicinal services, healthcare, innovation, next-gen technologies, semi-conductors, chemicals, automotive, and aerospace & defense, among different ventures present globally.
For Latest Update Follow Us:
https://www.linkedin.com/company/precedence-research
https://www.facebook.com/precedenceresearch
https://twitter.com/Precedence_R