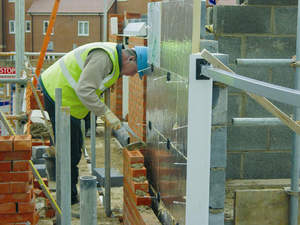 NHBC is improving its view of registered homeowners, housebuilders and plots.
READING, UK--(Marketwire - July 12, 2010) - Trillium Software®, a business of Harte-Hanks, Inc. (NYSE: HHS) and a leading enabler of Total Data Quality™ solutions, today announced that NHBC -- the National House Building Council in the United Kingdom -- will implement the Trillium Software System® to construct a centralised, reliable single customer view (SCV) from the millions of data records it holds on registered homeowners, house builders and housing plots.
Current business processes hold the data across an enterprise system containing around five million records with ten additional systems each holding tens, and in some cases, hundreds of thousands more records. With information stored in multiple systems, invariably, duplicates arise, conflicting information interferes with business processes and trust in the value of the information is weakened due to data of variable quality, formats and standards.
"To deliver our customers the very best warranty and insurance services, we require complete, reliable and consistent information at our disposal," said Pete Smyth, Group Head of IT at NHBC. "The Trillium Software System will cleanse, match and consolidate our multi-system data for migration to a corporate information repository presenting a single view to all enterprise processes."
As the UK's leading warranty and insurance provider for new homes, NHBC's Buildmark warranty covers more than 80 percent of new homes built in the UK and currently protects approximately 1.7 million homes. Over the past 40 years, NHBC has protected more than 30 percent of existing homes in the UK.
Delivering this service effectively requires that NHBC quickly and accurately links warranty records with plots, houses, builders and the owners of the completed homes. NHBC also offers builders a wide range of services that can support them throughout the build process, from planning to design, build and customer handover; a single view by builder, as customers of these services is also a necessity.
NHBC selected a data quality solution after considering the vendors profiled in an influential industry analyst report about data quality software providers. After drawing up a short list of those software providers that met NHBC's criteria for supported data environments, scalability, functionality and usability, two vendors and their solutions were closely evaluated. Trillium Software was chosen after very positive software trials and on the basis of experiences with the firm's professional services group.
"NHBC is to be commended for moving forward with the creation of a single customer view and recognising at the outset that a clear data quality strategy is fundamental to optimal success of its business process goals," said Ed Wrazen, vice president of product marketing at Harte-Hanks Trillium Software. "The Trillium Software System is an integrated, unified and scalable platform for data quality across every data source and business function."
About NHBC
NHBC, the National House-Building Council, is the standard setting body and leading warranty and insurance provider for new and newly converted homes in the UK. Started in 1936 as the National House-Builders Registration Council, NHBC has worked consistently to raise the construction standards of new homes and provide protection for new homebuyers. More information at www.nhbc.co.uk
About Harte-Hanks
Harte-Hanks is a worldwide direct and targeted marketing company that provides marketing services and shopper advertising opportunities to local, regional, national and international consumer and business-to-business marketers. Visit the Harte-Hanks Web site at http://www.harte-hanks.com or call (800) 456-9748.
Harte-Hanks Trillium Software enables organisations to achieve Total Data Quality by providing a full complement of technologies and services providing global data profiling, data cleansing, enhancement, and data linking for e-business, customer relationship management, enterprise resource planning, supply chain management, data warehouse, and other enterprise applications. For more information about Trillium Software and its offerings, call (978) 436-8900 in the United States and in the United Kingdom call +44 (0) 118 940 7666, or visit Trillium Software online at http://www.trilliumsoftware.com.
This document may contain trademarks that are owned or licensed by Harte-Hanks, Inc. and its subsidiaries, including, without limitation, Harte-Hanks®, Trillium Software®, Trillium Software System®, Trillium Consulting™, Total Data Quality™, Data Intelligence & Governance™ and other names and marks. All other brand names, product names, or trademarks belong to their respective holders.
Contact Information:
Media Contacts:

For Harte-Hanks Trillium Software
United Kingdom
Derek Harris
+44 (0) 1395 516 613
derek@harriscomms.com

United States
Michael Antonellis
(978) 439-3813
michael_antonellis@trilliumsoftware.com