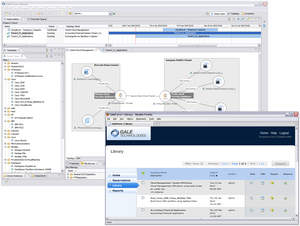 Gale Technologies provides advanced software solutions to automate, orchestrate, and optimize resources - transforming the delivery of Infrastructure-as-a-Service (IaaS).
SANTA CLARA, CA--(Marketwire - August 31, 2010) - Gale Technologies, a leading provider of innovative software solutions that simplify and automate IT resource provisioning and workflow orchestration for Infrastructure-as-a-Service (IaaS) solutions, today announced its participation at VMworld® 2010 San Francisco, August 30 - September 2, 2010, where it will showcase its award-winning cloud orchestration and data center automation solution, GaleForce.
Gale Technologies offers GaleForce, an advanced IT automation and workflow orchestration platform that quickly and efficiently automates the management and provisioning of virtual and physical resources in the lab, data center, or cloud. GaleForce is the first true, end-to-end cloud orchestration and data center automation platform that manages multi-vendor and multi-technology environments, spanning across computing, networking, and storage resources. In addition to providing a comprehensive automation platform, GaleForce also offers a custom-brandable web portal to enable self-service provisioning of IT resources.
Gale Technologies will co-demonstrate its award-winning solution GaleForce at the NetApp booth (#601) at VMworld® 2010 in San Francisco, August 30 - September 2, 2010. The demo will illustrate support for secure multi-tenancy to help organizations develop internal and external cloud services that isolate clients, business units, departments or security zones for enhanced security in a virtualized infrastructure across the computing, networking, storage and management layers.
"The current market momentum for cloud computing has made understanding all aspects of shared virtual infrastructures even more critical," said Patrick Rogers, vice president of Solutions and Alliances at NetApp. "Gale Technologies' cloud orchestration solution offers the automated support needed to design, test, and deploy secure, multi-tenant cloud architectures and to enable the delivery of IT as a service."
Gale Technologies and NetApp experts are also available at the NetApp Genius Bar at VMworld for one-on-one sessions to discuss and answer questions about automation and orchestration of IT resources. To learn more, or to schedule your Genius Bar session, visit NetApp's communities at
http://communities.netapp.com/community/events/vmworld.
"IT professionals need to maximize resources more efficiently and cost-effectively in today's challenging enterprise and service provider environments. We look forward to showcasing Gale's powerful solutions at VMworld," said John Klemm, vice president of sales and marketing at Gale Technologies. "Gale's flagship solution, GaleForce, simplifies resource management and provisioning by providing a simple, agile, and more affordable way to manage and provision any resource in an IT environment."
About the NetApp Alliance Partner Program
The NetApp Alliance Partner Program provides qualified infrastructure and application providers with access to NetApp® solutions, software development kits, technical support, training, certification, product information, and marketing and sales assistance. Customers benefit by having access to best-in-class partner solutions that are tested to work with NetApp storage. Additional information on the NetApp Alliance Partner Program is available at www.netapp.com/alliances.
About Gale Technologies
Headquartered in Santa Clara, Calif., Gale Technologies provides advanced software solutions to automate, orchestrate, and optimize resources -- transforming the process of Infrastructure-as-a-Service (IaaS) delivery. As a pioneer of innovative solutions for provisioning and workflow automation across networking, server, storage, and virtualization technologies, Gale enables the automated and self-service provisioning of dynamic lab, data center, and cloud environments. The company's end-to-end solutions enable organizations to reduce capital and operational expenditures, set up any cloud, lab, demo or data center in just minutes, and provide secure access to resources 24/7 from anywhere in the world. Gale Technologies serves a global customer base with offices in North America and Asia. For more information, visit www.galetechnologies.com.
NetApp, the NetApp logo, and Go further, faster are trademarks or registered trademarks of NetApp, Inc. in the United States and/or other countries.
Contact Information:
For more information, contact:
Joline Biancavilla
BridgeView Marketing (for Gale Technologies)
joline@bridgeviewmarketing.com
603-978-4491