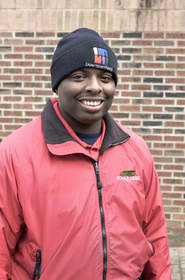 AlliedBarton Security and Safety Ambassador Randy Blow named Ambassador of the Year by the Downtown Raleigh Alliance.
RALEIGH, NC--(Marketwired - Apr 10, 2014) - AlliedBarton Security Services, www.alliedbarton.com, the industry's premier provider of highly trained security personnel, congratulates Security Officer Randy Blow who was recently named Ambassador of the Year by the Downtown Raleigh Alliance.
Blow, an AlliedBarton Security and Safety Ambassador and member of the Army Reserves at the MP Unit in Rocky Mount, NC, was recognized as the Ambassador of the Year for 2013 for his positive attitude, outstanding work ethic, leadership abilities and teamwork including taking the lead on managing aggressive panhandlers in the Raleigh business district. By delivering hospitality services and public safety support, the AlliedBarton safety ambassadors create a welcoming and secure environment for residents, merchants and visitors to Raleigh's downtown business district.
"This honor is reflective of our commitment to recognizing and cultivating leadership qualities in our employees," said DelMar Laury, Vice President and General Manager. "Randy Blow is an outstanding safety and security ambassador who diligently works to improve the quality of life for Raleigh citizens. In addition, Kim Davis, Account Manager, has done an exemplary job leading our team of Safety Ambassadors."
The Downtown Regional Alliance, www.godowntownraleigh.com, is an award-winning nonprofit organization whose mission is to continue the revitalization of Raleigh's downtown.
About AlliedBarton Security Services
For more than 50 years, AlliedBarton Security Services has provided superior security officer services to protect people, homes and businesses. AlliedBarton tailors security programs to meet clients' needs with committed professionals who enhance clients' brands. More than 60,000 employees and 120 offices serve thousands of clients with levels of protection that anticipate needs and build enduring relationships. For more information call 1.866.825.5433 or visit www.alliedbarton.com.
Facebook: http://www.facebook.com/home.p#!/pages/AlliedBarton-Security-Services/239838067452?ref=search&sid=1595856124.1976210655
Twitter: http://twitter.com/alliedbarton
LinkedIn: http://www.linkedin.com/company/alliedbarton-security-services?trk=hb_tab_compy_id_162381
YouTube: http://www.youtube.com/AlliedBartonSecurity
Blog: http://www.alliedbarton.com/AboutUs/Blog.aspx
Contact Information:
Contact:
Nancy Tamosaitis
Vorticom Public Relations
Phone: 212.532.2208
Email:Email Contact