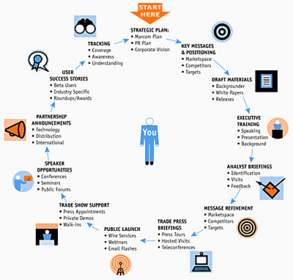 Crowdfunding PR Rolls Out 2-Month Crowdfunding Prep Work Program to Help Entrepreneurs, Startups and Small Businesses Learn How to Launch More Successful Crowdfunding Campaigns
AUSTIN, TX--(Marketwired - Oct 28, 2015) - Want to learn how to launch a successful Title III equity crowdfunding campaign? To help crowdfunders achieve this elusive goal, today Crowdfunding PR (http://crowdfundingPR.wordpress.com) announced a special two-month Crowdfunding Prep Work Program that will significantly improve a crowdfunding campaign's success rate by amplifying its founder's social media profiles and by utilizing an effective crowdfunding PR campaign to generate hundreds of stories in the electronic news media prior to the crowdfunding campaign's launch.
One of the biggest challenges that most crowdfunding campaigns face are weak social media credentials and the lack of a large group of social media followers that are needed to support crowdfunding campaigns with donations and/or investments. Building strong, professional Facebook, LinkedIn and Twitter profiles and amassing the largest possible group of followers on social media networks is crucial to conducting a successful crowdfunding campaign.
The second biggest task is generating stories on electronic news media outlets and blogs prior to launching a crowdfunding campaign. Not only can a well-orchestrated crowdfunding PR campaign generate hundreds of free, positive trade press articles to support the fundraising effort, but the same targeted, search-engine-optimized press releases will continue to drive new investors, potential customers and sales/distribution partners to the business long after the crowdfunding campaign ends.
"What many entrepreneurs and startups need to recognize is how important social media is in the world of crowdfunding," said Robert Hoskins, Crowdfunding PR's Director of Crowdfunding Campaigns. "The very first thing that an investor/donor does when they read through a crowdfunding profile they like is to look up the company and its team on Facebook, LinkedIn and Twitter to check out their credentials. Having a strong resume on LinkedIn, lots of likes on Facebook and an army of followers on Twitter is crucial to determining the strength of the team and the likelihood that they have the tenacity and skill set to deliver on their crowdfunding campaign's promises."
"Next, most investors/donors will do a Google search to see what they can find online for both the company and its team members," Hoskins continued. "With a two-month crowdfunding prep work campaign there will be several pages of search engine results that link to the client's website pages, their social media posts/profiles and the crowdfunding campaign's temporary landing page until the GoFundMe.com, Indiegogo.com, Kickstarter.com or Title III equity crowdfunding campaign goes live."
If you would like to speak with a crowdfunding PR, social media and/or marketing expert regarding your crowdfunding campaign please call Robert Hoskins at (512) 627-6622 or fill out the contact form at: https://crowdfundingpr.wordpress.com/about-crowdfunding-pr-campaigns/ to setup a telephone consultation.
Contact Information:
Contact:
Robert Hoskins
Front Page PR
(512) 627-6622