Ottawa, Jan. 23, 2023 (GLOBE NEWSWIRE) -- Key Takeaways:

Natural source segment is growing at a CAGR of 3.8% over the forecast period.
The terpenes & terpenoids segment is growing at a CAGR of 4.7% from 2022 to 2030.
The natural aroma chemicals market is expected to witness a CAGR of 6.8% from 2022 to 2030.
By source, the synthetic source has accounted revenue share of 68.2% in 2021.
By application, the fragrance segment has held revenue share of 68.7% in 2021.
By chemical used, the terpenes chemical segment has accounted revenue share of 38.7% in 2021.
Asia Pacific has held revenue share of over 30.4% in 2021.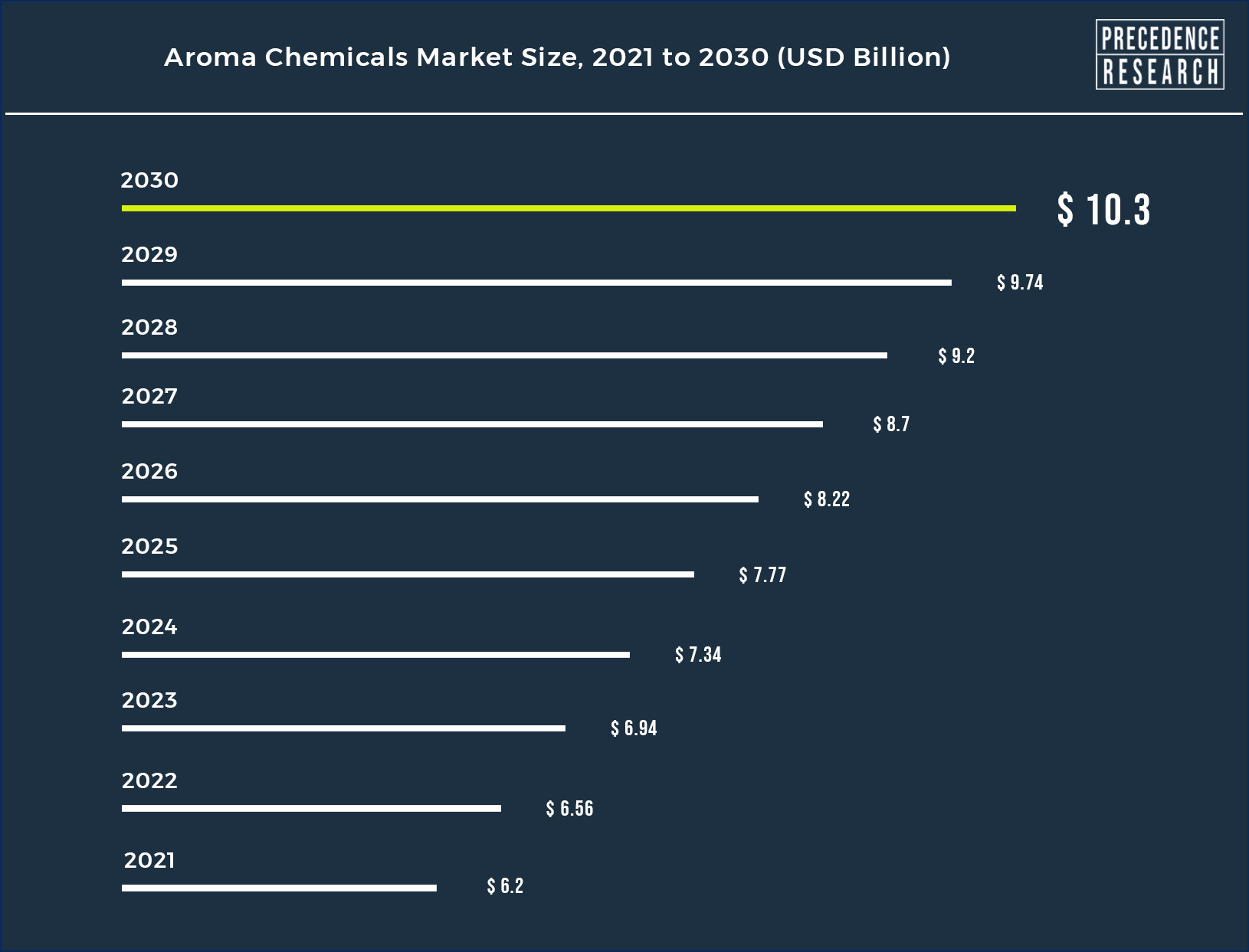 Regional Snapshots
The European market is expected to dominate the global aroma chemicals market during the forecast. This region has an increasing demand for fragrance in soap and detergents and various household products. UK, France and Germany are spending on luxury premium fragrances as there is high disposable income and improved standard of living. The largest food producer in Europe is Germany. The food industry in Germany provides great opportunities for flavor manufacturers. The increased income levels will propel the market growth in this region. The Asia Pacific part is also expected to witness a good growth during the forecast. China has huge personal care Industry. There is good demand in places like India, China and Japan. Customers are opting for organic and natural fragrances. So, all of these factors are expected to drive the regional market growth. The spending power of the customers in this region has also increased and that is contributing to the growth of the market.
Ask here for sample pages of report@ https://www.precedenceresearch.com/sample/2287
The US holds highest share in the North American market. There is a great demand for personal care and cosmetic products in US. Increased per capita income and the disposable income in US is expected to trigger the growth in this region. There is a great demand for aroma chemicals in various industries like the food and beverages, cosmetics, personal care. In the US the consumers are growing health conscious so the market is expected to grow.
In the Latin American region, there is an increasing demand for soap and detergents, which is expected to provide massive growth opportunities. There's a rapid increase in the household hygiene products, as there's a growing awareness regarding the importance of it along with the personal care products there is a rise in the cosmetics and beauty practices in Middle East and Africa.
Report Highlights
On the basis of the source, the synthetic aromatic chemicals are the largest source. Due to the use of updated technologies in the ingredients industry it is easy to obtain the product from synthetic chemicals. Naturally, derived aroma chemicals should also grow during the forecast as there is an awareness amongst the customers regarding the safety of such products. But these ingredients do not have the capacity to blend in with the other fragrances and the manufacturing costs of the natural fragrances and flavors is high, which hampers the market growth.
Terpenes and terpenoid's are the chemicals that are used majorly in this industry. The terpenes market is expected to grow exponentially as the food and beverages industry and the rubber industries hold the major share of consumption of terpenes. They are also used in printing inks, rubber adhesives, chewing gums and pressure sensitive tapes.
Aroma chemicals market had the largest application in the fragrance industry. Due to the growing demand for various fragrances, the market is expected to grow in men's fragrance, cosmetics and other industries.
Recent Developments
Chartres based Synarome was acquired by synarome In June 2021 it manufacturers over 200 aroma chemicals and specialties for various fragrances and flavors industry. This acquisition helped in expanding the product portfolio of the company.


Ask here for more customization study@ https://www.precedenceresearch.com/customization/2287
Scope of the Report
| | |
| --- | --- |
| Report Attributes | Details |
| Revenue Forecast by 2030 | USD 10.3 Billion |
| CAGR | 5.8% from 2022 to 2030 |
| North America Revenue Share | 23.5% in 2022 |
| Asia Pacific Revenue Share | 30.4% in 2022 |
| Base Year | 2022 |
| Forecast Year | 2023 to 2030 |
| Key Players | Takasgo International Corporation, Givaudan, Bell Flowers & Fragrances, Symrise, S H Kelkar and Company, Privi Organics India Limited, BASF SE, Kao Corporation and others |
Market Dynamics
Drivers
Both men and women are spending on cosmetics, personal care products, creams, face masks, peels and other things to enhance their looks. There is a rise in the per capita income and changes in the lifestyle that have helped in the growth of the cosmetics market. User-friendly E commerce websites and rapid urbanization have also resulted in the sales of different premium and cosmetic products. Aroma chemicals are used in order to induce natural smell in various lipsticks, toiletries, moisturizers, foundation body and hand washes, lotion, soaps, shampoos. They help in accelerating the sales globally and drives the market. Major manufacturers of cosmetics are introducing new products every day and cosmetics have become an integral part of every individual across the globe.
Restraints
The use of the synthetic chemicals in the perfumes which are derived from petroleum-based chemicals like that are harmful and toxic to human health. They may cause cancer, allergies, nervous system disorders, birth defects and even more. Phthalate's, which is a chemical used in the manufacture of these products, have resulted in various diseases. It has led to diabetes, breast cancer, disruptive hormonal activities and reduction in the sperm count.
Opportunities
The technological advancements in the manufacturing of the aroma chemicals has led to a growth in the market. The availability of raw materials and rapid development in the chemical industry is proving to be a great opportunity for the growth of this business. It has extensive use in food and beverages, cosmetics and personal care industries. Increasing development in technologies that are used in the chemicals industry are expected to give a boost for the manufacturing of these aromatic chemicals.
Challenges
Stringent regulations from various governments on manufacturing of the automatic chemicals hampers the market growth. There are high developmental and research costs that increase the cost to the product, making it a challenge in the growth of the market.
Market Segmentation
By Source
By Products 
Benzoids
Terpenes
Musk Chemicals
others
By Application
Flavors

Confectionery
Convenience Food
Bakery Food
Dairy Products
Beverages
Others

Fragrances

Fine Fragrance
Cosmetics and Toiletries
Soaps and Detergents
Others 
By Aroma Node
Floral
Woody
Citrus
Fruity
Herbal
Tropical
Others


By Color
Colorless
White
Yellowish
Others
By Form
By Distribution Channel
By Product Type
Vainilla Vainas Madagascar
Tixosil 38 x
Vainillin
Carvacrol
Propilenglicol USP
Dipropilenglicol
Dipropilenglicol Metil Eter
Dihidromircenol
Cis-3-Hexenol
Aldehide c-18
Linalool
Lysmeral
Cinnamic Aldehyde
Citronelol
Galaxolide
Iso E Super
Geraniol
Others 
By Geography
North America
Europe
Asia-Pacific
Latin America
Middle East & Africa (MEA)


Immediate Delivery Available | Buy this Premium Research Report@ https://www.precedenceresearch.com/checkout/2287
You can place an order or ask any questions, please feel free to contact at sales@precedenceresearch.com  | +1 9197 992 333
About Us
Precedence Research is a worldwide market research and consulting organization. We give unmatched nature of offering to our customers present all around the globe across industry verticals. Precedence Research has expertise in giving deep-dive market insight along with market intelligence to our customers spread crosswise over various undertakings. We are obliged to serve our different client base present over the enterprises of medicinal services, healthcare, innovation, next-gen technologies, semi-conductors, chemicals, automotive, and aerospace & defense, among different ventures present globally.
For Latest Update Follow Us:
https://www.linkedin.com/company/precedence-research/
https://www.facebook.com/precedenceresearch/
https://twitter.com/Precedence_R